Program Details
Code: ZABF0039N
Safari Field Guide Course in South Africa
Spend 23 weeks training in the African bush with an optional 6 months placement
Program Information
Become an accredited Field Guide and forward your conservation career when you spend 23 weeks training in the iconic South African lowveld; one of the best wildlife locations in the country. You will gain skills and qualifications applicable to many conservation careers and there's an optional placement to give you the opportunity to gain experience and secure the best possible start to your career.
United Nations Sustainable Development Goals
Overview
Join us in South Africa's Lowveld region, one of the world's best big game territories and train to become a qualified field guide, a knowledgeable conservationist and experience the African bush at its best. This course is the ideal platform for a successful career in the African safari lodge industry and many international wildlife conservation careers or for a hands-on experience in the African bush that you will never forget. So be proactive and broaden your horizons, while gaining diverse qualifications, experience and transferable skills to improve your employability. The course can offer all this, whilst you have an adventure of a lifetime.
"It is not enough to say you love wildlife and are determined to work in conservation - you need your skills and experience to support this"
- Conservation Careers advice.
On the course we offer high quality theoretical and practical training, covering a diverse range of topics while being situated in one of the wildlife hot spots in South Africa. The foundation of the course is structured around the FGASA (Field Guide Association of Southern Africa) syllabus, which will give you an in depth knowledge and understanding of Southern African Fauna and Flora. This, along with the additional activities, will show potential employers around the world that you have the ability and drive to learn, and importantly transferable skills to take into your conservation career.  Other relevant and exciting activities and qualifications have also been added to boost your CV and show employers that you are resourceful and determined about making it in conservation.
The curriculum includes bush skills such a wildlife tracking, shooting competency, 4×4 driving, outdoor first aid, wildlife photography, wildlife surveying techniques and in-depth knowledge and practical application of subjects such as conservation, ecology, reserve management, geology and animal behaviour. The course has been designed to develop applicants into highly skilled professionals in the exciting area of field guiding, conservation, research, adventure tourism or lodge management, by providing a well-rounded, specialised education which focuses not only on the theory but the practical aspects of wildlife conservation and guiding.
Unlike many other training providers, this course focuses on practical skills and gives students a regular exposure to working and guiding around dangerous game, such as Elephant, Lion, Rhino, Leopard, Buffalo and Hippo. This invaluable experience gives students excellent grounding for any of our placements and future employment in 'Big Five' game reserves, research and conservation jobs in Africa and beyond.
All the trainers are from The Field Guide Association of Southern Africa (FGASA) and the course is both theoretical and practical. Students who choose to take the 23 week course and not the work placement will still be professionally qualified if they pass their exams.
Testimonial
I cannot begin to count the ways that completing the course has added value to my life.  I came to South Africa with no experience or knowledge of the bush except what I had learned from David Attenborough and other documentaries and books.  Despite this I knew it was something I was passionate about was determined to make the most of my experience.  I now spend every day assisting with the conservation and management of the reserve I work on. I am now research guiding for Limpopo Eco Operations and devote much of my time to monitoring the rhino population on the reserve which is a direct result of the qualifications I gained on the course.
Program Details
GVI Live
17 Sep
https://t.co/Hyi97KjBqD
22 Sep
The world will know Peace...
The world will know Peace One Day. There are thousands of humans out there, working to educate, to contribute, to solve. [...]
Posts from the Field
Traditional South African foods are full of flavor and history. Discover what are the most popular dishes you should try [...]
GVI Blog
Classroom learning only teaches you so much. Internships allow for a completely immersive educational experience.
Finding internships can be tricky, but finding an internship that will truly benefit your chosen career is trickier! Here's [...]
Life on the Internship
The academic curriculum is accredited by the Field Guide Association of Southern Africa (FGASA); the 'South Africa Qualifications Board'; and the 'Culture Art Tourism Hospitality and Sports Sector Education and Training Authority ' and all students are taught by experienced guides and instructors. All additional qualifications are also attained through accredited training providers.
A Typical Day
Typically the day will start early at around 5.30 – 6am. You will usually grab a cup of tea before heading out into the bush for a morning of practical training laden with reference books on the African bush and a pair of good binoculars. Each week you will be focusing on a different module such as birds, mammals, 4 X 4 skills etc.
On your practical sessions in the bush, either a walk or a drive, you will concentrate on these modules and put all the theory you have learnt in the classroom into practice in the field. For example, you might have collected some specimens that morning which you will bring back to the classroom for identification before the afternoon practical or lecture.
After the morning activity you will be welcomed with a hearty brunch. By midday you will be pretty tired and the African heat will certainly make you drowsy so all the students have a break to relax, rest or study – remember you have a test at the end of the week! After a break you will be ready to get some more fresh air and head out for an afternoon practical or lecture session building on your skills and knowledge gained in the morning session. All the teams return for an evening meal sat around the camp fire discussing their experiences that day.
At the end of each week all the students are tested on that weeks module before moving onto the next one. However, learning each topic is continuous as while you are out in the bush nature is all around you so you cannot help but increase your knowledge and skills as the weeks progress.
The course runs for 4 weeks and then you will have 1 week off to relax, either at camp or you are welcome to go off exploring. This might change at certain times but will basically follow this timeline. There is plenty to do here with Kruger National Park on our doorstep, visits to the Blyde River canyon, whitewater rafting, microlighting, horse back safaris – the list is endless! Please note that during time off, students are welcome to stay at the campus but please note that food, laundry, transport etc is NOT included during this time as the staff will also be having time off.
The course is fun but be warned this is no holiday – days are long and to reach the standard required to pass you need to be dedicated and focused.
"It's a wonderful experience that can only help you in the future. It will look great on your CV and help you find jobs in the conservation sector in your home country."
- Beth Silvester (UK)
Project Details
The course is known for producing the highest caliber graduates for this demanding industry. Throughout the years, our graduates have achieved the highest marks of all the FGASA long term providers many times and are considered some of THE best trained guides in the industry.

Field Guide students have an opportunity to undertake a 6 month placement. This allows students to gain valuable hands on experience, as well as cementing the information and skills learnt during the training period, and gaining a valuable 'foot-in-the-door' to the exhilarating and competitive safari tourism industry and, wildlife and conservation careers.

Please remember, the allocation is based on performance, interest and personality as determined by the head trainer. All students MUST pass both the FGASA and course requirements before being placed at any placement.


What's Included
2 x sets of uniforms

24-hour emergency phone

24-hour in-country support

6 months work experience from placement venue

Access to Alumni Services and Discounts

Airport pick-up (unless otherwise stated)

All compulsory books (if included)

All necessary project equipment and materials

All necessary project training by experienced staff

Birding specialist course

CATHSSETA(The Culture, Art, Tourism, Hospitality and Sports Sector, Education and Training Authority) National Qualification (Level 2) in Nature Guiding

Cybertracker track & sign qualification

Dangerous game experience

Ethical guiding principles

FGASA (Field Guides Association of Southern Africa) national certificate - Level 1 - practical and theory

FGASA Level 2 knowledge

Limited internet access at no extra cost

Location orientation

Long term experienced staff

Meals while on project (except on work placements for long term internships)

National LEVEL 2 First Aid Certificate

National level 3, 4 x 4 driving qualification

Other activities, such as sleep outs, Kruger trips, etc.

Reptile orientation course

SASSETA (Rifle handling, proficiency, maintaining of fire arms and shooting)

Safe and basic accommodations (usually shared)

T-shirt, fleece jacket, cap and beanie

Transfer from Oliver Tambo International airport (if included)

Welcome meeting

Wildlife photography workshop

Wildlife surveying techniques skills
What's Not Included
Additional drinks and gratuities

Extra local excursions

Flights

Food during the placement portion of your internship

International and domestic airport taxes

Laundry, food and transport during weeks off

Medical and travel insurance

Personal kit

Police or background check (where necessary)

Professional drivers permit & licensing costs, including transportation

Recommended reference books

Transport costs to placement

Visa costs
Exploration
Saturday afternoons and Sundays are free time (although it's recommended that students use this time for personal study and preparation for the upcoming lectures). However after every 4th week students get a full week off and are encouraged to leave campus, travel and explore the local area.
Some highlights to be enjoyed:


Blyde River Canyon – boat trips, kloofing, whitewater rafting, paintball, hot air ballooning and camping to name just but a few!


Kruger National Park – Orpen and Phalabourwa Gates are 1.3 hours drive from the campus. Daytrips/overnight camping available.


Moholoholo Rehab Centre – endangered species rehabilitation


Panorama Route – Bourke's Luck potholes, God's Window and waterfalls are just some of what you can see, easily completed in a day


Giant Baobab/Upside Down Restaurant – get up close with huge baobab trees, and don't forget to try the great pancakes!


Debengeni Falls, Tzaneen – stunning waterfall, picnic area and hiking trails


Car Hire:
If you plan a trip away in your weeks off you may need to hire a car as public transport is almost non-existent in this area. The estimate cost for hiring a car is R450 per day, including insurance and unlimited mileage, cost could vary according to car size and different options. The more friends you take with you the cheaper it makes it too.
Many students also travel further afield to places such as Mozambique (Tofo area), Cape town, Durban and St Lucia World Heritage Sight during their off weeks.
"It definitely gave me the "edge" over other applicants for the job."
- Viv Eckersley (Australia)
The Team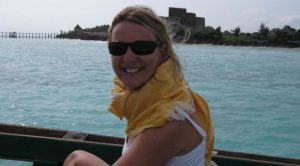 Shayle Havemann
Director of Programs
Meet Shayle, our innovative and driven director for all our projects around the world. She has two honours degrees, one in Industrial and Organisational Psycology, and another in Developmental and Education Psycology. Shayle also has over 10 years experience in setting up, managing and evaluating environmental and community programs across Africa, Asia, Europe and Latin America.

She is well-practiced in facilitating meaningful and effective intercultural engagement and this makes her the perfect person for overseeing our operations in the multicultural country of South Africa.

When not attending meetings or planning her next endeavour, Shayle can be found spending time with her family or taking part in some or other exciting outdoors activity!