VOLUNTEER IN SOUTH AFRICA
Boasting 11 official languages, 8 UNESCO World Heritage Sites and 70% of the Cape Floral Kingdom's plant species found nowhere else in the world, volunteering in South Africa offers an amazing opportunity to get up close and personal with the "Rainbow Nation" and make a lasting impact.
The major cities in South Africa have developed rapidly over the last 20 years, however, there are still many conservation, social and community development issues that plague the country.
Volunteering with GVI during your gap year, career break or volunteer holiday, will allow you to make a sustainable difference in a variety of different focuses, such as Wildlife Conservation, Childcare, Teaching or Public Health. Our projects in South Africa are just a few of many fantastic volunteer in Africa options.
Where Does GVI Work in South Africa?
Travel abroad to volunteer in Africa - we offer great trips to both Seychelles and South Africa to contribute to important conservation and community development projects.
In South Africa GVI operates two bases - we run our community operations in a picturesque coastal village called Gordon's Bay, located 45 minutes from Cape Town where our volunteers in Cape Town volunteer in a township at an educare centre and the volunteer work ranges from teaching to public health or construction.
GVI does not support orphanage volunteering. For more information see our stance on orphanage volunteering. We also support ChildSafe, a global child protection initiative, and regularly review our comprehensive Child and Vulnerable Adult Protection policy. All our staff and participants are required to complete a police background check before arrival on the program, and on-site child protection training is provided once they arrive in the host country. We also protect children from cyber and real-world threats by ensuring that our marketing follows child protection best practices.
You can get involved in our wildlife conservation projects is situated in Limpopo, an area that is home to some of the most remarkable wildlife (including the Big 5: lion, leopard, rhino, elephant and buffalo), landscapes and conservation opportunities South Africa has to offer.
Meet the team -
Senior Field Management
Sian Morris
Program Manager
This is Sian, the Program Manager in Gordon's Bay. Before joining us in Gordon's Bay Sian previously worked as a Social Worker back in the UK and now has since traveled to 33 countries!
Sophie
Director of Bushwsie
Sophie is the Bushwise Director and helped set up the company thirteen years ago. Since then she has been instrumental in helping to expand and improve Bushwise to make it what it is today. Originally from England she has been living in South Africa for twenty-three years. She is also an accomplished artist having displayed her work in Cape Town and various other places.
Trevor
General Manager at Bushwise
Trevor is our General Manager at Bushwise. He was born in Rhodesia, now known as Zimbabwe but grew up in South Africa. After spending most of his life in the corporate world, he realised that being outdoors was his true calling!
Meet the team -
In-Country Staff
Charlotte Goodwin
Deputy Program Manager
Meet Charlotte, who is the Assistant Program Manager at GVI's base in Gordons Bay, Cape Town. In 2012 she took part in a GVI Community Development and Conservation Project in Kenya. After this, she went on to study Cultural Studies and Social Anthropology at the University of Kent in the UK. Charlotte has lived most of her life in Africa and is also lucky enough to have visited an array of other countries.
Gerhard
Trainer at Bushwise
Gerhard is South African with a professional Lead Guide and Field Guide qualification, and a Diploma in Zoology. He is our trainer at Bushwise and our resident singer and songwriter. His songs have been aired on a local radio station and used in a religious stage production.
Johann Herbst
Volunteer Coordinator
This is Johann, he is our Volunteer Coordinator at GVI Limpopo here in South Africa.
His role includes managing game drives and keeping the base in order.
He comes from a background of environmental science and wildlife management which has led him to come and work with GVI, lucky us!
Kayla Greenen
Science Officer
Introducing Kayla, who is the is Science Officer at our base in Limpopo. Kayla studied Biodiversity and Ecology at Stellenbosch University in South Africa. She continued her studies completing a Masters in conservation where she got the chance to to work with African Parks in Malawi, which was a dream come true.
Kim
Sales Manager at Bushwise
Kim handles all the sales for Bushwise and is also involved in the social media marketing. She first stepped onto a game reserve working in hospitality and found that that was the place for her! She loves snakes but is terrified of spiders.
Sharin
Admin Manager
Sharin is from South Africa and is our Admin Manager at Bushwise. She joined Bushwise after having been in the corporate world and lodge industry and has now been here for four years. She has a love-hate relationship with scorpions and has been stung twenty-four times in three years.
Vaughan
Trainer at Bushwise
Vaughan is one of our Trainers at Bushwise and has a special interest in entomology, the study of insects and their relationship with humans. He is from the local area, having grown up in the South African bush. He has a background in scientific research but feels that guiding is a perfect platform from which to preach conservation.
Zoe Biggs
Volunteer Coordinator
Pleased to introduce you to Zoe, who is the Volunteer Coordinator at our base in Limpopo. Her journey started out with a six month internship with GVI back in 2016. Prior to this Zoe studied zoology in Australia for three years before coming over to Limpopo, South Africa.
Download our program brochures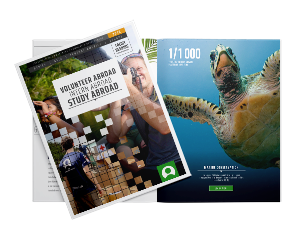 OUR VIDEOS & TESTIMONIALS
Make an impact while you're in high school. Here is what you can look forward to on the best high school volunteer abroad [...]
Not sure what taking a gap year means? We've got you covered with a definition and different types of gap years you can choose [...]
As a teen volunteer you can make a real impact, not only on the projects, but on your own personal growth and development.
Our Programs in South Africa