Marine Conservation Expedition in the Seychelles
Scuba dive in the Indian Ocean on this critical conservation expedition.
Marine Conservation Expedition in the Seychelles
Scuba dive in the Indian Ocean on this critical conservation expedition.
Program Code: SCMH0057E
Program Information
Program Snapshot
Get your PADI Advanced Open Water and PADI Coral Reef Research Diver qualifications as a member of an expedition team working on critical marine conservation projects. Your participation in marine species research will contribute towards providing data to the local government on various conservation initiatives. Partnerships such as this are vital in showing the interconnectedness between social and environmental issues and how they affect community development and conservation efforts in the pristine islands of Seychelles.
Overview
Travel to the crystal clear waters of the Indian Ocean as a member of an expedition and work on critical marine conservation projects amongst the beautiful islands of Seychelles.
You will contribute towards various conservation-related surveys aimed at providing data to the Seychelles Parks and Gardens Authority (formerly Seychelles National Marine Park Authority - SNPA) and local government on coral reef, fish and invertebrate research and assist with the development of environmental education awareness. You might also undertake marine plastic pollution clean-ups both on the land around the base, our neighbouring beaches and across our adopted dive sites.
You'll spend a large part of your time on this expedition scuba diving and as such you need to be qualified to at least PADI Open Water, or equivalent before joining the program. For non-divers wishing to attend, we can recommend local dive centres that will help you qualify before your intended start date. Receive the Coral Reef Research Diver Distinctive Speciality segment of the PADI Divemaster course. This unique offering by GVI & PADI teaches you about best practices when conducting underwater coral reef surveys. This is offered to participants staying for 2 weeks or longer.

HIGHLIGHTS



Learning how to identify fish, coral or invertebrates in the Indian Ocean.




Earning your PADI Advanced Open Water certificate.




Complete GVI & PADI's unique qualification, the PADI Coral Reef Research Speciality.




Exploring different dive sites around the tropical island of Mahe, searching for 'mega-fauna' in the area, such as sharks, rays, and dolphins and learning more about the wider ecosystem.




Developing the techniques needed to survey coral reefs.



Participation in local ecosystem surveying including seagrass monitoring, mangrove species identification and nudibranch diversity checks.


Program Details
Flexibility
Change your location and dates free of charge.
Payment Plans
Flexible payment plans available.
Cancellation Waiver
Cancel anytime and receive a full refund minus your deposit.
Life On Base
Our base is located in Baie Ternay Marine National Park, a 3-minute walk from the beach. The building was originally a school that has been transformed into an eco-friendly research base with classrooms for presentations, a recreation room to relax after a day of diving, giant hammocks for more relaxation, and a large grassy area for volleyball, with benches for eating or studying. Life on base is much like a big family and we share cooking and tidying duties on a rotation basis. Those who have completed their intensive survey and dive training, can look forward to a short boat trip to the dive site once or twice about 5 days a week, depending on the weather conditions and schedule for the week. On other days, participants conduct either marine debris surveys or environmental education sessions with the local community depending on the project needs at the time. Days start early with boat preparations, or training, and are rounded off with an evening debrief, followed by dinner and time to relax, take in the beautiful sunset, and share stories.

Base Tour
Highlights
24-hour in-country support
Diving equipment area and room
ACCOMMODATION
Participants sleep in dorm rooms of up to 10 people. Bathrooms are shared but split-sex, with showers and flush toilets. The entire building is equipped with electricity.
TRANSPORTATION
We provide transfers from the airport to our base in Baie Ternay National Park, which is about an hour's drive. The beach is very close to our accommodation so we simply walk down the water to the boats, which are available to take participants out for a dive.
COMMUNICATION
We are based in a protected natural reserve which means that signal does not cover the entire area. There are spots with good phone cover and we have a phone on base for emergencies.
MEALS
Sample the many flavours of Seychellois cuisine, from coconut water sipped fresh out of the fruit to green papaya salad. All food is provided by us and prepared by participants. Breakfasts include the usual eggs, bacon, toast, pancakes, cereals, and fruit. Lunch and dinner varies based on the tastes of participants at the time. Common meals include curries, stir fries, pastas, pies, and salads. Many participants also buy their own snacks, like banana chips and dried salted fish.
CLIMATE
Seychelles has an equatorial climate, which means sunshine and warm waters year round. Tropical rainfall is common but more frequent from January to May and October to December. Weather is warmest from September through to May, and coolest in the middle of the year, from June to August, and water temperatures reflect these changes too.
COVID-19 Safety
Enhanced cleaning and social-distancing measures in place. Learn more.
Covid-19 Response
Health and Hygiene
For over 20 years, GVI has prioritised the health and safety of our staff, participants, partners and local community members. In response to the global COVID-19 pandemic, GVI has created the GVI health and hygiene team to put in place new standards of cleanliness, norms and behaviours that meet or exceed international recommendations to ensure the ongoing safety of GVI's participants, staff and communities around the world. Internationally recommended practices, such as advice from the World Health Organization (WHO), the Centers for Disease Control and Prevention, and the governments Australia, UK and US, continue to be monitored and the standards are likely to change if and when international advice changes.
The work GVI is contributing to across the globe remains important and the following measures allow our participants to continue to join GVI's programs and continue impacting positively on their world and the communities we work with. The following changes to our existing protocols have been made by the GVI health and hygiene team to strengthen our health and hygiene protocols and ensure that international standard safeguards are in place to protect our participants, staff and host communities.
Download our Travel Smart Checklist
Essential information you need to travel safely during the COVID-19
pandemic – including destination ratings, flight bookings, and tests.
What's It like?
If you'd like to find out what the experience of joining a GVI project is really like, simply contact us and we'll put you in touch with one of our many Alumni.
We'll try to match you to an Alum based on your location, nationality, age, stage of academic career, gender, and program interests. This allows you to gain insights into the experience that is most relevant to you.
Depending on your location you might be able to speak to an Alum over the phone or online, or meet up with them face-to-face at a coffee shop nearby. We also run a series of small events around the world where you can speak to GVI Alumni, Ambassadors and staff members.
Live Updates
Follow GVI Volunteer-In-Mahe's Facebook page for live updates straight from the field. Get an idea of the types of projects you might be involved in, meet our staff and participants, experience life on this GVI base, hear about free time activities, and learn about the local culture and environment.
Arrivals
When it comes to support, we ensure that each participant is provided with unparalleled, 360 degree support, from your initial contact with the GVI Family, all the way through your program, and even after, as you become part of the GVI Alumni Team.
As part of this promise, we will ensure, whenever possible, that one of our dedicated staff will be available to meet you at the airport. In most locations, we also set up a Whatsapp group to help with managing airport arrivals. We will arrange with you prior to your departure that, should you arrive in the agreed upon pick up window, a member of our staff will be there to welcome you, easily identifiable in a GVI t-shirt or holding a GVI sign and wearing a friendly smile. This means there will be someone there to greet you as you land, and from there you will be transported to your GVI base to start your adventure and meet the rest of your team.
COVID-19 Safety
Please note that the above images were taken pre COVID-19. All airport pick-ups and program operations now run with enhanced cleaning and social-distancing measures in place. Learn more.
Flights
Please note that if you use this service delivered by Student Universe and / or if you buy your ticket through this portal you are agreeing to the Student Universe Privacy Policy and Terms and Conditions. Your agreement regarding flights will be between you and Student Universe or as per their terms and conditions.
As GVI is providing this portal as a service we are not responsible for the accuracy of this site.
We are also not responsible for any loss, damage (including loss of profits or consequential damages), injury, illness, harm or death in relation to your flight and travel arrangements.
Download our Travel Smart Checklist
Essential information you need to travel safely during the COVID-19
pandemic – including destination ratings, flight bookings, and tests.
Your Impact
All of our programs have short, mid and long-term objectives that fit with the United Nations Sustainable Development Goals or UN SDGs. This enables us to report on our collaborative impact across the world in a streamlined manner, measuring which UN SDGs we are making a substantial contribution to. Furthermore, this will help our local partners and communities measure and visualise their contribution to the UN SDGs.
Prior to your arrival on base, you will be educated about the history of the UN SDGs. Then, once on base you'll learn about the specific goals of your location, the long-, mid- and short-term objectives, and also clarification of how your personal, shorter-term involvement contributes to these goals on a global level.
Our aim is to educate you on local and global issues, so that you continue to act as active global citizens after your program, helping to fulfil our mission of building a global network of people united by their passion to make a difference.
Healthy corals are key to the health of our planet. They help fish populations regenerate themselves providing shelter for young fish, they assist in removing excess carbon dioxide from our atmosphere and protect living spaces near the shore from damage by waves and storms.
In 1998 a massive coral bleaching event decimated many coral reefs around the globe, including the reefs surrounding the inner granitic islands of Seychelles. Coral bleaching occurs when rising water temperatures cause the algae that live on corals to detach themselves from their hosts. Algae is the main food source for corals and helps to maintain the structure of the corals. Warm waters are the result of climate change caused by excess carbon dioxide in the atmosphere.
Efforts to monitor the recovery of reefs in Seychelles were initiated after the 1998 event. This began with a 3 year project, named the Shoals of Capricorn, which extensively monitored the entire inner islands. The Seychelles Centre for Marine Research & Technology, SCMRT, was set up at this time to continue the work, and to aid the Seychelles National Parks Authority, SNPA (now Seychelles Parks and Gardens Authority, SPGA) with the management of the marine parks. After the Shoals of Capricorn project the monitoring was then taken over by Reef Care International.
In addition to the high seasonal sea temperatures, the coral reefs around Seychelles face numerous other threats such as population pressure, poaching, and unsustainable tourism, all of which are challenging to quantify without a solid, scientific basis. In order to effectively manage and conserve the reef, a continuous monitoring program is necessary to build up a comprehensive picture of the ecological health of the reef.
Coral and Fish Surveys

We established our project in Seychelles in 2004 with the aim of aiding SNPA. At over 20 sites across the North-West coast of Mahe, GVI staff and participants use the protocols of Reef Care International in order to survey the reefs noting the health of existing coral, evidence of new young coral growing on the reef, as well as fish species present and their numbers. Data on coral recovery, as well as fish abundance and diversity is passed on to the SNPA to assist with their management decisions, which might include updates to policies, expanding currently protected areas, or protecting additional areas. In addition, participants use a different coral monitoring technique, to provide data to CoralWatch, a worldwide coral monitoring methodology, based in Queensland University, Australia, which aims to monitor coral bleaching and recovery events around the globe.
Commercial Marine Species Surveys

Unsustainable fishing is also a threat to the health of the Seychellois marine life. In addition, this also affects the wellbeing of the local community, because many rely on fish for daily sustenance, and the growth of the local economy. Marine resources are critical to the Seychelles' economic growth – seafood from Seychelles is sold to international visitors to the islands and consumers abroad. According to the World Bank, after tourism, the fisheries sector is the country's most important industry, contributing significantly to its annual GDP with fish products making up around 95% of the total value of domestic exports. Simultaneously, its underwater treasures are also the reason why many visit every year, bringing capital into the country and attracting a deeper commitment to sustainable practices and the Blue Economy – an integrated approach to ocean-based sustainable development which brings together the economy, environment and society. We assist Seychelles Fishing Authority, SFA, with monitoring commonly harvested species like octopus, lobster, and sea cucumber populations.
Marine Megafauna Sightings

Incidental sightings of marine megafauna like reef sharks and sea turtles occur frequently during dives, and this information is noted and passed on to the Ocean Biogeographic Information System or OBIS Seamap, an online database designed to keep track of various larger marine species around the world.  
Marine Plastic Pollution Cleanups

Ocean floor clean up or trash dives are also regularly conducted as part of the Dive Against Debris or DAD initiative. The data about marine plastics collected is sent on to Project AWARE, an organisation established to monitor the abundance and diversity of marine debris around the world and drive local action for global ocean conservation. At Cap Ternay, Mahe we have two adopted sites under the Project AWARE – Adopt a Site project to help mitigate anthropogenic pollution into our oceans. However, we also collect debris and data on other sites when our divers have spotted there is a large amount of trash or litter that can be safely removed.
Environmental Education

Environmental education is also an important part of our GVI Mahe program. The main aim of this program is to get locals involved in discussions around issues affecting their marine environment, increasing conservation awareness and action in a way that ultimately results in greater protection of our marine and coastal environments. Encouraging lifelong learning and awareness also helps to develop skills and understanding about how to address global challenges and is a key tool in building capacity, creating healthier and more civically engaged communities.
The main United Nations Sustainable Development Goal we work on at GVI Mahe is  #14, Life Below Water.
Our Partners In Mahe
Project Objectives
GVI Mahe, Seychelles Long-term Objectives:
1. Provide a long-term and consistent collection of data, assessing the overall health and development of the reef system in Northern Mahe on behalf of the Seychelles National Parks Authority, SNPA, to be used for regional coastal marine management and international understanding of changing reef systems.
2. Increase the scientific output and awareness of the project through the publication of findings.
3. Continue to support the International School of Seychelles by providing their students with environmental education with a strong focus on marine ecosystems and their inhabitants.
4. Increase in-country capacity by providing training in environmental education and training to local communities.
5. Continue to minimise our environmental impact at Cap Ternay and raise awareness of environmental issues amongst participants and visitors.
Publications
The best decisions in international development and conservation cannot be made without accurate and up-to-date data or informed research. Our many field teams around the world collaborate with local and international partners to analyse data and draw conclusions. In addition, many of our participants have used research they have collected on their various GVI projects to complete their Masters, Doctorate, or postdoctoral studies. We also run a fellowship program which connects postdoctoral researchers at globally-respected universities with our many sustainable development programs around the world to support their research and ensure continuous improvement of our best practices on base.
Newsletter
Cap Ternay Newsletter Last Quarter 2019
2019
Annual Report
GVI Seychelles Mahe Annual Report 2018
2018
Marta Andrea Ezeta Watts, Nico Fassbender
Book
'Coral Reef Status Report for the Western Indian Ocean (2017) Seychelles Chapter'
2017
Publication (book) produced by Global Coral Reef monitoring Network (GCRMN), CORDIO, Indian Ocean Commission and the European Union
Patsy Theresine1, Christophe Mason-Parker2, April Burt3, Pierre-Andre Adam4, Anna Koester2, Jennifer Appoo5, Nicholas Graham6, Shaun Wilson7, Rodney Quatre1, Isabelle Ravinia1, Dainise Quatre1, Mariliana Leotta2, Joanna Blumel4, Elke Talma8, Arjan de Groene5, Aurelie Duhec4, Richard Jeanne4, Jan Robinson9, Phillip Haupt3, Savi Leblond10, Josep Nogues11, Ariadna Fernandez11, Christopher Narty11, Jude Bijoux12
Peer Reviewed Article
'Linking Protection with the Distribution of Grouper and Habitat Quality in Seychelles.'
2016
Journal of Marine Biology
Samantha J. Howlett1, Richard Stafford2, Matt Waller3, Sylvanna Antha4 & Christophe Mason-Parker3
Conference Poster
'The current status of coral reefs along the North West coast of Mahe, Seychelles following the 1998 mass bleaching event.'
2010
Reef Conservation UK 13th Annual Meeting, Zoological Society of London
Samantha Courtney, Lindsay Sullivan, Sharon Drabsch
Conference Poster
'Coral reef recovery along the northwest coast of Mahé, Seychelles following the 1998 mass bleaching event.'
Western Indian Ocean Marine Science Association
Anna Koester, Hamadi Mwamlavya, Matthew Waller & Christophe Mason-Parker
Our Ethics
Below is a list of core ethics and best practices we believe are essential to the operation of high quality, ethical volunteer and sustainable development programs. We believe that all responsible volunteer and sustainable development operations should focus upon these principles. If you are considering volunteering, these are some of the key considerations you should question, to ensure that your time and money contributes towards positive change.
We want to constantly develop our own understanding of ethical best practice. In so doing, we aim to provide an exemplary industry standard for other education institutions, international development organisations, and social enterprises. Our Badge of Ethics stands for the drive to always do good, better. Find out more, click on the Badge below.
Our 10 Ethical Commitments
Locally Driven, Collaborative Projects
We aim to design all our projects in collaboration with local organizations and communities and ensure that they are locally driven.
Clear Objectives & Sustainable Outcomes
We aim to clearly define short-, mid-, and long-term objectives with sustainable outcomes for all our projects.
Impact Reporting
We aim to track, record, and publish the impact of each of our projects.
Working Against Dependency
We aim to build in-country capacity by assisting local organizations in becoming self-sustaining.
Responsible Exit Strategies
For each local organization we work with, we aim to have a plan in place for withdrawing support responsibly.
Clear Roles & Specialized Training
We aim to ensure that every participant is assigned a clear role and that they are fully trained and supported to carry out their work by specialized staff.
Respect for all
In all our actions we aim to respect the skills and efforts of all and seek to protect the rights, culture and dignity of everyone who engages with GVI.
Local Ownership
We work to ensure that credit for the results of any project, along with any data collected, research conducted, or Intellectual Property developed, remains the property of local organizations.
Transitioning from the Orphanage Model
We do not condone and aim to withdraw support of orphanages and residential care centers.
Child and Vulnerable adult policies
We will live by our Child Protection and Vulnerable Adult policies.
Continual Development
As an organization, GVI is committed to striving toward best practice, and to educating both our potential participants, our partners, and the world at large about them. Both the volunteering and sustainable development sectors are increasingly, and rightly, under scrutiny. Many recent local and global articles highlight poor practices and questionable ethics. GVI is widely recognized for striving to apply global best practice in the volunteering, education and sustainable development sectors throughout our operations by reputable organizations such as ChildSafe.
However, global best practice is always evolving and we dedicate both time and resources to engage with internationally respected experts and learn from the latest research to ensure our programs both fulfil their potential to create maximum positive impact, and minimise their potential to create unintentional negative impact. Along with and as part of the sustainable development and volunteering community, we are constantly learning and applying this learning to practice. We do not always get everything right, but we seek feedback from our community members, partners, participants and our staff, and react accordingly. We know are already doing a great job, and feedback we have received confirms this, but we aim to do even better and are continuously refining our operations to improve upon our already excellent reputation.
Program Ethics
NO ENTERTAINMENT-BASED ACTIVITIES
We don't support the use of wild animals for entertainment purposes. This includes riding animals, having them perform tricks, feeding or bathing them or getting close to them to take photos
NO ORPHANED ANIMAL SANCTUARIES
We don't encourage, support or allow the rearing of "orphaned" wild baby animals kept at a "sanctuary". The conservation value of these types of programs is negligent and would only ethically be used in extremely rare cases
GUIDELINES FOR TOUCHING OR MOVEMENT RESTRICTION
When wild animals are restricted for conservation purposes we follow the guidelines of Fair Trade in Tourism South Africa (FTTSA), approved by the Global Sustainable Tourism Council.
ANIMAL WELFARE GUIDELINES
We ensure that the Five Freedoms of Animal Welfare are followed. These include the freedom to express normal behaviour and freedom from distress, discomfort, hunger, thirst, fear, pain, injury or disease.
LOCAL COMMUNITY EMPOWERMENT
We ensure that conservation efforts are also always locally led, that community needs are front-and centre of any conservation effort and that our participants, projects and partners work to increase local community engagement in local conservation efforts.
NO VETERINARY PROGRAMS
We don't offer any veterinary programs or animal rescue and rehabilitation programs. We don't allow participants to do any work they would not be able to do in their home country.
Training
A GVI program is an investment in your career. No matter which you choose, you will be working toward improving your employability by mastering new social skills, gaining further technical expertise and earning qualifications in many cases. Most of our staff are, in fact, GVI Alumni, and we have helped many of our Alumni discover, move toward, and earn their own personal dream jobs. Each program includes introductory workshops, ongoing presentations, as well as on-the-ground professional support provided by our very own trained staff members. In addition, our training programs are critical for helping us to ensure the long-term impact of our sustainable development projects around the world.
For All GVI Participants
Orientation: Your Health, Safety and Wellbeing
Learn about COVID-19 pre-departure guidelines, base expectations, personal and area hygiene practices and what we are doing to keep you safe.
Orientation: Travelling Responsibly and Ethically
Learn about the importance of child and vulnerable adult protection best practices and how to apply them while on project.
Orientation: UN Sustainable Development Goals
Introduction to the history and evolution of sustainable development, the United Nations Sustainable Development Goals (UN SDGs) and how these related to your project work.
Orientation: Further Opportunities for Impact
Learn about our country locations and further opportunities available to you during or after your program.
For All Participants at Mahe
Community: Human Empowerment
Learn about our empowerment principles.
Conservation: Survey Techniques and Logistics
An introduction to different survey techniques and best practice guidelines for surveys; introduction to different types of data and how to record information via a datasheet.
Conservation: Biodiversity & Target Species Identification
Learn about biodiversity and how biodiversity is measured, and classifying different species and how to identify species that indicate the health of the habitat.
Marine Conservation: Pollution and Plastics
Learn about issues with plastic and measures that can be taken to help reduce plastic consumption.
Marine Conservation: Coral Reefs
Learn about what a coral reef is, its importance, how it is formed, how this ecosystem works.
This is a global coral monitoring methodology all volunteers can get involved with. It is separate to our main study focus with Seychelles National Parks Authority, SNPA. It is not required training but an additional presentation offered to volunteers and interns who stay for longer and have more time available.
Crown-of-thorns Starfish Removal
This is a species of starfish that is harmful to both humans and coral. You will learn how to remove these from the reef safely. It is not required training but an additional presentation offered to volunteers and interns who stay for longer and have more time available.
Plastic Pollution And Other Trash
Learn about the effect of waste on the ocean and what we can do about it. It is not required training but an additional presentation offered to volunteers and interns who stay for longer and have more time available.
Learn which creatures pose a risk while in the water, best practices to avoid injury, and what to do if injured.
Introduction To Coral Reefs
Includes an explanation of what a coral reef is, its importance, how it is formed, and how this ecosystem works.
Learn what are the natural and man-made issues threatening the survival of the reefs.
Learn to identify different types of megafauna, larger sea creatures, you might see on a dive near Mahe. You will be asked to also monitor their numbers on your dives.
Coral, fish, or invertebrates workshops
A few weeks before arrival on the base, you will be assigned to monitoring either coral, fish, or invertebrates. This includes several presentations to introduce you to the specific species.
Species-specific Marine Survey Techniques
Once participants are comfortable with identifying the species on site, they will be trained on the different techniques used to monitor these species underwater.
PADI Advanced Open Water (AOW) Certification
5 specialised dives are required to gain this qualification, those we offer include the Boat Dive, Underwater Navigation, Underwater Naturalist, Deep Diver, and Peak Performance Buoyancy. A knowledge review is also required.
PADI Coral Reef Research Diver Distinctive Speciality
This is a distinctive specialty unique only to GVI, created in collaboration with PADI. It provides instruction on the different types of reef monitoring available, along with certain skills which are needed to ensure that you are comfortable using monitoring equipment such as tape measures and quadrats and that there is no damage done to the reef while you navigate around the site.
Survey-specific Buoyancy Training
Learning how to control your buoyancy to ensure that you do not accidentally damage the reef while conducting research.
Emergency Oxygen Therapy Orientation
All volunteers are taught how to provide oxygen to divers in varying states on consciousness.
Qualifications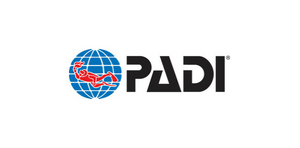 PADI Certifications
Earning a professional diving qualification, such as those offered by The Professional Association of Diving Instructors (PADI), is a necessary step for many aspiring marine biologists. All GVI marine conservation programs include training by certified dive instructors that allows participants to qualify for a range of PADI certifications including PADI Open Water, Advanced Open Water, Divemaster, Instructor, Rescue Diver and Master Scuba Diver Trainer.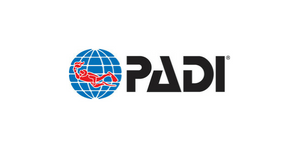 PADI Coral Reef Research Speciality
Joining a GVI marine conservation program for two weeks or longer means that you will receive the Coral Reef Research Diver Distinctive Speciality segment of the PADI Divemaster course. This speciality segment acts as an introduction to coral reef research diving and familiarises divers with the skills and techniques needed to perform effective underwater surveys of coral reef fauna. This speciality is exclusive to GVI programs and was developed by GVI in collaboration with PADI. Although this training counts toward a PADI Divemaster, it is provided to all participants on our marine conservation programs.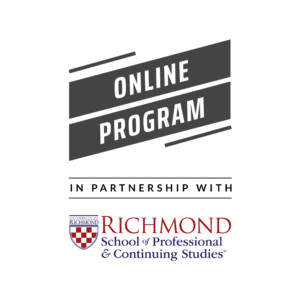 GVI Online Marine Conservation course (optional)
Learn more about what is contributing to the decline in the health of the world's ocean and marine species and what can be done to prevent it. You'll gain a greater understanding of the field of marine conservation, explore how to protect marine ecosystems and discover how you can contribute towards conservation-related initiatives. After successfully completing the course, which you have the option of doing prior to your in-country program, you'll receive a certificate from the University of Richmond.
This online course, valued at £295, is included in all volunteering programs. Full course details can be found here.
Free time
Joining a program not only allows participants to collaborate with communities or work toward preserving unique ecosystems but it also offers plenty of opportunities to explore the surrounding area or travel further to see what other parts of the region have to offer.
Long term field staff are a great source of advice, and have helped us put together the following information on local travel options. Many decide to travel before or after their experience (subject to immigration restrictions), solidifying the lifetime friendships established on program. Please note that the below suggestions are not included in the program fee, and are for the individual to organise at their own expense.
Weekend Trips
Victoria City
Victoria is only an hour from our base in Baie Ternay Marine National Park. Learn more about the particular blend of cultures that have shaped the Seychelles over the centuries. Visit Hindu temples built adjacent to Catholic cathedrals and sample dishes with both French and Indian influences.
Inner Island Hopping
From the capital of Victoria, you can catch a ferry to many of the other inner islands like Praslin, La Digue, Silhouette, Felicity, and Sister. Praslin is home to the Vallee de Mai National Park, a verdant palm forest thought by early explorers to be the original 'Garden of Eden' and now a UNESCO World Heritage Site. Praslin, and nearby Curieuse, are some of the only Seychellois islands home to the famous Coco de Mer palm whose seed is the largest known on earth. The island is home to the endangered Seychelles Black Parrot as well as many other endemic plants and animals. While in Praslin you could even visit our island and coastal conservation base on nearby Curieuse island. La Digue is the picture perfect tropical island, with several quaint guest houses and arguably the most beautiful beach in the world, Anse Source d'Argent.
Hiking and Climbing
The inner islands of the Seychelles, where you will be staying while on this project, are made of granite which means there are many opportunities for climbing available. Visit Morne Seychellois National Park to hike or climb the highest peak in the Seychelles.
Water Sports
Other than diving there are many other water sports in the Seychelles, like surfing, kayaking, sailing, snorkeling, and of course simply swimming in the ocean or relaxing on the beach.
Beau Vallon Bay
The most popular tourist spot on the main island of the Seychelles, Beau Vallon offers a massive stretch of beach lined with shops and restaurants.
Cap Matoopa Hike
Cap Matoopa is the name of the highest point next to our base, and offers spectacular views of Cap Ternay bay. Trek the jungle encrusted granite climb to the top to be rewarded with a magical Indian Ocean vista like no other.
Recreational Diving
The dives we conduct on the project have a strict research focus. However there are plenty of opportunities to go for a recreational dive in your free time.
Cultural Immersion
Engaging intimately with a new context teaches not only global awareness but adaptability and critical thinking, skills highly valued in the modern marketplace. Local and cultural immersion is encouraged on all our programs around the world, and is also one of the most enjoyable aspects of your experience. Luckily, there are many activities you can get involved with in your free time, or before and after your program. On our community programs the focus is on cultural topics, while on marine or wildlife programs the emphasis is more on the environmental element. Use your evenings and weekends to explore diverse and eclectic topics like Theravada Buddhism in Laos or how plastic pollution and climate change affects Indian Ocean coral.
Baie Ternay National Marine Park
Our marine research base is located in the secluded Baie Ternay Marine National Park,  a protected coastal reserve, about an hour's drive from the capital of Victoria and the Seychelles International Airport. The beautiful bay area consists of coastal habitats including mangroves wetlands, seagrass beds, and coral reefs. Among the mangroves you will find species of fish, crab, and birds found exclusively in the Seychelles. Venture further into the water and spy green and hawksbill turtles snacking on seagrass. Deeper in, corals reefs start to span the ocean floor. The dazzling diversity of this underwater garden will surprise you. Here you can also spot emperor angelfish, butterflyfish, octopus, white-tip reef sharks and manta rays. You might even be lucky enough to spot one of the whale sharks who visit the islands for a short time every year.
Mahe
GVI's marine conservation program in the Seychelles is based on the main island of Mahe, the largest granitic island in the Seychelles, surrounded by coral reef, granite drop offs and white sandy beaches. The island rises up to forest-covered mountainous terrain with steep winding roads throughout the island. Turquoise-blue waters house expansive fringing reefs providing habitats to a staggering variety of fish and marine invertebrates. The steep shelf surrounding the islands mean that along with the high diversity of reef fish, oceanic species such as tuna and sailfish are common just offshore. It is home to the capital of the Seychelles, Victoria. Despite being the most populous island in the Seychelles, it is has very few inhabitants compared to most of the urban areas international visitors are use to, and Mahe's natural habitat is very well-preserved.
Seychelles
The Seychelles is a tropical archipelago off the East Coast of Africa, consisting of 100 islands. Islands located near the center of the group are made of granite and researchers believe that this means they use to form part of the Indian subcontinent. The granite islands attracted corals to their shallower waters and most of the outer islands of the Seychelles are based on coral or sand. The islands are famous for their biodiversity and are home to literally thousands of land and underwater species. The waters of the Indian Ocean are a haven for coral conservation efforts making the Seychelles a sought-after diving destination.
Parent Info
'If only every student could do this. It changes your life in all the right ways,' says Chris Heritage, parent of Luke Heritage, one of our teen volunteers who has participated on two GVI programs, one in Costa Rica and another in South Africa.
We are a parent-run organisation that is incredibly serious about health and safety, and increasing the impact, as well as the long-term career benefits of our programs. Our programs help young people develop the skills to select a career path that is personally fulfilling, and live a life aligned to the well-being of our planet and the global community.
Ken and Linda Jeffrey, whose son Sam volunteered with GVI in Thailand, talk about how the experience affected Sam. He also went on to volunteer with GVI again in South Africa. 'I know it sounds like a cliche but in a sense, he did go away as a boy and he came back as a young man. Both of us could recommend GVI without any hesitation to any other parent thinking about exploring an opportunity for their children to explore the world and to see different parts of it.'
Parent Info Pack
Download the Parent Pack and learn more about:
Our staff: All our projects are run by staff, selected, vetted, trained, and managed by our central office.
Health and safety: Our safety practices include a child and vulnerable adult protection policy and high participant ratios.
Staying in touch: See what's happening on base, by following a hub's dedicated Facebook page.
Free parent consultations: We would love to talk to you about exciting opportunities available for your child.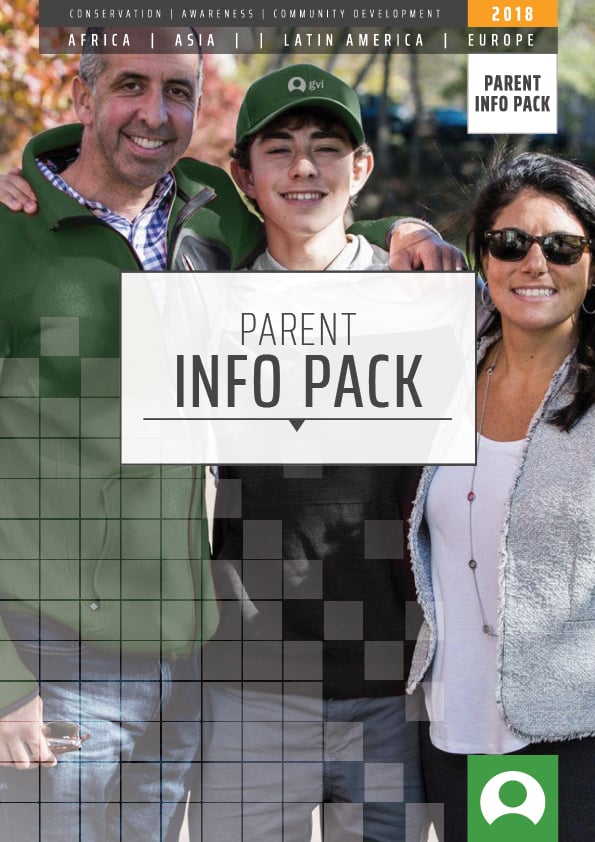 Support & Safety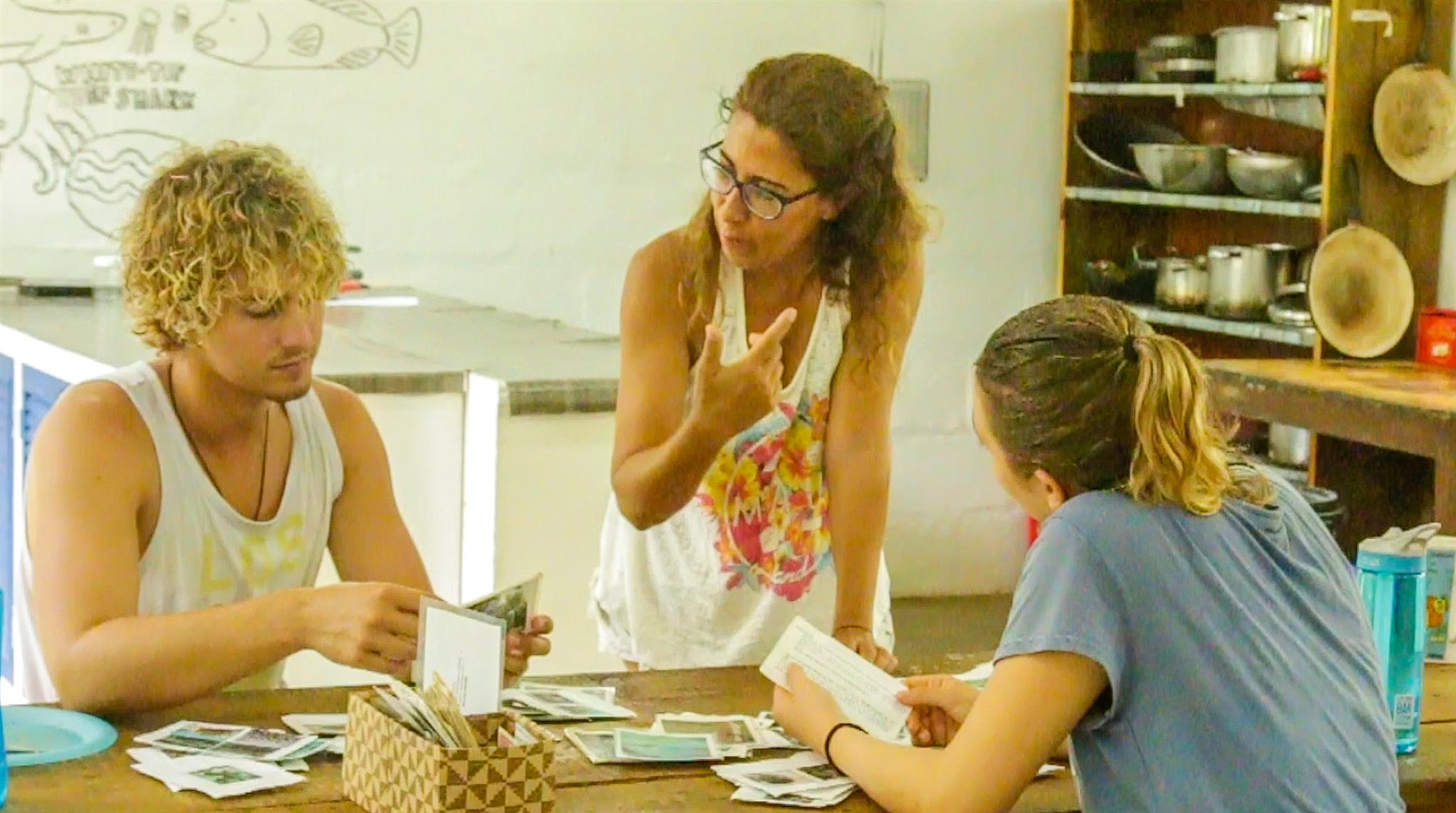 We won't sugarcoat it — traveling abroad is usually a complex process that carries an element of risk. But this is exactly why we're passionate about providing extensive support throughout the process as well as the highest safety standards during the in-country phase. We believe that volunteering abroad should not only be impactful, but an enjoyable experience that carries as little risk as possible. This is exactly how we've been able to maintain our reputation as the most highly respected volunteering organisations in the sector over the past two decades.
COVID-19 Safety
Enhanced cleaning and social-distancing measures are in place throughout each GVI program. Learn more.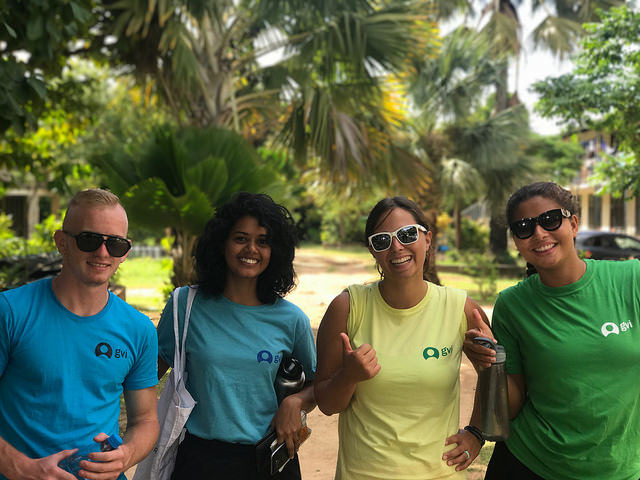 Support
Once a participant books, they will be assigned a personal support coordinator who will oversee their pre-departure journey. The support coordinator helps to bridge the gap between program enrolment and arrival at one of our field bases. Your personal support coordinator will ensure that you are provided with all the necessary information required to apply for visas, background checks, and any other documentation.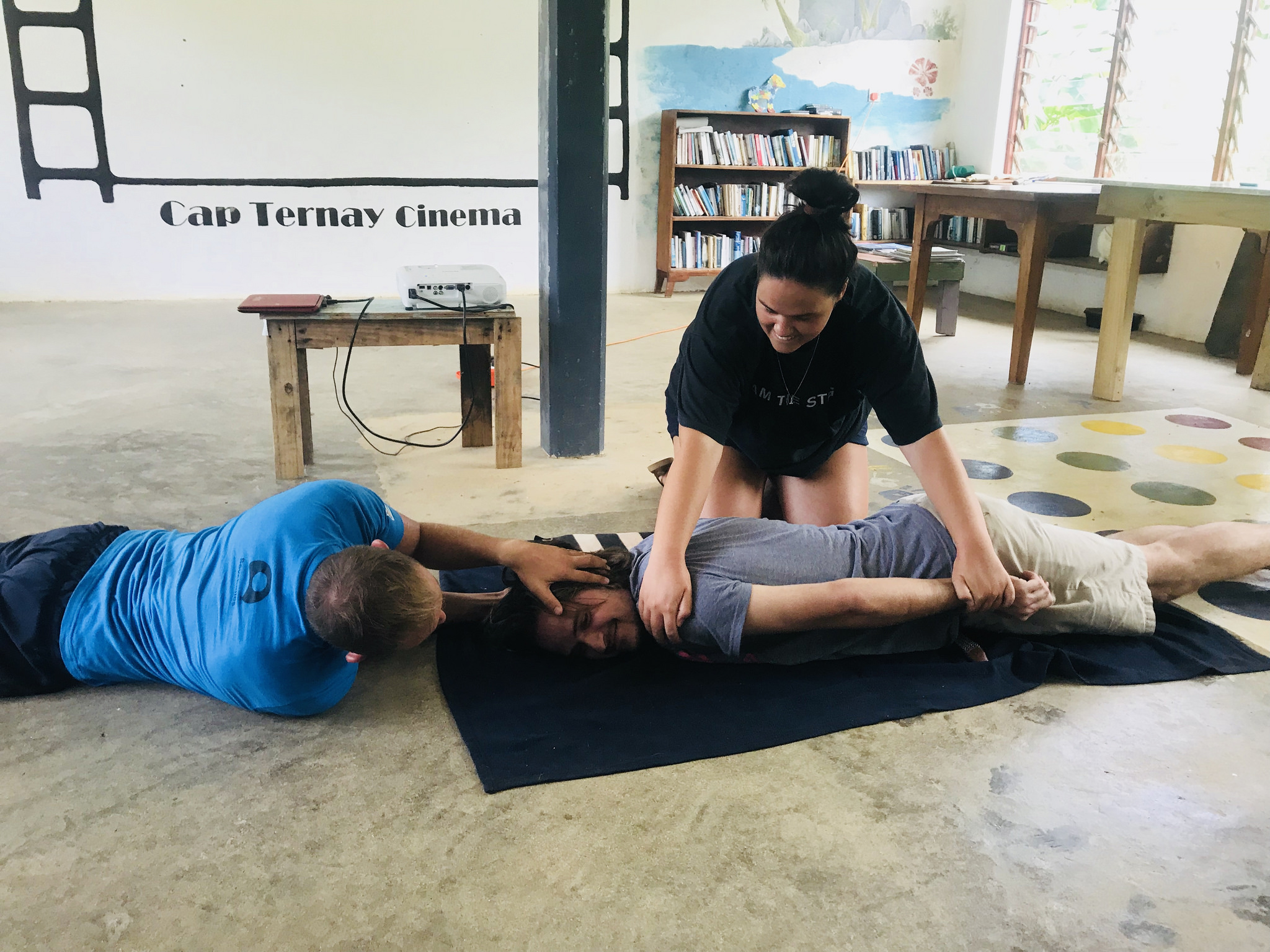 Safety
Upon arrival at the airport, participants will be greeted by a GVI staff member. All GVI staff are our own and all our programs around the world are run by our staff. All GVI field staff are background checked, Emergency First Response and safety trained. The minimum staff to participant ratio on GVI's programs is one to six, although on several bases we have a ratio of one to three. When finishing the experience, participants will provide feedback on all aspects of their program.
Download our Travel Smart Checklist
Essential information you need to travel safely during the COVID-19
pandemic – including destination ratings, flight bookings, and tests.
Health & Safety Case Studies
Similar programs you may be interested in:
Subscribe to our newsletter for program updates and access to scholarship offers.
Contact Us
GVI
1 Emperor Way, Exeter Business Park Exeter, Devon, EX1 3QS, UK
Learning Provider Number (LPN): 10002692
Centre Number: 17067

Contact Us
GVI
1 Emperor Way, Exeter Business Park Exeter, Devon, EX1 3QS, UK
Learning Provider Number (LPN): 10002692
Centre Number: 17067