VOLUNTEER PROJECTS IN INDIA
Experience India's intoxicating cultural diversity and breathtaking natural landscapes by joining one of our volunteer projects in India. We offer a range of volunteering opportunities in two Indian locations where we focus on United Nations Sustainable Development Goals, #3, Good Health And Wellbeing, #4, Quality Education, #5, Gender Equality, and #8, Decent Work And Economic Growth, as our main project aims. As a global volunteer organization, we pride ourselves on partnering with local NGOs and public institutions in India to ensure that volunteers are providing for the specific needs in the region and that they are fully supported by our in-country staff throughout their journey. This is why we are confident in stating that we run some of the best volunteer programs both around the world and in India. Whichever volunteer job you sign up for with GVI, you can be confident that you are working toward lasting positive impact. Many volunteers make the trip to India to experience some of the many tourist sites this popular destination has to offer. GVI participants on a volunteer holiday to India can use the weekends to explore the city or town where they are stationed or even join other volunteers to tour the rest of the country. All our volunteer programs are designed specifically for students of college age, although we also offer a specially designed community service program for high school teens that includes a travel and adventure component. Programs run throughout the year, but many students select to complete volunteer work during their spring or summer breaks. Others choose to work with us during their gap year. Young professionals on a career break or retirees are also welcome. No matter where you are at in your academic or professional journey, if you are trying to find out how to volunteer in India, simply submit an application form requesting to join one of our projects and we will be in touch shortly.
VOLUNTEER PROGRAMS IN INDIA
We offer a variety of community development volunteer opportunities in Kochi in the Kerala province. These include Global Health, Teaching and Women's Empowerment initiatives.
As a GVI public health volunteer in India, you will be working with specialist educators and therapists at a local special needs school and at a community center for persons with disabilities in Kochi, Kerala. You will help both children and adults master self-care practices and vocational techniques that will help them with living more independently. You might also help with conducting WASH (water, sanitation, and hygiene) workshops to ensure better preventative health awareness in the communities in and around Kochi. No previous medical or public health experience is required and all training will be provided before joining the project. This is the perfect project for someone who is both interested in South Indian culture and is considering a career either in occupational therapy or public health.
GVI volunteers working to improve gender equality in India will be stationed in the port city of Kochi, Kerala. Volunteers will not only work with women, but also girls, boys, and men, in an attempt to tackle gender inequality holistically. Volunteers might help girls improve their literacy skills and provide other kinds of educational support or they help local women improve their knowledge of best business practices for running a small handicraft business as well as public health practices for women and infants. They might also conduct workshops with boys and men to discuss topics like gender norms. Whatever the exact nature of the project, your aim will be to ensure that girls and women are more aware of their own potential and have access to more opportunities than before. This is an excellent program for gender studies students as well as those looking to explore fields like education, public health, social work, law or even business.
International volunteers partnering with GVI on education projects in India will work in the city of Kochi, Kerala. Improving the conversational and academic English language skills of students in preschool up until sixth Grade is the main focus of these projects. Volunteers will help teach in a classroom setting at a local care center or tutor students who require additional support in one-on-one classes. In many of the community where you will work, there is a lot of pressure for older students to leave school in order to start earning a living. Part of your role will also be to create awareness around the opportunities that further education offers. Participants on the project can either choose a volunteer placement of two weeks or more or a teaching internship starting at twenty-four weeks.
OUR LOCATION IN INDIA
We run all our own our sustainable development projects around the world and our projects in India are no except. Currently, we have one base in India, Kochi in the Kerala province. Kochi is the base for our community development projects, that include Women's Empowerment, Teaching, and Global Health initiatives.
Kochi is a vibrant coastal city in the South of India. Shaped by diverse influences over many centuries, Kochi is a cultural mecca perched on the edge of the Arabian sea. Learn more about the history of the city by visiting the old city of Fort Kochi where you can visit a Kathakali dance performance, try your hand at using the iconic Chinese fishing nets, or explore a Jain temple, a Portuguese capel and a Jewish synagogue all in one district. You can also venture further out to explore the famously gorgeous Keralan landscape, by taking a riverboat cruise into Periyar National Park.
Meet the team -
Senior Field Management
Cheryl Martin
Regional Director for Nepal and India
Introducing you to Cheryl. Cheryl is the Regional Director of GVI Nepal and India. Her journey with GVI began in 2011. Before this Cheryl had a history of teaching, although she fancied a change, which lead her to volunteer with GVI in Cape Town. After this she became a staff member and subsequently she stayed in Cape Town for the next four years.

Another role came up as Program Manager for Pokara, Nepal, which Cheryl took on before finally getting to where she is now.

Cherly has always possessed a love for travel. She has backpacked across Europe, working as a nanny. Her main highlight however has to be Peru. In fact it was her experience here that inspired her to volunteer in the first place.
Jill Walker
Deputy Director of Programs
Meet GVI's Jill,also known by her rap name, Rainmaker, or her spiritual name, Field Whisperer. Her journey with GVI began back in 2007 as Thailand's Country Director, where she helped set up GVI's first TEFL program!

Now she is based in Chaing Rai, Thailand. Jill's role involves providing support for all of our programs around the world. Working closing with each base, she looks to identify and manage any issues that occur so GVI are able to offer the best programs possible.
Paul Whitehouse
Program Manager
Say hi to Paul, the Program Manager at GVI's Kerala hub in India. Paul is from the UK and came over to India last year. He originally came on a service learning program, however has since become the Program Manager. Paul has a background in experiential education and has previously managed operations of community development programs. They have been in a variety of countries, including: Nepal, Ghana and the UK. Paul's passion lies with engaging with people in service learning activities so that they are able to get the most out of a experience while also giving back to a community. Lastly Paul is a freelance trainer. He enjoys capacity building and working with people from all walks of life. He is really excited to apply everything he has learnt to his time in India.
Meet the team -
In-Country Staff
Jutten George
Program Coordinator
Meet Jutten. Heis originally from Kerala in India, where he currently works as a Program Coordinator at GVI's hub there.
Jutten has been with GVI since 2010. He started his career as a translator and a Community Liaison. He really enjoys the work that he is involved in, as it helps him to empower and help the people in his community.
Download our program brochures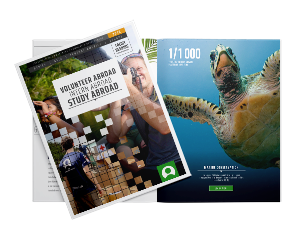 OUR VIDEOS & TESTIMONIALS
Want to travel while you volunteer in India? We've got you covered whether you have an hour, a day or a whole weekend to [...]
Find out how gender equality can be achieved through quality education and how you can contribute to it.
Make the most of your intern experience. Consider these internship abroad advantages when deciding whether to intern at home [...]