Journey to equatorial Ghana, known for its coastal landscape of unspoiled, palm-lined beaches, magnificent rivers surrounded by fecund tropical forests teeming with butterfly life, and a rich cultural heritage stretching far into the early medieval ages, to support communities in their efforts to improve the quality of basic education offered at schools and provide women with the support they need to become more financially independent and socially empowered.
In your free time, take a walk around a nearby market to try on kente garments, known by the people of Ghana as 'the cloth of kings' and sample Ghanaian delicacies like freshly roasted plantains and cocoyam chips at food stalls frequented by locals.
GVI VOLUNTEER WORK IN GHANA
Ever since Ghana gained independence in 1957, the government has been investing heavily in sustainable development. While the country has become more prosperous, access to education has improved, and women have gained more independence, inequality is still prevalent.
In 2017, we were invited to set up education, gender equality, and community development volunteer programs in Ghana. Since then we have been in discussion with various stakeholders including governmental organisations, local NGOs, schools, and women's rights groups to create a platform for international volunteers to contribute to local sustainable development projects could help them achieve their goals.
GVI does not support orphanage volunteering. For more information see our stance on orphanage volunteering. We also support ChildSafe, a global child protection initiative, and regularly review our comprehensive Child and Vulnerable Adult Protection policy. All our staff and participants are required to complete a police background check before arrival on the program, and on-site child protection training is provided once they arrive in the host country. We also protect children from cyber and real-world threats by ensuring that our marketing follows child protection best practices.
GVI volunteers working in Cape Coast will have the option of either teaching English, mathematics and science to primary and secondary school children or working with gender equality organisations that promote women's social and economic advancement through educational workshops. Students looking to complete an international development internship can also complete a Short Term Community Development Internship with us over the period of three months.
Would you like to join them? Apply to book your spot or find out more about this exciting volunteering destination by chatting to one of our Enrolment Managers.
Download our program brochures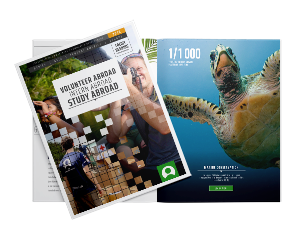 OUR VIDEOS & TESTIMONIALS
Fragrant spices, filling meals, and the warmth of being surrounded by family and friends, food is an integral part of Ghanaian [...]
Volunteer in Ghana over Christmas and celebrate the festive season in West Africa! Eat your weight in food, attend a local [...]
Curious about Ghana? What's the national language? What's there to do? What's the weather like? We bring you 16 fun facts [...]