Program Details
Code: THCM0275N
Conservation Internship with Elephants in Thailand
Help manage an elephant sanctuary and receive career development opportunities
Our Impact
Location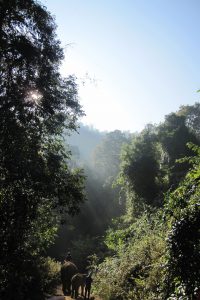 Volunteer in Chiang Mai
Surrounded by breathtaking mountainous scenery in northern Thailand, volunteers will quickly ease into a very peaceful way of life that still exists here. Project work itself takes place in Mae Chaem District, a 5-hour journey into the mountains, where the famous Karen elephant-keeping communities reside and who have shared a unique and sacred relationship with elephants for hundreds of years.
Program Information
Kick start your career on this multi-faceted internship in Thailand's stunning Chiang Mai region. Teach English to community members, assist with plant biodiversity studies with a focus on elephant foraging, and contribute to the rehabilitation of elephants which have been rescued from tourist camps. Discover the fascinating culture and lush mountains in this Northern region of Thailand in your free time.
Overview
Travel to the lush mountainous region of Northern Thailand around Chiang Mai, and contribute to conserving the Asian elephant by living and working with traditional elephant-keeping communities.
This internship consists of 3 aspects – community (teaching), plant biodiversity (with an emphasis on elephant foraging) and elephants. Each of these projects are run independently, but are integrated and highly relevant to each other. The community project consists of teaching English to children at the school and to the elephant keepers (mahouts), as well as supporting community efforts to reduce their financial dependence on their elephants.
The plant biodiversity project involves researching elephant foraging habits and working towards formulating a foraging guide based on the observations made on our elephants. Other biodiversity projects may include surveying biodiversity in the forests around the village, heading up night hikes to look for gibbons, porcupines, and other nocturnal animals, and identifying unique birds and insects. The elephant project consists of leading elephant health checks, studying the behaviour of our herd, and educating other volunteers about Asian elephants.
While each project has many established aspects, interns are encouraged to develop their own ideas and introduce new aspects to these projects.
Although you will be able to enjoy hiking with the elephants 5 days of the week, the rotation of the internship means your responsibilities will shift during the course of your stay.
All internships are geared at developing your leadership and role model skills, allowing you to develop a variety of key soft and hard skills that will put you a step ahead the rest of the pack. GVI have been running community development, education, and conservation projects since 1997 and our highly experienced field staff will help you gain and improve vital skill sets to improve your future job prospects.
After a successful internship, qualifying candidates may be given the opportunity to work for GVI or selected partner organisations in Thailand or in other countries around the world where GVI operate. Field work positions can be paid or unpaid, range in duration from one month to one year, and availability varies. Qualification for possible GVI positions is at the sole discretion of Global Vision International.
Program Details
GVI Live
14 Oct
The mastery of concepts...
The mastery of concepts related to leadership involves both mentorship, self-learning, and practice. Using a tried and trusted [...]
12 Oct
Catch up with news from...
Catch up with news from campus - https://t.co/fs803JELhQ
Posts from the Field
Take a journey through Thailand working alongside local communities to preserve wildlife and impact conservation efforts [...]
GVI Blog
Boasting lush forest areas, exotic sandy beaches, amazing food and out-of-this-world cultural experiences on offer.
When I say gap year in Thailand do you say.... Full Moon Party? Unfortunate. There is so much cultural and environmental [...]
Life on the Internship
During your first 6 weeks, you will work alongside other volunteers and learn about the day to day running of the project. Your days will be split between morning hikes into the Chiang Mai forest with the elephants and their mahouts. In the afternoons you will return to base where there will be lectures on elephant keeping and other training needed to assess the elephant's health and conduct surveys in the forest. The following 6 weeks will see you go through training sessions with previous interns/staff where you will learn more about the 3 aspects incorporated into this internship.

The final 12 weeks of your internship will be spent running and organising each intern project for one month each. Our elephant conservation internship will allow you to work closely with our elephant herd, their mahouts and the local community in an effort to promote sustainable eco-tourism.

Accommodation

You will stay in basic accommodation within a traditional Karen village. As this is a traditional community, you should expect to adapt and show respect for the environment and the culture in which you will be living as well as act a role model for both locals and volunteers. Over time you will become truly immersed as you learn the local language and cultural traditions.
Project Details
The population of Asian elephants and their habitat is rapidly declining. With less than 1,000 left in the wild in Thailand and around 3,000 in captivity, we are one of very few viable alternatives to the unshakable reality of their domesticated future within tourist camps.

Please note, we operate serious projects and internship programmes and as such we do not partake in riding elephants or having them demonstrate skills learnt from being trained.

The focus of the internship is on ensuring that these captive elephants are successfully reintroduced into a protected forest. Your contribution will help the conservation of this beautiful animal species, by providing the funding and hands-on support needed to keep this project going.

The overall goal of the project is to have semi-wild herds of elephants living in their natural habitat, supervised by their mahouts.

Chiang Mai's short, mid, and long-term objectives:

All of our programs have short, mid and long-term objectives that fit with the United Nations Sustainable Development Goals. This enables us to report on our collaborative impact across the world in a streamlined manner, measuring which UN SDGs we are making a substantial contribution to. Furthermore, this will help our local partners and communities measure and visualize their contribution to the UN SDGs.

Upon arrival to base, you will be educated about the history of the UN SDGs. You will learn about the specific goals of your location, the long-, mid- and short-term objectives, and also clarification of how your personal, shorter-term involvement contributes to these goals on a global level.

Our aim is to educate you on local and global issues, so that you continue to act as active global citizens after your program, helping to fulfill our mission of building a global network of people united by their passion to make a difference.

Learn about the long-term objectives you will be contributing to in Chiang Mai:

1. Increase and promote elephant ethical treatment
2. Create a viable selfsustaing eco-tourism program for the village. As well as supporting a stable herd of elephants living naturally in the forested area of the village.
3. Improve standards of living and job opportunities for people in the Huay Pakoot village
4. Improve sustainable natural resource management in the Huay Pakoot area

How this project makes a difference:

Elephants can be very expensive to care for, and generally viewed as private property by locals used as a means of generating income, forced to make money through tourism because of a lack of viable alternatives.

However, as an unregulated industry, elephant tourism can be an ugly business. Elephants require a very specific environment, socially, mentally and physically to be able to thrive. With a huge increase in the demand for tourist camps elephants are deprived of the need of their self-medicating diet, highly migratory urges to move large distances, complex social interactions and brain stimulation. This can in turn lead to shocking health repercussions for the elephants.

Our volunteering with the local community aims to provide an alternative for elephants outside of camps so our villager's elephants can live healthy lives in the forest that will ensure their long term conservation and survival.
Our Ethics
Below is a list of core ethics and best practices we believe are essential to the operation of high quality, ethical volunteer and sustainable development programs. We believe that all responsible volunteer and sustainable development operations should focus upon these principles. If you are considering volunteering, these are some of the key considerations you should question, to ensure that your time and money contributes towards positive change.
Our 10 Ethical Commitments
Locally Driven, Collaborative Projects
We aim to design all our projects in collaboration with local organizations and communities and ensure that they are locally driven.
Clear Objectives & Sustainable Outcomes
We aim to clearly define short-, mid-, and long-term objectives with sustainable outcomes for all our projects.
Impact Reporting
We aim to track, record, and publish the impact of each of our projects.
Working Against Dependency
We aim to build in-country capacity by assisting local organizations in becoming self-sustaining.
Responsible Exit Strategies
For each local organization we work with, we aim to have a plan in place for withdrawing support responsibly.
Clear Roles & Specialized Training
We aim to ensure that ever participant is assigned a clear role and that they are fully trained and supported to carry out their work by specialized staff.
Respect for all
In all our actions we aim to respect the skills and efforts of all and seek to protect the rights, culture and dignity of everyone who engages with GVI.
Local Ownership
We work to ensure that credit for the results of any project, along with any data collected, research conduct, or Intellectual Property developed, remains the property of local organizations.
Transitioning from the Orphanage Model
We do not condone and aim to withdraw support of orphanages and residential care centers.
Child and Vulnerable adult policies
We will live by our Child Protection and Vulnerable Adult policies.
Continual Development
As an organization, GVI is committed to striving toward best practice, and to educating both our potential participants, our partners, and the world at large about them. Both the volunteering and sustainable development sectors are increasingly, and rightly, under scrutiny. Many recent local and global articles highlight poor practices and questionable ethics GVI is widely recognized for striving to apply global best practice in the volunteering, education and sustainable development sectors throughout our operations by reputable organizations such as ChildSafe.
However, global best practice is always evolving and we dedicate both time and resources to engage with internationally respected experts and learn from the latest research to ensure our programs both fulfil their potential to create maximum positive impact, and minimise their potential to create unintentional negative impact. Along with and as part of the sustainable development and volunteering community, we are constantly learning and applying this learning to practice. We do not always get everything right, but we seek feedback from our community members, partners, participants and our staff, and react accordingly. We know are already doing a great job, and feedback we have received confirms this, but we aim to do even better and are continuously refining our operations to improve upon our already excellent reputation.
What's Included
24-hour emergency phone

24-hour in-country support

Access to Alumni Services and Discounts

Airport pick-up (unless otherwise stated)

All necessary project equipment and materials

All necessary project training by experienced staff

Certification and summary of training and experience received

Comprehensive training program that encompasses theory lectures, group study and field practise and a weekly review with your mentor

Confidential professional reference

Final evaluation from your mentor

First Aid & CPR training and certification

Living and working within an indigenous community

Location orientation

Long term experienced staff

Meals while on project (except on work placements for long term internships)

Safe and basic accommodations (usually shared)

Teamwork and leadership experience

Transportation (as required for project work)

Weekly evaluation from your mentor

Welcome meeting

Work placement - if successful on internship
What's Not Included
Additional drinks and gratuities

Extra local excursions

Flights

Food during the placement portion of your internship

Internal transport to placements

International and domestic airport taxes

Medical and travel insurance

Personal kit

Police or background check (where necessary)

Visa costs
Exploration
Volunteering with GVI not only allows you to participate in programmes assisting disadvantaged communities or endangered ecosystems, but it also offers wonderful opportunities to travel in the local area in your down time or further afield either before or after your programme. Many decide to travel after volunteering, solidifying the lifetime friendships established on the programme.

Our long term field staff are a great source of advice and are here to help you make the most of your time abroad. Remember to ask about discounts on local activities and side trips through your association with GVI. Our Chiang Mai field teams have helped us put together the following information on trips and travel options in Thailand!

Chiang Mai is a quiet rural Thai village, giving you a unique chance to learn about the traditional Karen culture. Learn to cook Thai and Karen dishes with community members, and learn about everyday life in this traditional setting.

Included Side Trips

The location of this project is remote. Leaving Chiang Mai city you embark on a 5 hour journey into the mountains. On the way, we pass through the Doi Inthanon National Park (Thailand's highest peak) and usually stop for a walk to one of the spectacular waterfalls.

Due to the remoteness, our programme is based in and around the village. The programme is field based which gives you the opportunity to explore the surrounding forests on the daily hikes with the elephants. Travel and side-trip opportunities from the village need special arrangements, but the prospects for immersing yourself in the local area and village culture are huge.

Optional Side Trips

While on the programme, there is ample time for you to plan side trips and organise transportation. These are not part of the programme and are best taken as a weekend trip or as an activity before or after joining the programme. We are always ready to assist, provide recommendations and up-to-date information. Locally, trips can be arranged to neighbouring villages and town like Mae Chaem and Mae Hong Son. These are great places to wind down, get a traditional Thai massage or explore nearby temples.

Though we are well off the main tourist route, opportunities exist for you to go bamboo river rafting, rock climbing, visit Doi Inthanon National Park, relax at a local resort/spa, and for something completely different... learn how to make a machete using traditional techniques!

Further Travelling Opportunities

Thailand is a country with a massive range of fantastic places that you could visit. If you have the time and budget, you could consider going to see the following; the waterfalls of the picturesque Khao Yai National Park, the local tribes of Nam Province, the beaches of Ko Tao and Mu Ko Chang Marine National Park, the golden kingdom of Ayuthaya, the temples and nightlife of Bangkok, just to name a few! Chiang Mai city abounds with tour operators offering a huge array of amazing side trips in the local province, throughout Thailand and beyond into neighbouring countries.


The Team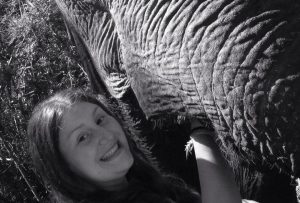 Holly Jones
community co-ordinator
Meet Holly, our charismatic community co-ordinator. She has spent  6 months internin in North Thailand on an elephant project in the village of Huay Pakoot. She focused on the community and elephants, creating a curriculum for the school educating them about Asian elephants. She has degrees in primary education and wildlife and conservation.

Her favourite part about working for GVI is doing a job that she enjoys and is passionate about. To live in a "magically breath taking place, surrounded by a team of staff and volunteers all with same mentality to make a difference".
Phoebe van Doorn
Field Staff
Meet Phoebe, our brilliant field staff member in Chiang Mai, Thailand. She has spent many years working in Australia as a bushwalking tour guide, as a teacher's aide with disable children and working her way up the hospitality ladder to assistant manager and supervisor positions. She has spent time traveling through South East Asia, parts of Central America and North America.

She has also volunteered at animal rescue shelters in Australia and spent 6 months as an intern (volunteering) with GVI with the Chiang Mai hub. She loved it so much that she decided to stay on as staff.

What attracted her most to GVI was the opportunity to live and work in a remote, culture rich community and of course the chance to work alongside elephants.
Danielle Riley
Elephant Field Staff
Meet Danielle, our fun loving Elephant Field Staff member in Chiang Mai, Thailand. She had never really travelled much until interning with GVI Chiang Mai (apart from a Kenyan Safari which encouraged her love and passion for elephants.). She joined GVI  as an intern, and loved the project so much that she couldn't leave.

For her, the travel must-have is a positive outlook; "Every day may not be what you first expect, but only you have the ability to turn it around and make your experience memorable".

Her favourite thing about working for GVI is that her job is so unique and every day is different. Having the opportunity to partake in numerous traditional ceremonies and celebrations has given her so many unforgettable memories.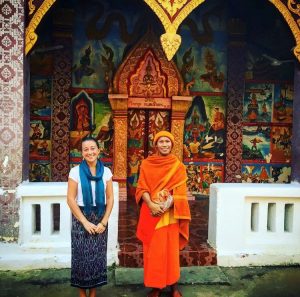 Molly Plexico
Country Director
Meet Molly, our hard working country director for both Thailand and Laos. Over seeing operations in two countries is no easy task but Molly is more than capable.

She started volunteering and travelling at a young age, working  in soup kitchens, with AmeriCorps, at animal shelters, as a Big Sister with Big Brother Big Sisters of America and as a Guardian ad Litem. She studied family development and psychology and loves to dance.

Her goal is to visit one country for every year she is alive. The most unusual place she has travelled to is Uzbekistan, on a trip beginning in Europe and ending in Southeast Asia. This is where she fell in love with Laos which began her journey with GVI. She started working for GVI back in 2012 and she is now based in Thailand. GVI has hubs all around the world and she has been lucky enough to visit the hubs in Nepal, Thailand, Laos and the office in South Africa.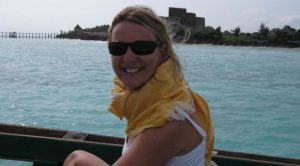 Shayle Havemann
Director of Programs
Meet Shayle, our innovative and driven director for all our projects around the world. She has two honours degrees, one in Industrial and Organisational Psycology, and another in Developmental and Education Psycology. Shayle also has over 10 years experience in setting up, managing and evaluating environmental and community programs across Africa, Asia, Europe and Latin America.

She is well-practiced in facilitating meaningful and effective intercultural engagement and this makes her the perfect person for overseeing our operations in the multicultural country of South Africa.

When not attending meetings or planning her next endeavour, Shayle can be found spending time with her family or taking part in some or other exciting outdoors activity!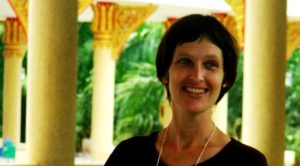 Jill Walker
Assistant Director of Programs
Meet Jill, our Assistant Director of Programs and line manager for Thailand, Laos, India, Nepal, Australia and Kenya programs. 'Manow' (lime), as she's locally known in Thailand where she's based, taught English, environmental education and art in the USA and Thailand before joining us to set up a TEFL and Community Development Expedition. "I haven't looked back since!"


When Jill isn't working, she likes reading or doing just about anything energetic. "I devour books, love cooking and enjoy finding some time to get some exercise – yoga, dancing and aerobics are some of my faves."


What does Jill like most about her job? "It's great to see volunteers rising above the cultural and language barriers between themselves and the communities. That, and every day is completely different, which is the way I like it- it keeps me from getting bored." Being 'allergic' to being bored has led to Manow doing some pretty amazing things. "I once ended up spending a week living in a cave with some Buddhist monks while I helped them build a small adobe monk hut."

Volunteers who went on this program also considered these
Wildlife Conservation
Animal Care
Intern on rainforest conservation projects on the Caribbean coast and receive career[...]
Contact Us
Global Vision International
1 Emperor Way, Exeter Business Park Exeter, Devon, EX1 3QS, UK
Learning Provider Number (LPN): 10002692
Centre Number: 17067

Download a Brochure