Is It Better To Give To A Charity Or Volunteer?
By Petrina Darrah
2 years ago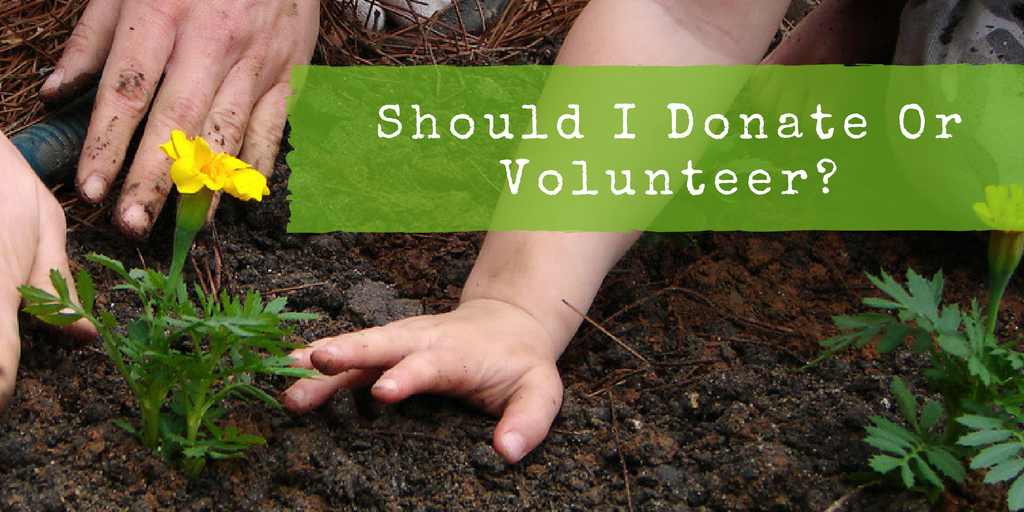 Many things in life come down to whether you have the time or the money. Helping people and projects is no different, and anyone with an altruistic streak will eventually find themselves questioning whether it is better to give to a charity or volunteer.
The simple answer is, if you have the money and not the time, give to a charity, while if you have time and not as much money, choose to volunteer. There are many other factors to consider though, as both have benefits on personal and global levels.
So, let's take a closer look at each option.

It's better to give to a charity when
You don't have time to travel
For people who don't have the time or freedom to travel to another country, it might be better to give to a charity.
This could include anyone working full-time, parents with young children, or even someone with a cat they just can't leave. Whatever the situation, sometimes your commitments at home are just too important to leave.
However, if the desire to change others' lives is still there, giving to a charity is a wonderful way of making a difference in the world. Many charities rely on monetary donations to keep functioning, so never underestimate the importance of giving what you can.
Giving to a charity is ideal for people short on time, as it's easier and faster than ever. Often it's something as simple as a donation online, which takes seconds. Plus, you can do a lot of internet research to make sure you're giving to a reputable charity, and keep up to date on their various projects and accomplishments.
Watching everything from afar isn't as satisfying as experiencing the changes for yourself though, which is why volunteering might be an even better option.

It's better to volunteer when
You have the time to spare
You've probably heard people say time is money, and it's true – they are both equally valuable.
Giving your time can be just as beneficial to charitable causes as donating money and by joining a volunteer project you can make a real difference to those in need. Whether it is doing wildlife research in South Africa, contributing to women's empowerment initiatives in India, or improving healthcare in local communities in Thailand, there are important projects around the world that wouldn't function without the hard work and dedication of volunteers.
You don't need oodles of time, either. Volunteer projects range from short to long term, and can even be combined with holidays, so you can commit for the amount of time that suits you.
You're seeking to expand your skillset
One of the best things about volunteering is that it works both ways. As well as lending a helping hand where it counts, volunteering abroad can help you to reach your own career or personal goals through the benefit of experience.
Plus, the skills you get from volunteering, and the satisfaction you get from making a real impact could inspire you to pursue a career in international development or conservation, allowing you to do even more good in the world.
Further Reading: 5 Reason To Volunteer Abroad
You want to understand the world better
Volunteering enables you to become a global citizen. Acting as ambassadors for their countries, volunteers working in cultures different to their own are vital to establishing intercultural understanding and tolerance. By giving your time and volunteering abroad, you are effectively helping cross those cultural bridges thrown up by distance. Go you!
Further Reading: How Not To Feel Like A Tourist
You don't want your giving to be a one-off
Volunteering abroad has ripple-on effects that donating money to a charity doesn't. Part of the reason for this is that as a volunteer, you often get to work directly with the individuals a project is aimed at helping. This is incredibly rewarding and gives you a personal connection to the situation, so you understand more acutely the importance of what you're doing.
When you go home, you'll want to tell everyone about your experience. By doing so, you'll help to dismantle stereotypes about other cultures, raise awareness of issues facing people in different parts of the world, and open people's' eyes to realities outside of their own. Who knows, you may even inspire others to volunteer, and keep the giving going!
You want to know exactly where your money is going
Knowing exactly what happens to your donation is one of the issues of giving to charities – you can do your research to find reputable organizations, but there is always an element of trust when you and over your money.
On the other hand, when you're volunteering and you give a donation to help the project reach success, it's a lot clearer. When you're on the ground you can see exactly how that money is used and the direct benefit it has. You'll see your donation going straight into local communities and making an impact, which is both eye-opening and rewarding.
Feel ready to start making a difference? Find out more about GVI's international, award-winning volunteering programs and internships, and choose from community development, animal care, teaching, women's empowerment, and conservation projects worldwide.