One of the best parts about volunteering in Kerala is the food. You'll stay in the heart of the local community and have ample opportunity to sample authentic and delicious South Indian cuisine.
On your way to your project, you can stop by one of the many streetside stalls and pick up a piping hot meal for breakfast or lunch and a cup of freshly brewed tea. After your classes, there are plenty of restaurants to try, from local hangouts to more mainstream, touristy establishments.
Kerala cuisine is inspired by Arabian, French and Malabari influences. This sets it apart from the rest of the country. Whether you're hungry for vegetarian dishes like Sadhya or you have a craving for savoury or sweet delicacies, here are some of the best foods to try in Kerala:
Kerala cuisine: what to expect
Kerala cuisine is a blend of vegetarian and non-vegetarian options, making it an excellent choice for all kinds of diets. The most common ingredients used in Kerala dishes are rice, coconut, and fish. Their flavours are enhanced with spices like chillies, turmeric and tamarind, black pepper, ginger, cinnamon, mustard seeds, and curry leaves.
Vegetarian and vegan dishes in Kerala
Idiyappam with curry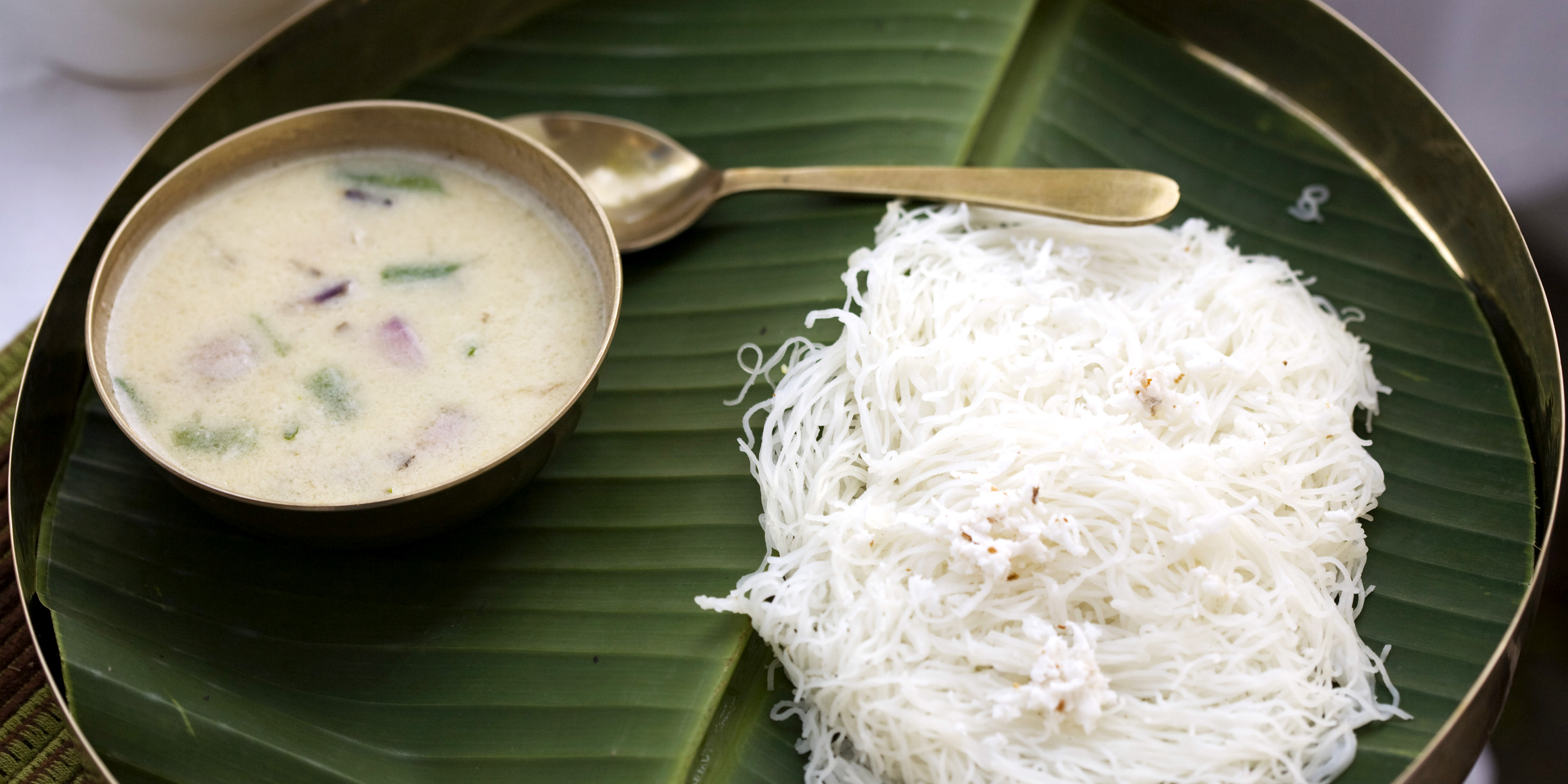 Original photo: Charles Haynes
Idiyappam is a favourite vegetarian cuisine with locals and travellers in Kerala. It's made from rice flour that is pressed into noodle form and steamed. While it's usually served with egg curry, vegans can easily find a non-dairy curry to enjoy with this meal.
Pumpkin and lentil stew
If you have a bit of a sweet tooth, you'll love Kerala's pumpkin and lentil stew. The curry is made from sliced yams or raw plantains and is prepared with sweet pumpkins, chillies, lentils, coconut, cumin seeds, and garlic. It's usually served with rice and is a standard menu item during religious festivals like Onam.
Ela sadhya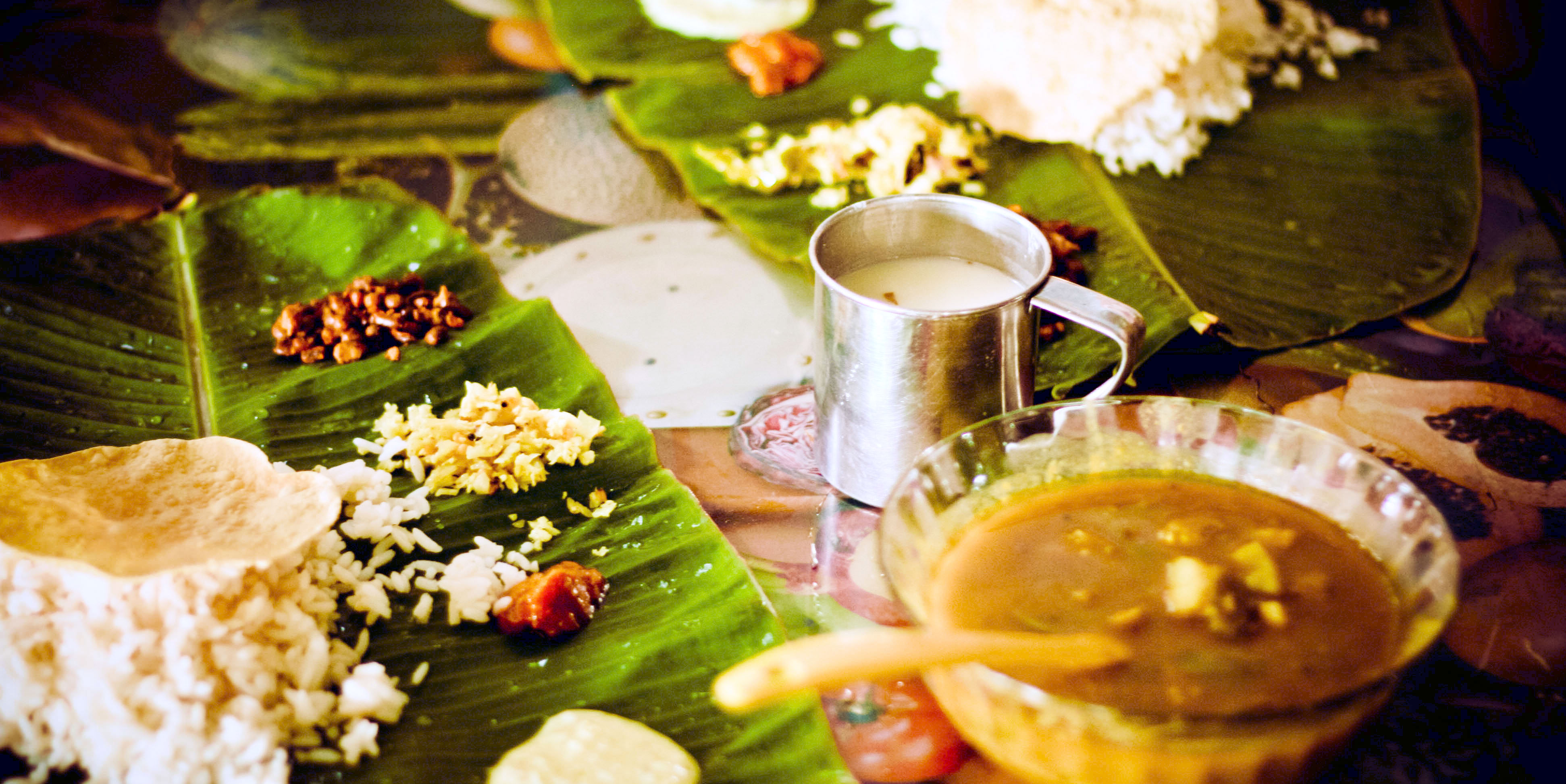 Original photo: Y'amal
Ela sadhya is one of the top vegetarian and vegan dishes in Kerala. This platter is prepared and served during religious festivals or special occasions like weddings.
The ela sadhya platter includes small samples of other dishes like pachadi, kichadi, pulissery, olan, sambar, varavu, thoran, aviyal, and payasam. It's served with rice on a banana leaf and is an excellent way to try a variety of Kerala's vegetarian cuisines in one sitting.
Idli sambar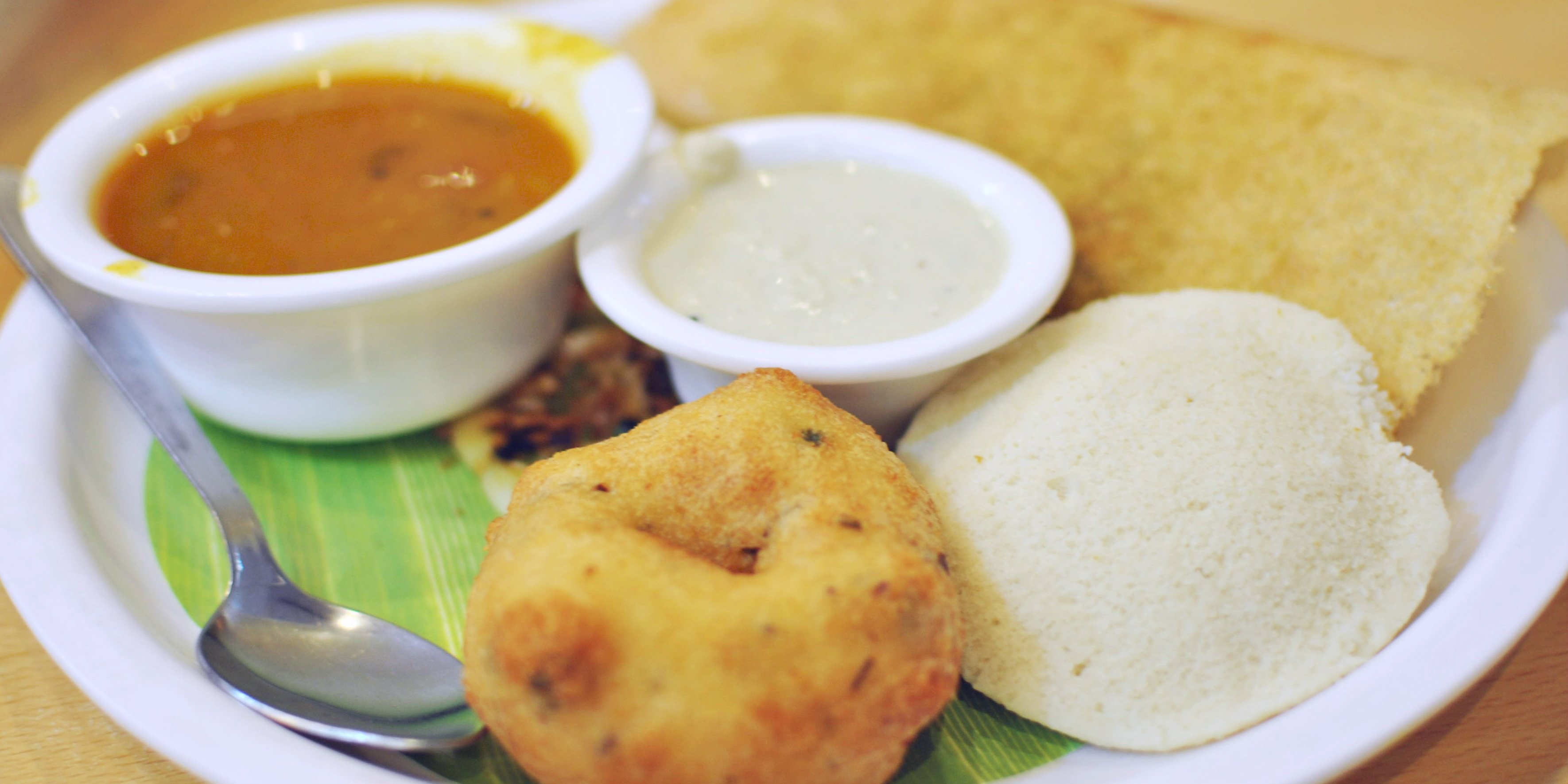 Another popular dish found in most Kerala kitchens is idli sambar. The meal includes fermented rice cakes and is served with a side of curry.
It's also a popular dish because of its health benefits. Sambar is high in protein, fibre, and antioxidants, which help with digestion and boosting your immune system.
Dosa ghee roast
If you're after award-winning cuisine, order a portion of dosa ghee roast with Kerala-style sambar. The dish is made from fermented rice and lentils, and the ghee is roasted until it's at crispy perfection.
Non-vegetarian dishes in Kerala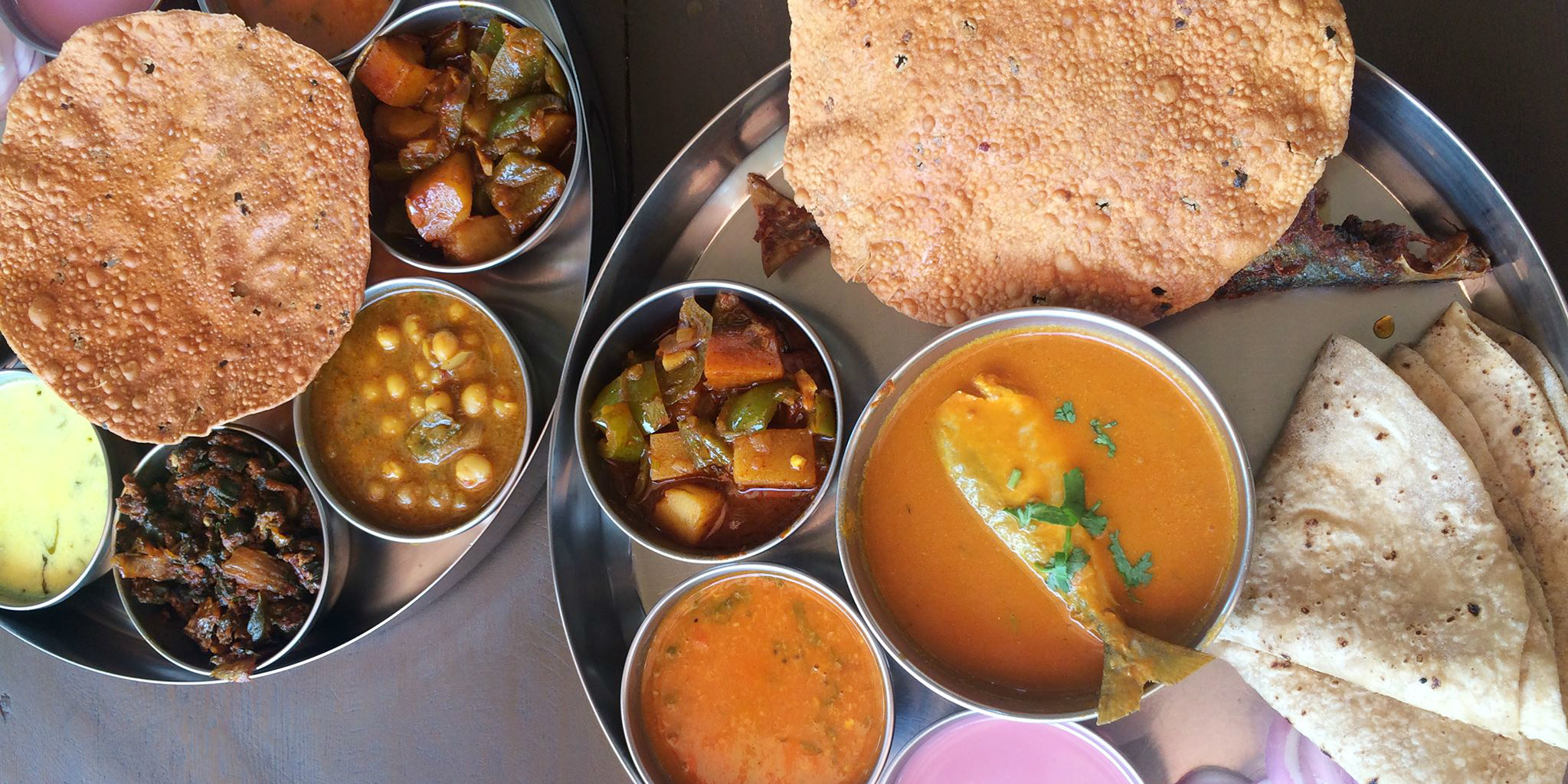 Prawn curry
Kerala's prawn curry is one of the state's best seafood dishes. It's made from a traditional curry that's full of chilli, and pepper. While it simmers in the pot, coconut milk is added along with the prawns, and it's garnished with curry leaves. It's served with either a side of rice or chapattis.
Karimeen pollichathu
Karimeen pollichathu is a traditional Kerala cuisine delicacy. It's made from the pearl spot fish that is caught in the backwaters of Alleppey or Kumarakom. The fish is marinated in a mixture of lemon juice, spices, and red chillies and is then baked in plantain leaves. The result is a unique flavour that sets it apart from Kerala's other seafood dishes.
Nadan beef
If you're not a big fan of seafood, Nadan beef is a delicious Kerala cuisine that will satisfy your hunger. The meat is roasted in a thick gravy and is cooked until it's soft enough to slide off the bone. The dish is served with a steaming side of rice, chapatti or porotta.
Thalassery biryani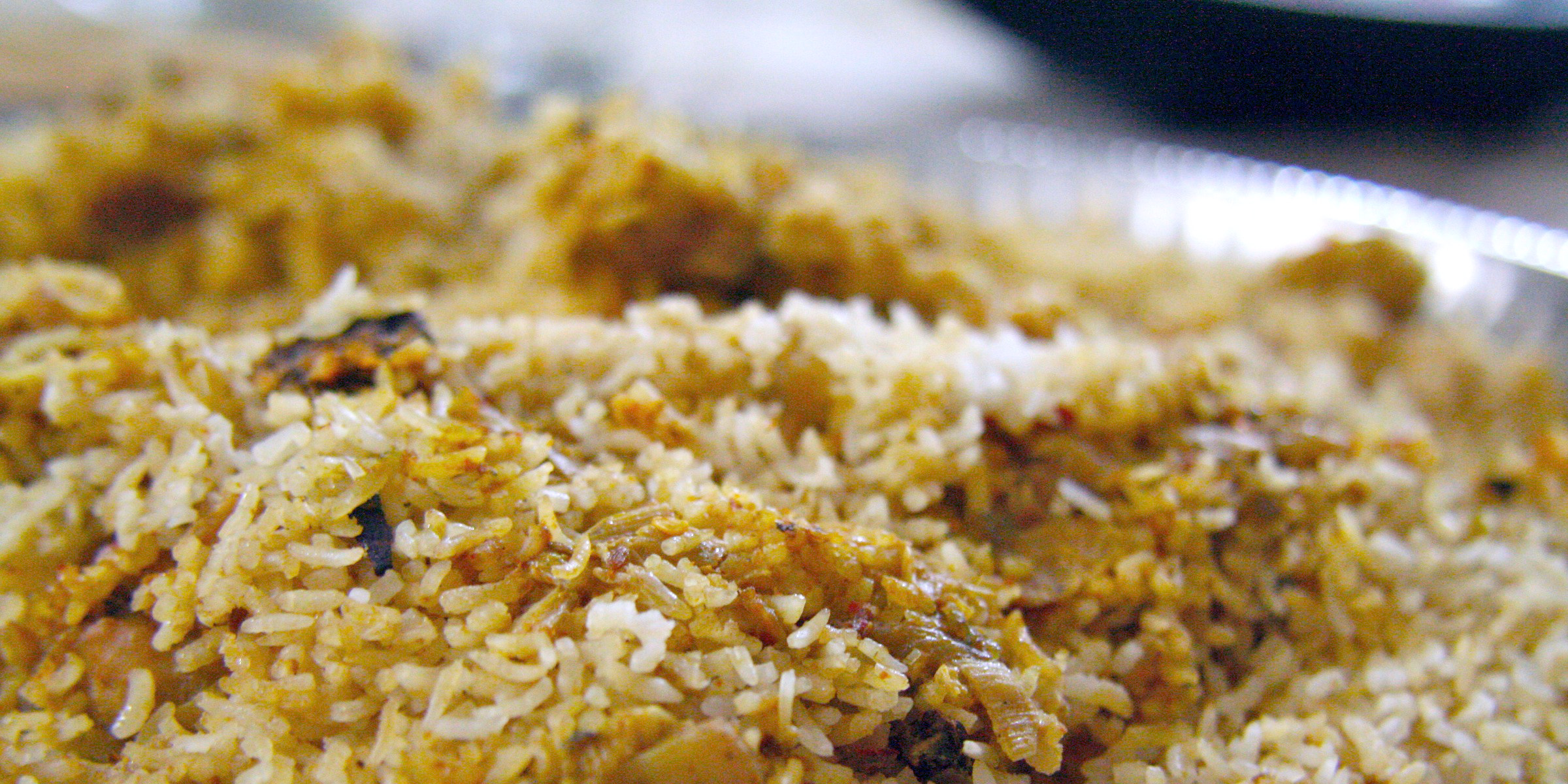 Original photo: Sheetal
While biryani isn't always considered a traditional Kerala cuisine (it's typically found in North India), you can find many varieties in the state. However, Thalassery chicken biryani is a traditional dish from the town of Thalassery in northern Kerala.
Erachi varutharacha curry
Erachi varutharacha is fried ground mutton curry. It's one of the most popular foods in India. The hearty meat dish is found on the menu on almost every restaurant in the state.
Erachi varutharacha is a dish that comes from the Syrian Christian community in Kerala. Over the decades, it's been adopted by the people of Kerala with a uniquely South Indian twist.
Desserts in Kerala
Ethakka appam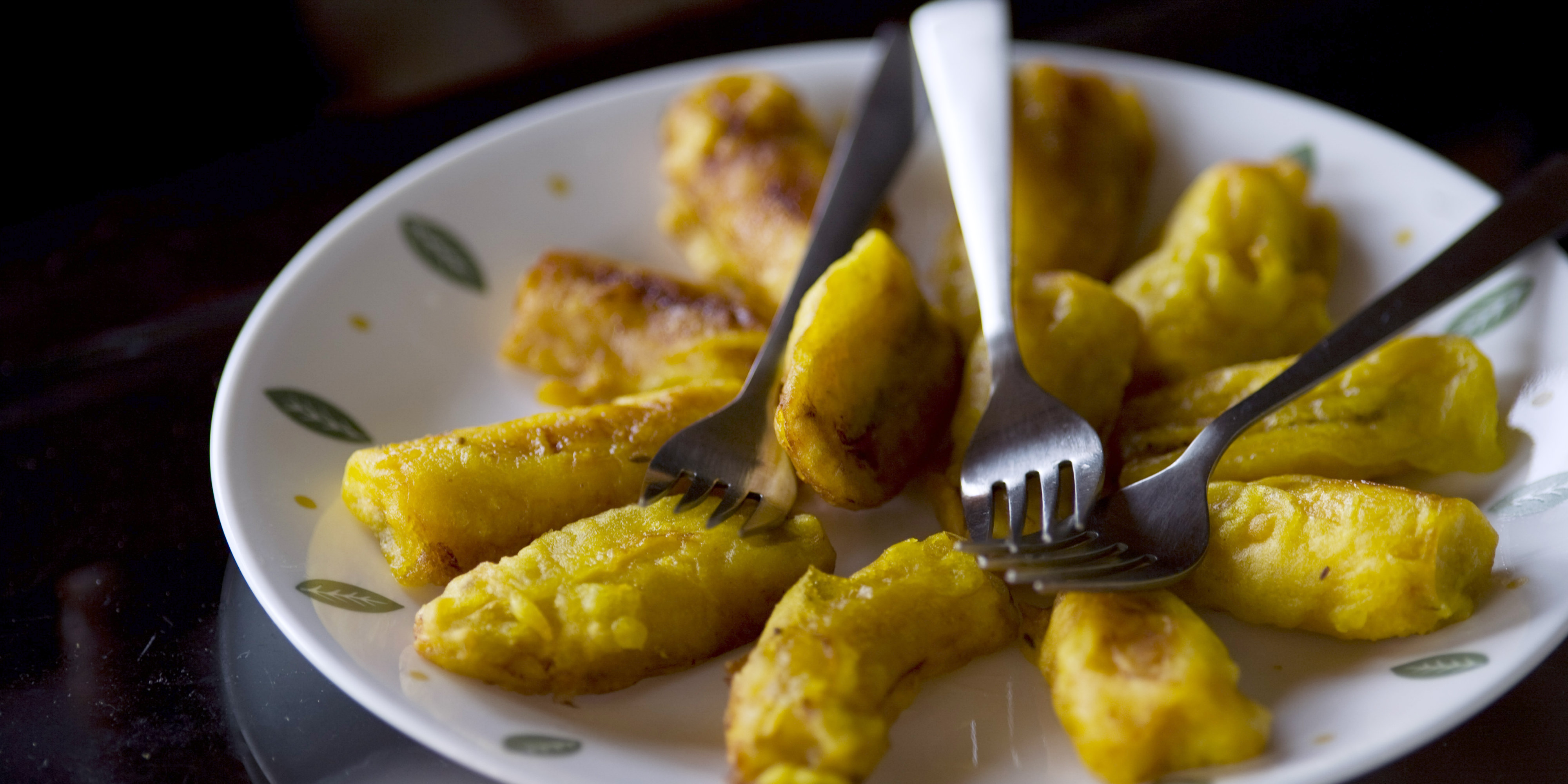 Original photo: Charles Haynes
Banana fritters, or ethakka appam/pazham pori, are a delicious treat to end of any traditional Kerala meal. They are made from ripe bananas that are coated with flour and deep-fried in oil. You can also have them as a snack with your morning or evening tea.
Chatti pathiri
Chatti pathiri looks a lot like Italian lasagna and is one of Kerala's most popular desserts. The layers are made from traditional Kerala flatbreads or pancakes that use a combination of flour, eggs, oil, and water. The filling is a mixture of eggs, nuts, raisins, and cardamom.
Palada payasam
If you're volunteering in Kerala over festivals like Onam, make sure you try a serving of palada payasam. While it does come in a few varieties, the most popular recipe uses ingredients like milk, sugar, ghee and rice ada. It's usually topped with cashew nuts and raisins to give the dish a delicious texture.
 Volunteer in Kerala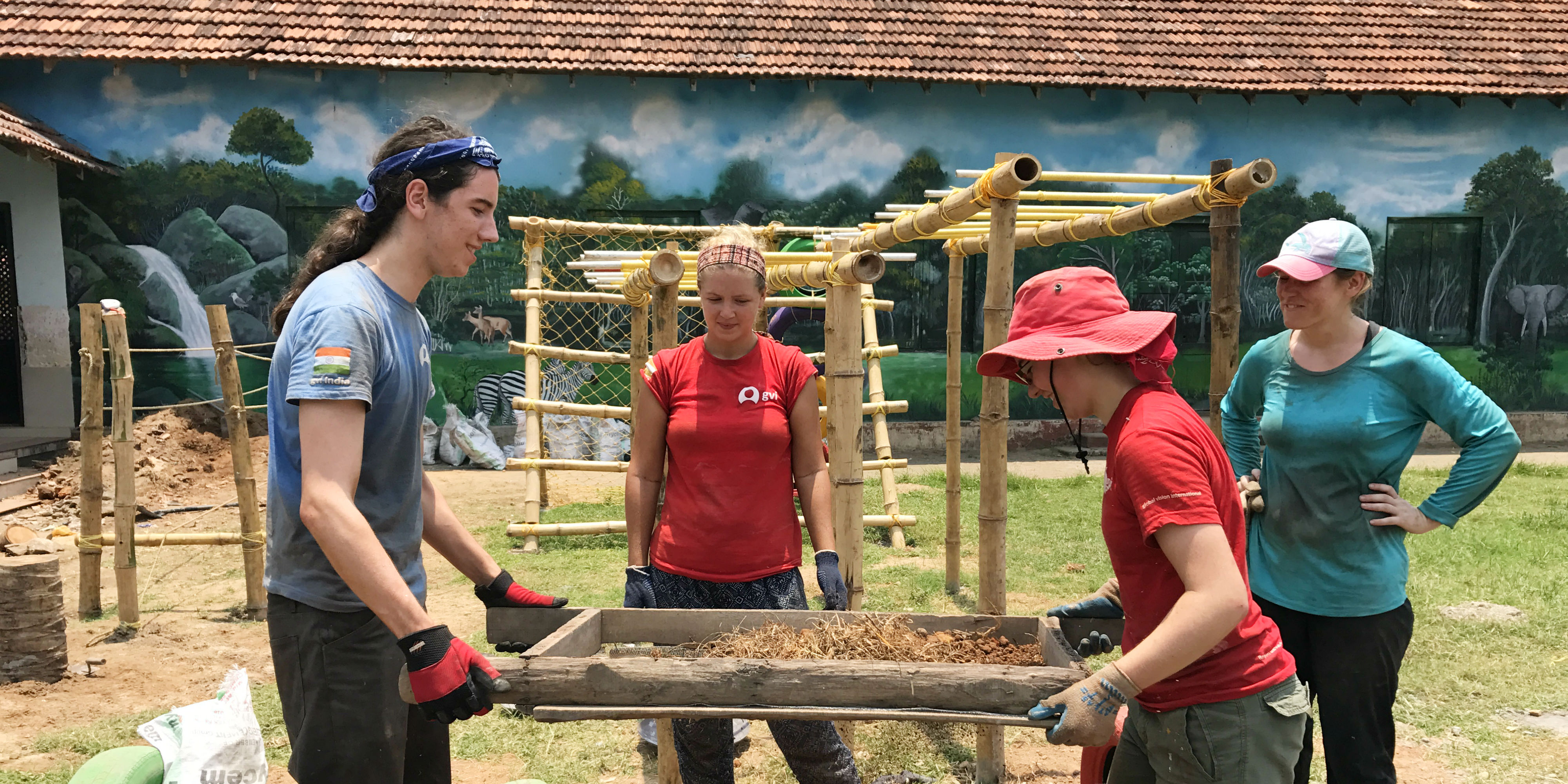 Want to travel to Kerala and be part of making a genuine difference? Browse our community development and women's empowerment projects or speak to a member of our team today.
With over 20-years of experience running sustainable volunteer projects around the world, we can help you choose the program that best fits your skills and answer any questions you might have about safety and our impact on the community.