Top 10 Gap Year Ideas To Inspire You
By Jana Jansen van Vuuren
1 year ago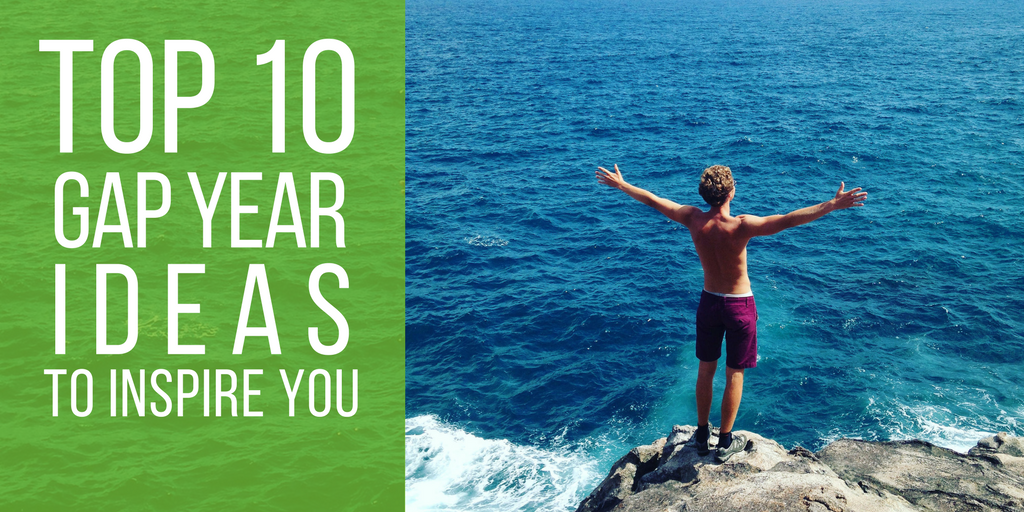 What To Do During A Gap Year?
If you're reading this, chances are you're already convinced that a gap year is for you. Problem is, you're pretty confused about what it is you're actually supposed to do with 365 days of absolute freedom.
And that's okay. The very reason most people take a gap year is exactly because they're not sure what's next. The real problem is that a gap year is, for most people, the first time they're given the space to look at what they really want out of life and their career.
While school is good at teaching us specific things like how to read and how to solve for x, they aren't really great at helping us learn about ourselves. This means that it's all too easy to just follow in the footsteps of our friends, parents, older siblings, or even a celebrity role models.
But breaking away from the group-mind of high school can be exhilarating, but also absolutely terrifying. A gap year is a chance to determine your personal and professional growth according to your own wishes and standards. 

This then is the best place to start — Not with your fears, but with your own desires and ambitions. What are those secret passions you've been putting off to make the honour roll or impress scouts in the audience? What is that exciting idea nagging at the edge of your mind?
Maybe you're an athlete who has always dreamt of writing songs like Alfie in Riverdale? Or maybe you're a straight-A maths whiz who can't shake the idea of learning to dance salsa in Costa Rica. Or maybe you want to use all the free time you can get to find out how big you could grow your brand using Youtube, Instagram, or another platform? Or you could even be a budding entrepreneur who has always wanted to see how business works in developing nations? Whatever your passion, a gap year gives you the time to explore an old or new obsession that doesn't necessarily need to match your current social identity or the career path you have in mind.
Further Reading: How To Take A Gap Year: Before, During, and After
Below you'll find a list of the most popular things students choose to do during their gap year along with the most exciting destinations to do them in. We hope it helps you kickstart your gap year brainstorming session so that you'll have a better idea of the opportunities actually out there.
Further Reading: Why I Regret Not Taking a Gap Year
Remember that you don't need to choose only one option. Most people actually do many things during their time off. And another thing, don't be discouraged if you can't take a full year to explore all possibilities. You can use the months between high school and college as a kind of 'gap summer' if there are financial constraints or you're an athlete who needs to get back home in time to start your training schedule.
1) Travel — Join A Gap Year Program Abroad In Peru
There's a reason going abroad is a gap year cliché — because it's awesome, duh! Getting the chance to experience first-hand scenes you've only ever gawked at online, making new friends with exotic-sounding names and eccentric accents, and trying foods you can't even pronounce — it's a surprise anyone even comes back home after their gap year traveling abroad.
Further Reading: 9 Inspirational Travel and Volunteering Quotes
The real question is where do you go? How can anyone be expected to make up their mind when there are literally hundreds of amazing destinations to choose from? Best suggestion: just start somewhere by following in Malia Obama's footsteps— choose Peru.
Spend just a minute or two reading up on things to do in Peru and you'll notice that there's an endless list of exciting places to go and things to see. Peru has something for everyone, adventure sports for the adrenaline junkie, historical sites for the intellectual, unique habitats for the nature lover, unfamiliar flavours for the gourmand, and extraordinary scenery for those looking to capture something special for Instagram. Don't be surprised if you end up spending your entire gap year backpacking through the land of the Incas.
Further Reading: 12 Ways To Travel Responsibly That You Need To Know About
With GVI you can travel to five continents around the world including Africa, Asia, South America, Australasia and Europe and 12 countries, South Africa, Ghana, Seychelles, India, Laos, Thailand, Cambodia, Mexico, Costa Rica, Fiji, Greece, and, of course, Peru.
Can't make up your mind about where to go? Why not take our quiz. If you are still undecided maybe book a chat with one of our enrollment managers and ask them about their favourite GVI location.
Further Reading: 6 Ways To Deepen Your Travel Experiences
If you're having trouble convincing your parents that travelling is a great idea, remind them that it helps you develop skills, like confidence, resilience, financial planning, and cross-cultural communication, that will impress both colleges and future employers. What also persuades many parents is that young adults who travel often become more appreciative of what they have back home over the course of their trip and, as a result, are more laid back about daily challenges upon their return.
2) Make A Difference — Join A Gap Year Volunteer Program In Ghana
There is probably no better way to truly immerse yourself in another culture than by volunteering. Working on-the-ground in communities gives you insight into local customs that resort-hopping tourists, backpackers and even many of locals will never have. Speaking face-to-face to local persons who struggle to overcome challenges in their daily lives will teach you things about their country that cannot be found in any book, news report, photo, or even anyone else's travel story.  

Volunteering is an excellent way for you to learn about and connect with what you truly care about. This is essential because, ideally, you'd like to end your gap year with a clearer idea of what matters to you so that you can build a truly fulfilling career out of this passion.
Further Reading: What Can Volunteering Abroad Teach Me That School Can't?
While exploring new ways of life and discovering what is meaningful to you, you'll be learning how to communicate with people who don't share your language or customs, and to collaborate with other volunteers in your team, important abilities that both admissions officers and hiring managers covet, allowing you to maximise the value of your gap year for future employment.
Further Reading: 10 Things You Need To Know For Your First Volunteering Trip
If you're worried about not being able to keep old friends or make new ones during your gap year, a volunteer abroad program is perfect for you. You'll get to meet young people from all around the world who are also outside their comfort zones (and social cliques) for the very first time, allowing you to get to know each other in a casual setting.
Further Reading: Why Volunteer?
Possibly our most exciting service program abroad is in Ghana where our volunteers work with local women's empowerment initiatives. What volunteers are directly involved in depends on the needs of our in-country partners at the time, although some of the things they've done in the past include conducting workshops that create discussion around gender stereotypes and domestic violence, helping women increase their knowledge of children's development and healthcare, and teaching women valuable professional skills like how to work with technology and budgets.
Further Reading: 16 Interesting Facts About Ghana
Another way to make a difference in Africa, why not join our gender equality program in Cape Town, South Africa. If you are looking for a great volunteer vacation destination outside Africa, why not choose one of our other community development projects in India, Laos, Thailand, Cambodia, Peru, Mexico, Costa Rica, and Fiji

3) Teach — Join A Gap Year Teaching Program In Cambodia
Teaching abroad isn't only for those who have the drive to become an inspiring educator. It's a way to get used to a work environment and develop professional skills before going into your chosen field.
Further Reading: Why I Regret Not Taking a Gap Year
Teaching is a particularly great choice for young adults looking to develop their leadership skills. Afterall, what better way to learn how to be both a kind and assertive leader, than by keeping a group of young students engaged in maths problems when they can't wait for the break-time bell to ring. Add to this that you'll be learning how to communicate effectively with people who don't necessarily understand your language, a skill employers earmark as a top priority when looking to hire a manager.
You'll also master a bunch of other skills while teaching abroad, like confidence, punctuality, prioritisation, conflict resolution, resilience, on-the-spot problem solving, self-sufficiency, and the ability to turn negative feedback into positive outcomes.  
Further Reading: Which Gap Year Program Is Best For My Career?
If you think teaching overseas during your gap year might be for you, why not join our teaching program in Cambodia. You'll be stationed in Phnom Penh, Cambodia's capital city and the seat of the royal family, where you'll work with both children and adults to improve their English literacy skills. This program is a great way to explore Cambodia's many unique sights, as well as those of nearby neighbours like Thailand and Laos. In your free time, why not observing the daily practices of Buddhist laypersons and monks to learn more about Eastern spirituality. 
Further Reading: 7 Unmissable Things To Do In Magical Cambodia
We have many other volunteer teaching opportunities available in South Africa, Ghana, India, Laos, Thailand, Cambodia, Mexico, Peru, Costa Rica, Fiji, and Peru. Students who are more serious about furthering their career in education can join our TEFL (Teaching English As A Foreign Language) certified 6-month education internships available in Laos, Thailand or Costa Rica.

4) Learn A Language — Join A Gap Year Spanish Program In Mexico
Becoming totally fluent in another language is one of those great passion projects you can actually accomplish during your gap year. Who wouldn't want to learn how to say 'I love you' or even just 'Pass the salt' in French, Spanish or Japanese? Learning another language opens up a new world of self-expression, friendships, and new films, books, and music to binge on.
Further Reading: 5 Useful Tips To Help You Learn Any Language
An additional language, does, of course, also look good on your resumé. Not only does it mean that you can work with more clients, team members, and business partners, but it speeds up your decision making and improves your overall thinking abilities too.
The very best way to learn a language fast is through the so-called 'immersion technique'. This just means you'll be thrown into the deep end when it comes to trying to go about your daily life using the new language. You'll be presented with real-life situations that you have to respond to without using any English. This helps you connect meaningfully with the new language and learn in a more natural way, like children do. As is to be expected, language immersion is best achieved in-country, because you won't be able to avoid seeing, hearing and having to use the language you'd like to learn.  
Further Reading: 10 Tips To Make Language Learning Fun
If you are unsure which language to start with, why not choose Spanish. It's the second most widely spoken language across the globe, more so than English, and is classified as one of the less time-consuming languages to learn.
Join our child development and teaching program in Mexico to teach children English while they teach you Spanish. If you feel you need extra support you can also always choose to attend additional Spanish language classes. If you would like to go further afield than Mexico to develop your Spanish proficiency you can also join our teaching programs in Costa Rica or Peru.
Further Reading: 6 Reasons You Need to Volunteer Abroad in Mexico
If you are interested in a more laid-back approach to language learning you might want to think about joining our other community development projects around the world, where you will be able to proceed at your own pace just by engaging with locals. You could learn Xhosa in South Africa, learn Twi in Ghana, French in Seychelles, Hindi in India, Lao in Laos, Thai in Thailand, Khmer in Cambodia, Fijian in Fiji, or Greek in Greece.
5) Get Work Experience — Complete A Gap Year Internship In South Africa
Take another leaf out of Malia Obama's book and complete an internship in a vocational field you'd like to explore. It's pretty clear what the benefits of this choice are. You'll learn if this is really the type of work for you before you commit fully to it and you'll gain some work experience that will serve you well wherever you might end up. What's not so clear is how you can still have some fun while working. Taking your internship abroad allows you to balance your need to keep your career on track while still having the opportunity to see and experience a lot of other cool new things at the same time.

While we don't like to play favourites, especially with the amazing range of internships we have on offer, we're rather fond of our Cape Town business internship program. It's a one to three-month internship, where students get to put their business knowledge into practice. We partner them with local entrepreneurs to identify and solve real-world problems like how to create a growth plan or apply for a loan. It's a truly challenging program that is designed to help students prove to hiring managers that they what it takes to achieve outcomes that add value to a business.  On the weekends students get the chance to experience all that Cape Town has to offer.
Further Reading: Your Guide To GVI's International Business Internships
We also offer internships for students looking to gain experience in international development, wildlife or marine conservation, education, veterinary science, construction, and healthcare. They are either short-term, three-month-long programs, or double that, taking six months to complete.
6) Prepare For Medical School — Join A Healthcare Program In India
Have you always thought you'd make a great doctor, nurse, paramedic or therapist? Do you have a genuine desire to help people feel better? Then you probably already know that getting certified as any kind of healthcare professional can be extremely difficult at best, meaning know that you'd like to make sure you enjoy the work before you decide that this will be the path to pursue.
Further Reading: Best GVI Summer 2018 Internships Abroad For College Students
While our healthcare internships are more specifically catered to students interested in healthcare administration, occupational therapy, and nutrition, this doesn't mean that those interested in other fields like dentistry and emergency response can't benefit. Skills like doctor-patient communication and instructing patients on how to perform therapeutic exercises, are valuable skills for healers of all kinds. No prior medical experience is necessary before signing up to our healthcare program, and all training will be provided on-base. This means our programs are ideal for students looking to take a meaningful break before medical school or even right after graduating high school.
Further Reading: How To Choose The Right Internship To Boost Your Career
On our healthcare internship in India, you'll have the chance to learn about teaching special needs adults and children self-care behaviours, vocational skills, and sports while exploring India's famously beautiful Kerala egion. You can also learn more about providing support for persons with special needs by visiting our projects in Thailand, Nepal, and Mexico. If occupational therapy isn't your passion, why not learn more about preventative healthcare by helping our teams in South Africa or Fiji organise health, hygiene, nutrition and first aid workshops in underprivileged communities.
7) Earn Credits — Join A Gap Year Study Abroad Program In Thailand
Okay, I know what you're thinking, 'Study during on my gap year? Are you mad, that's exactly what I'm trying to get away from?' But here us out. These aren't your average classroom-bond courses where you're expected to memorise a ton of things that you struggle to connect to the real world. Instead, we're talking about immersive learning experiences, designed to give you first-hand experience of issues you've only read about in textbooks. If you can earn credits while you're at it, all the better.
Arguably our most beloved project destination is Huay Pakoot village elephant sanctuary in northern Thailand. Here students get to learn about the unique relationship local Karen people share with the wild elephants native to this forested region. They work with mahouts, Karen elephant keepers, to ensure that their elephants are well cared for and with other villagers to grow their own small handicraft businesses. Our six-week study abroad course offered here gives students unique insight into how engaging local communities is essential for achieving conservation goals.
Further Reading: The Inside Scoop: 8 Reasons Why You Should Volunteer In Thailand
If you are interested in the interconnectedness between community development and conservation efforts, but Thailand doesn't appeal to you, you can always choose our study abroad program in Costa Rica. Students on this program will be based in Quepos, a town known as the gateway to Costa Rica's famous Manuel Antonio Park.
Further Reading: 4 Reasons Why The Environment Needs Elephants
Students with more of an interest in gender studies can join our gender equality and education study abroad course in Cape Town, South Africa. You'll be based in Gordon's Bay, a small seaside town about an hour's drive from Cape Town, and work with girls and women in the local township to learn how education initiatives can help them gain more financial and social freedom.
8) Explore Artistic Pursuits — Join A Gap Year Art Program In Costa Rica
If you aren't a student specialising in the arts, you might not have been able to develop your creative side during high school due to other academic pressures. This is a shame because having a creative outlet helps improve performance for professionals in just about any field. That is why using your gap year to explore your artistic side, even if you do not consider this a career option, will provide short-term satisfaction as well as long-term productivity benefits.  
Further Reading: 6 Unusual Animals To Look Out For In Costa Rica
For those of you who have focused on perfecting your art throughout your school years, you have probably felt the pressure to 'make it' from day one. What 'it' means depends on the art form and the individual. Maybe it's landing a prestigious grant or fellowship? Maybe it's being hired by a big company? Often young creatives focus so much on this goal that they lose the very things that will get them to the top — their one-of-a-kind personality. A great way to reclaim this part of yourself is by taking a break, reflecting and doing something a little different. You'll return with a new perspective and this fresh new spirit will show in your work.  
Our art and conservation course in Costa Rica allows students on their gap year to explore their own creative side by learning how artistic expression can inspire social change, specifically greater care for wildlife and the natural environment.
9) Go On An Adventure — Join A Gap Year Diving Program In Fiji
All gap years are adventures in one way or another, but maybe none of the other options we've already listed seem to cut it for an adrenaline junkie such as yourself. Hopefully, this one does.
While professional diving isn't technically considered an extreme sport, mastering technical skills that allow you to explore mysterious landscapes most people never will never see, appeals to most with an adventurous spirit.
Further Reading: Top 5 Reasons Why You Should Take A Volunteer Adventure To Fiji
We run several professional diving programs around the world, including ones in the Fiji, Seychelles, and Mexico. Fiji is rather popular because, well, it's Fiji. With over 300 tropical islands to explore, water the colour of clear topaz, magnificent cave structures, and the famously welcoming local culture, Fiji lives up to nearly everyone's idea of paradise. As a marine conservation volunteer in Fiji, you'll not only be learning how to dive, and earning PADI certificate in the process, but also collect data to help in the protection of Indian Ocean fish and coral populations.
Further Reading: Top 5 Reasons To Volunteer In Seychelles
If aren't keen on getting your toes wet, why who not choose one of our environmental conservation projects in Costa Rica, South Africa, Thailand, Seychelles, or Greece. You'll spend the weekdays trekking through lush rainforests, wide stretches of untouched beaches, African savannahs as far as the eye can see, or rugged island mountain trails, depending on your chosen destination while carrying out wildlife surveys, beach cleans, camera trap setups and reforestation projects. On the weekends you can choose from a variety of sports like white water rafting if you're in Costa Rica, hot air balloon safaris if you've chosen to travel to South Africa, water skiing along Thailand's coast, or climbing rock faces in Seychelles.  
In addition, if you'd rather work on one of our community development initiatives there is the also an option to explore the outdoors on the weekend. You can trek up to Everest base camp in Nepal or the Inca Trail in Peru, go surfing in Ghana, dirt bike in Cambodia, or kayak in Laos.
10) Work With Animals — Join A Turtle Conservation Gap Year Program In Greece
If you are passionate about caring for animals then a classroom can be a frustrating environment, even if you are studying veterinary science. Learning about animals in a lecture hall, on slides, and in textbooks just isn't the same as being around them every day.
Taking time during your gap year to work with animals is not only food for the soul, but if you are interested in pursuing veterinary science as a career, it will also help you work on your 'bedside manner', as it were.
Further Reading: 10 of the Best Organisations to Follow That Help Endangered Animals
If you'd like to tour Europe at the same time on your gap year, why not join our turtle conservation project in Greece. You'll get to sleep and wake up on a Mediterranean beach with other volunteers during the warm summer months, conducting sunset and night-time surveys to find, measure and tag mother turtles. In the mornings, you'll walk the beach again to record the number of nests that appeared overnight and put barriers in place to protect the eggs from predators. The highlight of this project is, of course, seeing little turtle hatchlings making it to sea.
Further Reading: 6 Animal Species And How They Are Affected By Climate Change
While in Greece you'll also get the chance to explore some of the ancient sites nearby like the legendary temple of Apollo. Once your time on project ends why not extend your trip and take some time to backpack through neighbouring countries like Turkey, Italy, France or Spain. If Europe isn't your scene, you join one of our other sea turtle conservation programs around the world, in South America, Costa Rica to be specific, Southeast Asia, along the coast of Thailand, and in Seychelles. Be aware that turtle nesting behaviour is seasonal, which means these programs are only available at specific times of year.
For those more interested in caring for cats and dogs, you can join our veterinary project in Mexico. Volunteers on this program are stationed in Playa Del Carmen and work with local veterinarians and nurses to assist with animal recovery after surgery. No previous veterinary training or experience is required which means this is a great program for those still thinking about applying to a veterinary college.      
Are you planning on taking a gap year in 2018? Why, and what are you planning to do? Did you take a gap year and have some inspirational stories you'd like to share with other students? Let us know on Facebook or Twitter. We'd love to hear from you.