Original image: "File:Wla raphael photowalk nima 093.JPG" by Raphael Berchie is licensed under CC BY-SA 3.0
Interested in the cuisine of Ghana? Here's our quick guide to Ghanaian food.
Delectable spices and filling staples make the food of Ghana something not to be missed. But Ghanaian food is about more than mere sustenance: it's a way to express love and happiness, and a means to bring people together. Ghanaian food is for the soul, not just the stomach.
It's all too easy to conflate the culture and cuisine of African countries. But make no mistake: each country has its own body of ingredients, preparation techniques, and flavour palates. And Ghana is no exception.
Broaden your knowledge of food by learning about traditional Ghanaian dishes, and get to know why food is so important within the culture of Ghana.
We spoke to David Larbi, a Ghanaian student, about Ghanaian food and why it's such an important part of culture and life in Ghana. Let's see what he had to say. 
A brief history of Ghanaian food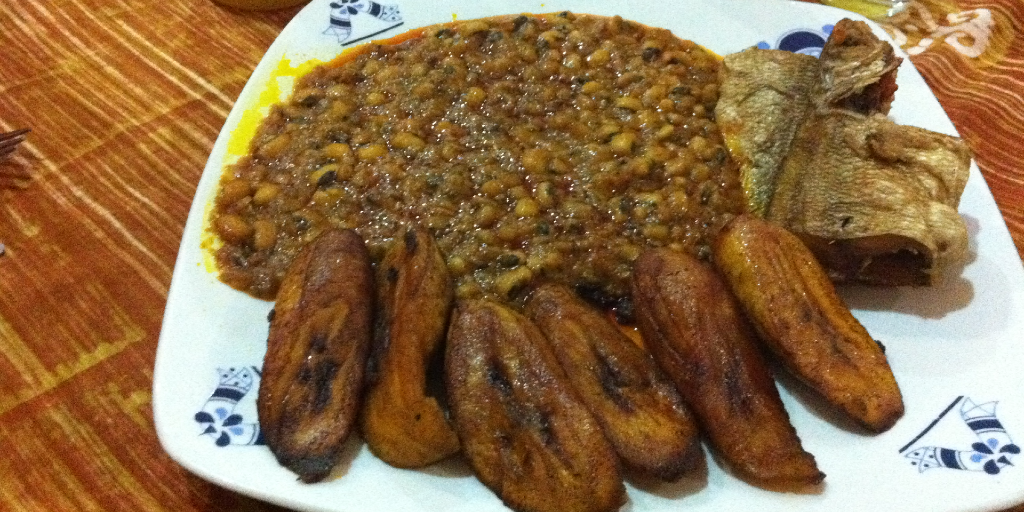 The Ghanaian stew, red red, is made with beans, and takes its name from its characteristic colour: stemming from the red palm oil used to prepare it. It is served here with fried plantain.
Original image: "File:Ghanaian Red-Red cuisine dish food.jpg" by sshreeves is licensed under CC BY 2.0
David starts off saying, "Traditional Ghanaian food is made using local ingredients and age-old techniques. Local staples – like red palm oil, yams and sweet potato – form the base of many Ghanaian dishes."
And, because of the multiple countries that brought their influences to Ghana during colonisation, Ghanaian cuisine also includes some European traits. One example of this is rye bread, which you'll find people eating across the country. 
Scandinavian gold miners came to Ghana in the fifteenth century and introduced ingredients such as rye. Rye bread is a staple in Scandinavian cuisine and can be stored for a long time – making it convenient to use. The Scandinavian colonists brought an abundance of rye with them and it soon became a popular food in Ghana. 
Despite colonisation, traditional Ghanaian staple foods have, by and large, remained stable for centuries. David explains the staying power of Ghanaian staple foods: "These meals are nutritious, delicious, and often simple to make, so why change them?" 
The importance of food in Ghanaian culture
Ghanaian festivities centre on food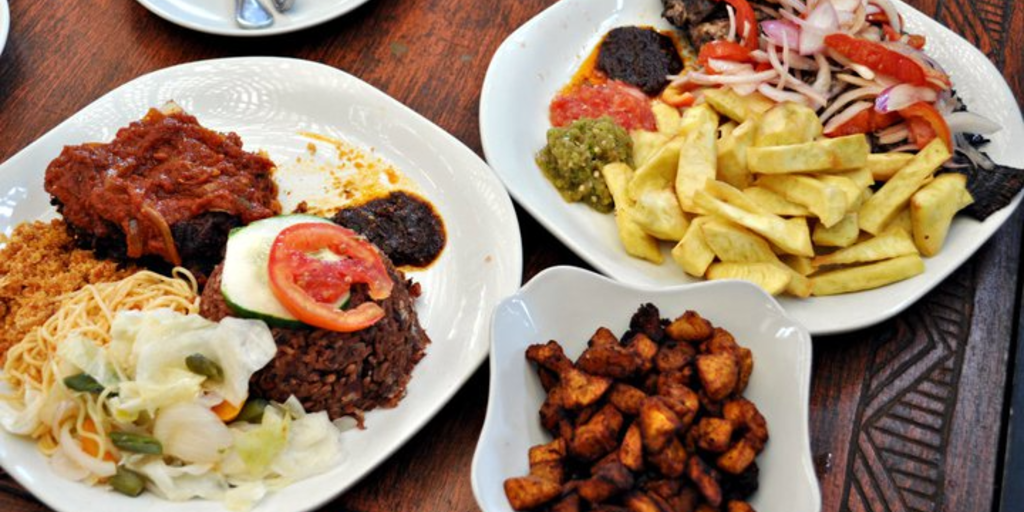 Original image: "Waakye, Kelewele & Fried Yaw" by Macjordangh is licensed under CC BY 2.0
David goes on to say, "Food makes me think of celebration because at every big Ghanaian party the food is the most important thing."
And this is clear to see at any social event since socialising is often centred around mealtimes. Many Ghanaians consider eating together as a time to be with family and friends and to reflect on the day's events.
David recalls sharing traditional Ghanaian meals with family and friends, and the impact that this had on him. He especially remembers "the wave of excitement that comes over the room when the food gets brought in".
Finding common ground in Ghanaian cuisine
He adds to this by saying that, "Sharing a meal together is a way of bringing people to the same level. Sitting across from each other, and being served from the same pot, with the same ladle, is a reminder that everybody is equal."
Food is a way to create something in common, he muses. With these recipes that have been passed down from generation to generation, there's a sense of togetherness and a feeling of belonging.
Here are David's favourite Ghanaian dishes that can give you a glimpse into the country's food culture.
Ghana's top three dishes
When asked about his favourite Ghanaian dishes, David is quick to answer: "Jollof rice, waakye, and gari and beans."
Jollof rice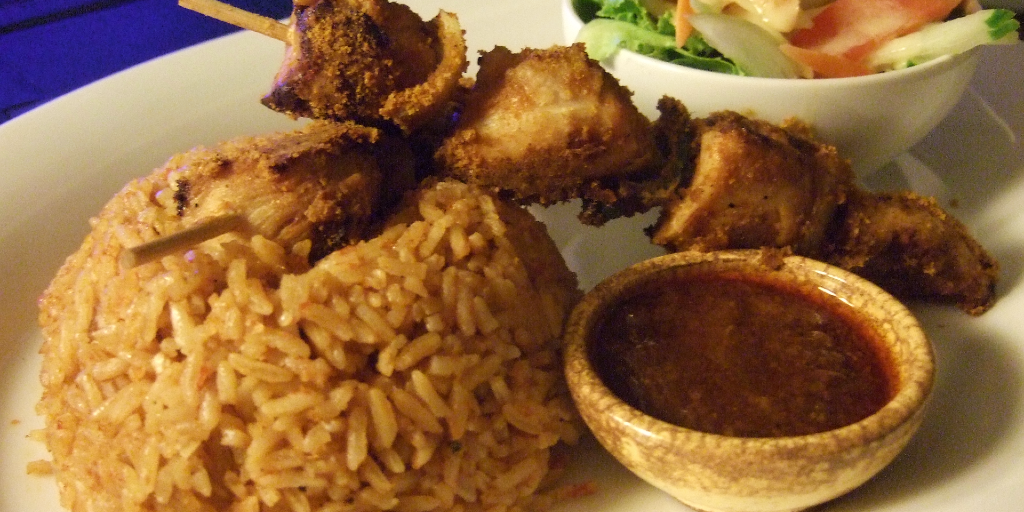 Original image: "File:Ghanaian Chicken Kebab with Ghanaian Peppers and Ghanaian Jollof Rice (Ghanaian Cuisine).jpg" by zmtomako is licensed under CC BY-SA 2.0
Jollof rice is a dish eaten in many West African countries, such as Ghana, Nigeria and Senegal. Each country has its own variation of the dish, each as delectable as the next.
Jollof rice is prepared in one pot, and the Ghanaian version contains rice, meat of personal preference (beef or goat, for example), and lots of tomatoes – fresh or in paste form.
Spices – such as a warm and aromatic mix of nutmeg, curry and thyme – are a must when creating your jollof rice, as is a variety of vegetables that add a crunch to this hearty rice-based dish. This harmony of flavours and textures is what makes this meal so delectable and popular.
Jollof is cooked at a low heat on a stove or over a fire, allowing the tomato and spices to mingle in a way that'll make any passer-by's mouth water. The rice is added after the tomatoes and spices have bubbled together for a few minutes.
Each family's recipe for jollof rice will differ depending on family traditions, location, and what is available. It's a personal choice reflective of tradition, taste, and the occasion. Indeed, David explains that at an event, the food reflects the mood and is regarded as a "second celebration".
This popular recipe is often eaten at parties and events, and is a great crowd-pleaser. You can be sure that if you're serving jollof rice, there won't be much left by the end of the event.
Waakye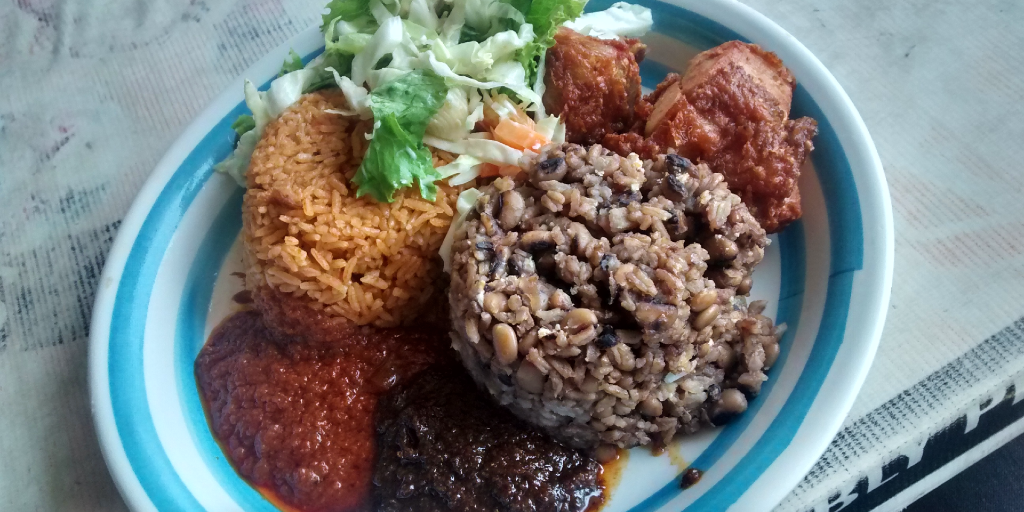 Original image: Dishes1.jpg by Capibar is licensed under CC BY-SA 2.0
This is a simple-to-make dish that tastes anything but simple in flavour.
Waakye is, essentially, just rice and beans cooked together with the leaf of the indigenous Ghanaian millet stalk, locally called the waakye leaf. This simplicity gives waakye a mild taste that's loved by almost everybody.
Waakye is often paired with other traditional Ghanaian dishes, as a side or accompaniment to a delicious meal. It fits well alongside eggs, meat or avocados, making a few simple ingredients infinitely more exciting.
Waakye is incredibly versatile and can be seasoned with spices to suit any taste. This makes this Ghanaian dish popular with almost everybody, with each vying for their preferred version of the dish.
The simplicity and versatility of waakye make it a staple in Ghanaian cuisine. It's filling, healthy, and delicious. What's not to like?
Gari and beans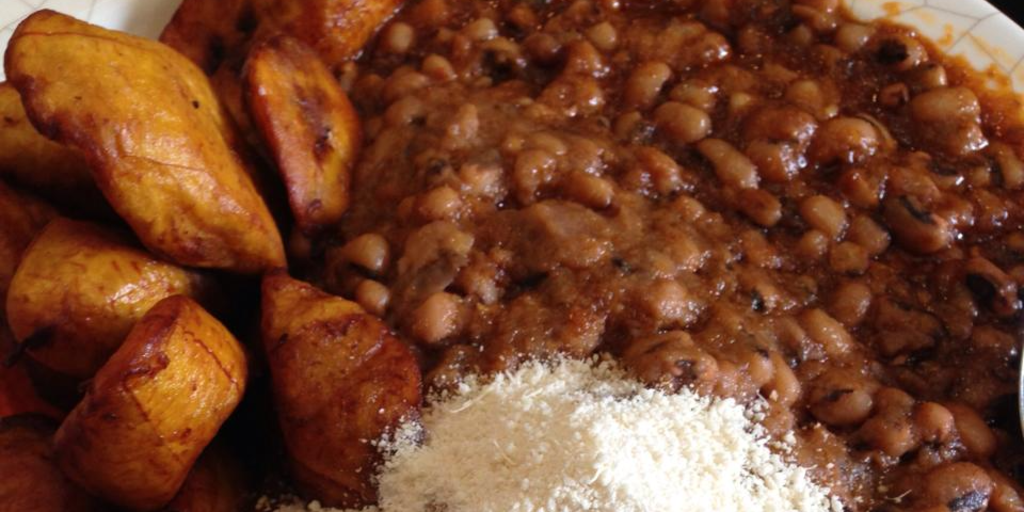 Original image: Beans.jpg by Kwabena is licensed under CC BY-SA 2.0
And then there's gari and beans, arguably one of the most popular dishes within Ghanaian cuisine.
The staple ingredient of gari is "a powdery substance made from cassava root, that can be eaten both wet and dry depending on what you eat it with", says David. The root is dried and ground into a powder and enjoyed with many meals. Although popular within Ghanaian cuisine, it's little-known beyond its borders.
The basis of this dish is boiled beans mixed with red palm oil. Gari is usually accompanied by fried ripe plantain. Again, spices and herbs can be added when making gari and beans, according to personal taste.
This dish is a whole meal in itself. The beans make it fantastically filling, adding texture and substance to the meal, while the accompanying fried plantain gives it the perfect flavour of freshness.
Find out more about Ghanaian food for yourself
Has learning about Ghanaian food made you hungry for adventure? Get in touch with the GVI team today and learn about sustainable development projects in Ghana.