If you're in high school today, chances are you're clued up about global issues, and may even  already be contributing towards projects aimed at addressing them. But why not get involved in making an impact globally with GVI's volunteer opportunities for teens that you can take part in abroad? 
Although you're keen  to contribute towards a positive impact globally, being in high school may mean that you've faced some challenges when trying to join projects that deal with the world's most critical issues abroad. You've had to deal with the strict age limits of many volunteer abroad programs, the concerns of your parents and the limitations of your school schedule.
But there's no need to default to a volunteer program you're less passionate about because of this, merely for the sake of completing your volunteer hours.    
At GVI we know that high school students don't want to shy away from the real issues. They want to be given the opportunity to make an impact. We have numerous volunteer opportunities for teens between the ages of 15 and 17, that take place in countries around the world. In these volunteer abroad programs, high school students can contribute towards the 17 United Nations Sustainable Development Goals (UN SDGs) in a meaningful way.
These volunteer programs abroad aren't just your average volunteer project, designed solely for the purpose of ticking off the required volunteer hours for high school. We've been in operation for over 20 years, and have continued to improve upon how we contribute towards conservation and community development. 
While on a GVI project, you'll get the chance to meet high school students from around the world, learn from experts on base, interact with local people and immerse yourself in other cultures. It's the kind of experience that many of our volunteers describe as "life-changing", and they've used these experiences as inspiration for their college essays.
Read more about how volunteering abroad adds to your professional development in this article: What to expect from the best high school volunteer abroad programs.
Our volunteer opportunities for teens run over the summer break – between June and August – and during spring break. Students are encouraged to book at least a year in advance as spaces are limited and tend to fill up quickly.
Start planning your trip by taking a look at some of the best volunteer programs for high school students that we've listed below, and hear what previous volunteers have had to say about their experiences.
Summer volunteer programs for high school students
Take part in teen community service and adventure trips
Our volunteer and adventure trips are some of our most popular teen programs. These two-week community development programs include an adventure element such as trekking in the Himalayas, zip-lining in the Amazon rainforest or exploring the Kuang Si Falls in Laos.
Students typically take part in activities to increase educational capacity, as well as women's empowerment activities that support sustainable development in these communities.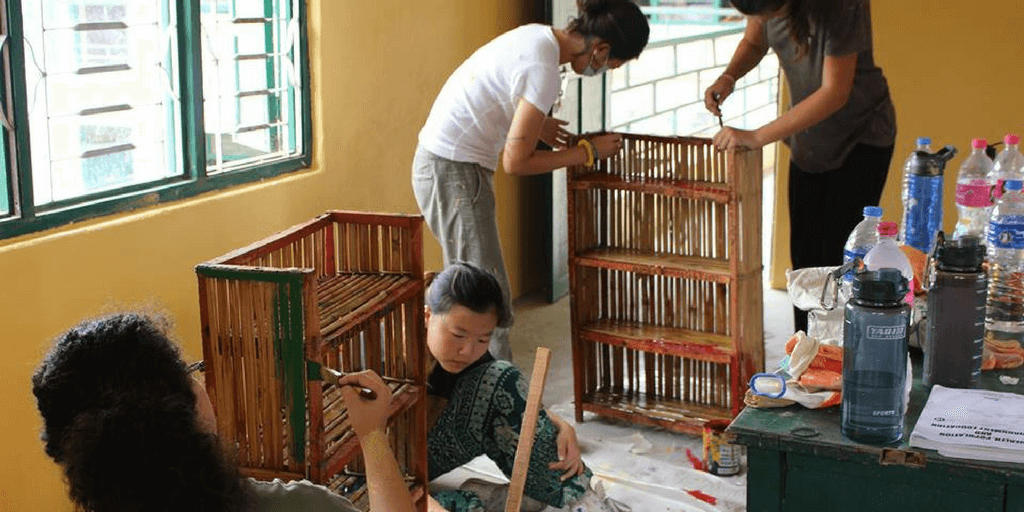 In 2015, an earthquake hit Nepal and destroyed much of the local infrastructure. GVI already had programs in Nepal at the time, but after the earthquake we worked with the local community to re-evaluate the needs of the local community. This saw us intensifying our efforts to provide quality education by supporting the local community in rebuilding the educational facilities in the area.
Teens volunteering with GVI in Nepal continue to work on these infrastructure development projects during the week while also getting opportunities to learn more about the culture of Nepal. And, over the weekends, you'll have the chance to take part in a structured itinerary. This might include perusing crafts at the lakeside market, taking a ferry to a Hindu temple at the centre of Phewa Lake, or even hiking part of the Annapurna mountain trail.  
And it just takes talking to a previous volunteer to get excited about what volunteering in Nepal is all about. Ethan volunteered with GVI in Pokhara, Nepal. This is what he had to say about getting involved in one of GVI's teen volunteer opportunities: 
"You get to experience a different culture on a whole new level. It's life-changing. I can't say I'd have the perspectives that I have now if I hadn't had this opportunity."
Our organisation was active in Fiji for several years before Cyclone Winston hit in February 2016. This was the most severe storm in the Southern Hemisphere in recorded history, and caused significant damage all around Fiji.
Right after the cyclone, GVI assisted the local community in rebuilding schools and community centres. These days GVI's teen volunteer opportunities in Fiji focus on environmental conservation and sustainable community development. 
A big part of our Fiji teen volunteer opportunities is cultural immersion. This means that you'll be surrounded by and participating in aspects of Fijian culture in a respectful and meaningful way.
James Mckie volunteered in Dawasamu, Fiji, and this is what he had to say about his experience:
 "I honestly believe that participating in projects like [this] changes your whole outlook on travel and how we can all give back.
GVI has created an amazing project and cultivated such great relationships with the local communities. I urge you to give this a try and see Fiji in a way a tourist just simply never can!"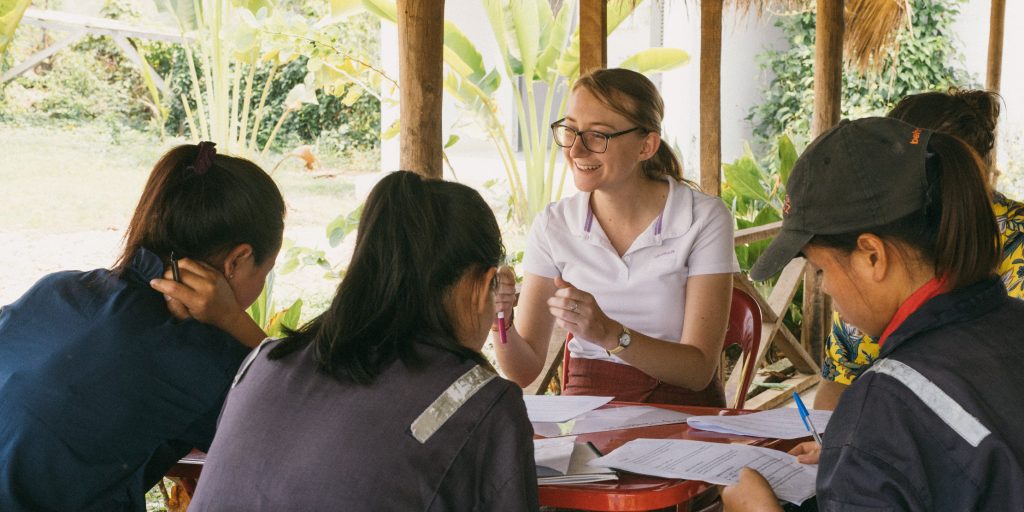 With tons of tourists travelling to Laos every year,  more of the local people in Luang Prabang are getting involved in the tourism industry. High school students in Luang Prabang are also encouraged to up their tourism sector know-how as this can improve their employment opportunities in the future. Assisting the local community with English lessons goes a long way in achieving these goals.
Teen volunteer opportunities in Laos are focused on cultural exchange between teen volunteers and similar-aged members of this Laotian community. Take the opportunity to learn the language of Luang Prabang, and find out about its culture first-hand. Then assist the teens and the local children of Luang Prabang in learning and practising the English language, and get to share your own culture with them too. 
Add to this the fact that you'll be on a volunteer abroad program in a United Nations Educational, Scientific and Cultural Organisation (UNESCO) World Heritage Site and it's tough to think of a reason why you wouldn't want to volunteer in Laos. 
You might also visit the Kuang Si Falls to see clear waters cascading down the mountain side. Or pad along to the paddy fields to learn about what life is like for the rice farmers that are an important part of Luang Prabang's history and development. On weekends, you and your peers might venture into the forested mountains and hillsides of Luang Prabang, where you can spot Buddhist temples poking through the foliage.  
Take the opportunity, and you could have a similar experience to Lydia Gethin's when she volunteered in Laos:
"I went to Laos to join the GVI teaching project in Luang Prabang with zero expectations. In fact, I was convinced that I would be living in the middle of nowhere with the most basic of living conditions. Imagine my surprise when I arrived at a beautiful guesthouse in the middle of the bustling city of Luang Prabang. 
Most days, I got up early and went for a run with one of the other volunteers along the Nam Kong River which is the most beautiful view in the morning. I would get back and get changed into my teaching sinh – a traditional Lao skirt. We would then go to a nearby village and play a [Laos-style] football match.
After that, we would walk back to the guest house, grabbing a fruit-shake from the food market, arriving just in time for lunch. We would then go to the city library. When I got back I could change out of my sinh, have supper and go to the night market with the other volunteers. 
On one weekend, I visited the beautiful Kuang Si Waterfalls. The time went by too quickly and saying goodbye to the friends I had made was heartbreaking. It's impossible not to fall in love with the people and the culture – I would recommend it to anyone and everyone."
Work up a sweat on a sports volunteering program in an informal settlement in Cape Town. In these areas, housing, roads, recreational and educational facilities aren't always available or well maintained. This makes it difficult for the people living in these areas to get access to quality education and opportunities to maintain good health.
As a teen volunteer, you'll be based in Gordon's Bay, a town located on the shoreline of the Atlantic Ocean. Each day you'll travel to an informal settlement under the supervision of GVI's staff members, and assist teachers in facilitating weekday sports lessons with children. This may include planning and facilitating sports education classes, or even teaching specific sports like tennis, soccer and athletics. 
You'll be making a positive impact in the health, well-being and education of local children while having a fun experience abroad. On the weekend, you will get to experience some of the region's famously stunning coastline, and spot South African wildlife on a short safari tour.
But don't take it from us, read about what Tayla Sher had to say after volunteering on one of our teen volunteer opportunities in Cape Town:
"I went to Cape town with GVI on a teen program. For me, this program encompassed the best of both worlds: work, and play. You had the ability to get a feel for volunteer work, but also a chance to travel the country. 
GVI staff makes you feel welcome and valued at all points of the program. Our leader made sure that we could come to her with anything, whether it be a request for more peanut butter or asking about problems currently facing the country. One of our leaders was from South Africa, which really helped, as she could give an honest perspective on life there. 
GVI really makes sure to immerse you in the history and culture of the place you are in. All meals were traditional South African food, there was a history lesson as well as film nights with South African movies. The accommodation had facts about South Africa on the wall, as well as a quiz night on our final day there."
In the town of Manuel Antonia in Costa Rica you can contribute towards UN SDG 2: Zero Hunger, UN SDG 3: Good Health and Well-Being and UN SDG 4: Quality Education all at the same time. You'll assist the community by facilitating educational workshops, maintaining food gardens and getting involved in other activities aimed at sustainable community development. 
But that's not all. This is one of those teen volunteer opportunities that offers tons of adventure opportunities. You might get the chance to brush up on your surfing skills in the waters of the Pacific Ocean. And, you could even go white-water rafting on a Costa Rican river, and catch glimpses of the mountain peaks, and a few dormant volcanoes, poking up out of the foliage. 
And don't forget that this experience will give you the chance to learn the local language, and experience and participate in the local culture yourself. 
Volunteers like Elle Carter found this Costa Rica adventure trip to be a great experience, here's what she had to say:
"I've recently returned from my two-week teen volunteer and adventure program in Costa Rica. It was a fantastic experience where I was able to make so many new friends, whilst also feeling like we made a really positive impact on the [local] community.
I loved the side-trips, especially the white-water rafting. However, my favourite part was definitely working with the community as everyone was so welcoming and we were able to feel a great sense of accomplishment.
The support from GVI was amazing throughout, and the staff were really fun to volunteer with. I certainly hope to be involved with GVI in the future!"
Environmental volunteer opportunities for high school students
Would you like to get a taste of what it's like to be a conservationist or marine biologist? Our two-week teen conservation programs allow you to do just that. You'll get a chance to work with real conservationists in the field, speak to them about their work and even conduct a few surveys yourself. 
6) Contribute towards rainforest conservation in Costa Rica
High school students on an environmental volunteer trip to Costa Rica take a well-deserved break after spending the morning identifying animals in the rainforest.
Costa Rica is committed to preserving its natural environment and has had a lot of success in the past three decades. However, there is still a lot of work to be done, especially in coastal areas.
Join the GVI teen program in Costa Rica, to work in the incredibly diverse Tortuguero National Park on the Caribbean Coast. This is the only place in the world where jaguars and sea turtles interact. Here, the tree-lined canals are home to many unique bird species, as well as the West Indian manatee. Not only will you learn how to identify animals in the park, but you'll also get a chance to try out your conservation skills in the field.
Caroline Fitzgerald volunteered in our teen Costa Rica conservation program, and this is what she thought of the program:
"Volunteering with GVI has really changed my life. It was the best experience I've ever had, and in the short time I was there, I learned so much. 
I decided to go to Costa Rica as I am hugely interested in conservation and wildlife. Being immersed in an isolated location in the jungle with new people, doing incredible work for important research, really appealed to me!
Arriving in San Jose after a long trip was a little bit nerve-wracking but I [was] met by such happy, friendly GVI staff that I felt instantly at ease. The other volunteers I met were so interesting and I knew we'd all be great friends. The trip to the base was so memorable. Going through the cloud forest was amazing and I spent the entire journey looking out the window in awe.
The "chicken-bus" was also enjoyable. Standing up in the crowded aisle, sweating in the heat, and completely squashed, it should have been a nightmare, but I loved experiencing something new and looking out the window at the banana plantations, and stopping every few metres at a banana-crossing!
I loved living on base. It was amazing to get away and spend hours talking to inspiring people every day, and working with incredible wildlife I thought I'd only ever see on National Geographic. I woke up before the sun rose every day and loved listening to the birds and wildlife wake up. I'd be one of the last to go to bed at night, making sure I didn't waste a minute to soak up the whole experience."
Find out more about the animals you could catch a glimpse of in Costa Rica by checking out this article: Six unusual animals to look out for in Costa Rica. 
7) Pick up a PADI qualification while volunteering in marine conservation in Mexico
These high school students spent their summer break in Mexico cleaning beaches and earning their PADI Open Water Diver certification.
Coral reefs are significantly affected by global warming, and these organisms are essential to the health of marine environments across the world. We don't fully understand the impact that the loss of these reefs will have on our global ecosystem or on the livelihoods of countless fishermen just yet. But we do know that contributing towards coral reef conservation is important.
Coral reefs assist in purifying the air, provide nutrients for life underwater, act as a safe place for young fish to grow up and protect the coastline from storms that develop at sea. You can contribute to understanding the value of coral reefs and conserving them by joining one of our teen programs in Mexico.
Both of our teen volunteer opportunities in Mexico involve working with professional marine conservationists, and getting involved in activities that promote the health and well-being of the Mesoamerican Barrier Reef System – the second-largest coral reef system in the world. 
The programs differ according to the Professional Association of Diving Instructors (PADI) certification you're looking to achieve. PADI is the largest recreational diving membership in the world and GVI has partnered with them to provide award-winning scuba-diving courses.
You could start off as a recreational diver by gaining your PADI Open Water Diver qualification. This qualification takes you to diving to depths of 18 metres in the open ocean, under the supervision of PADI certified dive professionals. If you're already a PADI Open Water Diver certified diver then you can take the next step by getting your PADI Advanced Open Water Diver qualification. This program begins with open water dives and allows you to learn new diving techniques while increasing your diving depths from 18 to 30 metres.
Whichever qualification you go for, you'll be headed towards making a positive impact in marine conservation efforts in Mexico. This may mean diving to monitor the coral reef, and collecting data that adds to ongoing marine conservation research.
You could also contribute to the conservation of endangered sea turtles by working in a team of teen volunteers doing sea-turtle surveys on the beaches of Puerto Morelos during the turtle-nesting season.
Tobias Rytter previously volunteered on a Mexico teen volunteer program. This was his experience:
"I am very passionate about the ocean and I love scuba diving. Furthermore, I liked the idea of working as a volunteer and trying to make a difference for the planet we're endangering every day. GVI seemed like the perfect choice! 
I had no expectations! The only thing I did know, was that I would be living under very [basic] conditions in a jungle and doing research-diving. What's not to like? Basically, I came for the diving, but I left with so much more! I was really inspired by living and working closely with people from so many different cultures and backgrounds who all shared the same passion for protecting the environment. 
We were diving a lot, studying fish and corals, learning about aquatic life, spotting birds, collecting trash on the beach and working hard in order to make the base run smoothly. The GVI staff taught me so much, they're working so hard with such great passion. I would like to encourage everybody to go help out, to save the coral reefs before it's too late and we lose them forever! 
Have you ever dived with a whale shark? Have you ever tried to make a difference for the natural world surrounding us? It's never too late and I'm sure GVI will gladly help you!"
Find out more about our PADI certified marine conservation programs here: How to advance your PADI certification while volunteering abroad.
Teen sea turtle conservation volunteers in Greece help baby turtles make their way to the ocean.
Most species of sea turtles are endangered. Non-sustainable fishing methods, poaching, plastic pollution and developments along the world's coastlines affect the survival of sea turtles both young and old.
If you would like to contribute towards the conservation of sea turtles, why not join our turtle conservation project in Greece. 
Teens working on this program will help tag mother turtles, record the number of nests in the area, protect nests from predators and guide baby turtles to the sea.
You'll spend most of your time abroad on the beach during the week, and on weekends your chaperone will travel with you to the Greek ruins for some sightseeing, and to the city to shop for souvenirs.
Ellen Parry chose our teen volunteer opportunity in Greece, and she had the following to say about her experience: 
"I spent the best two weeks of my life volunteering with loggerhead turtles in Kyparissia Bay in Greece. I cannot describe how magical it was to both see my first turtle-nesting and also to protect their nests.
GVI has opened my eyes to the world, I have this new-found ambition to travel the world, saving endangered species. You will make friends who you will keep for the rest of your life, simply because you all have made those memories together. 
GVI has made me realise that there really is more to life at the end of the day than the grades you get on a piece of paper after sitting an exam. The world is yours to explore."
High school conservation volunteers remove non-indigenous plants to restore the natural habitat on Curieuse Island.
Curieuse Island in Seychelles is one of only three islands where the giant coconut palm – the coco de mer – grows. It is also home to the giant Aldabra tortoise and the Seychelles black parrot. 
As a teen volunteer travelling to Seychelles, you'll live in Curieuse Marine National Park where you'll work on beach cleaning and profiling, and habitat restoration projects. 
Take a look at how Brooklyn Norton described her experience volunteering on Curieuse Island: 
"I cannot speak highly enough when it comes to GVI. Without babbling on too much, I was the epitome of a 'girly girl' who rarely got her hands dirty. So when I revealed to my friends and family I was planning on volunteering on a remote island, to say their reaction was surprised is an understatement.
I'd put a lot of time into researching any volunteering ideas I had beforehand, and when it came to GVI, I found every review to be bursting with positivity. And, after reading comments and posts from GVI volunteers and staff the enthusiasm was infectious! And my decision was made, which led to me having the most amazing time of my life, which I have everyone at GVI to thank for.
Working in Seychelles is truly paradise, and although I took thousands of pictures none of them can quite capture how beautiful and unspoiled it really is. Aside from the idyllic beaches and island setting, I was initially drawn to variety within this program. Mornings could be spent hiking to the top of the island, in search of the endemic Seychelles palm tree, the coco de mer, and by the afternoon you could be hip deep in mud wading through the mangroves, spotting giant tortoises along the way!"
Thailand is home to a huge amount of marine species, including some of the world's most endangered – like the green sea turtle. As a volunteer on one of our Thailand teen volunteer opportunities, you'll contribute towards the conservation of green sea turtles by assisting with the day-to-day activities at a sea turtle rehabilitation centre in Phang Nga. 
You'll add to these efforts by getting involved in beach clean-ups with your fellow volunteers. This volunteer abroad program also offers you the chance to visit several of Thailand's national parks, hike through a tropical jungle, take a kayak through a mangrove forest and visit Thailand's temples and beaches.
This means experiencing so many different aspects of Thailand in just one volunteer program abroad. Take a look at what Lilly had to say about her experience volunteering in Phang Nga: 
"During our first week, we worked at a turtle conservation centre, and we also did a beach clean and worked at a local school. 
On our second week, we did things [like] sleeping on a lake, which was incredible! We did a lot of camping, a lot of kayaking, and [went on] a lot of outdoor adventures. 
My favourite aspect of the trip was… the waterfall that we visited. [It was] hands down such an incredible experience. I would 100% recommend this trip to a friend" 
Teen volunteers on our wildlife conservation program in South Africa read up on indigenous animal species before heading out to identify them in the wild.
Many African species are currently endangered or under threat of extinction due to pollution, the overdevelopment of land and unregulated hunting and fishing practises. South Africa is home to some of the most well-known of Africa's wildlife, and many of them – like the African wild dog, the white rhino and the blue crane – are already on the IUCN Red List of Threatened Species.
To find out more about what is causing the drop in species biodiversity and assist in conservation efforts, join GVI's teen wildlife conservation program in Limpopo, South Africa. 
The data you'll collect while on safari will help reserve managers make more informed decisions about the park's future. This data might also contribute to long-term studies that are  published in international conservation journals, and contribute to global conservation efforts.
While conducting surveys, you may just catch a glimpse of South Africa's more secretive creatures – like pangolins or leopards – something that isn't a possibility for every tourist visiting South Africa. 
Let's hear what Sam Whittall has to say about his experience volunteering in South Africa: 
"Growing up, my closeness to South Africa and its wildlife came in the form of wildlife documentaries: seeing acacia trees with a giraffe's slender neck rising above, or hearing the powerful roar of a lion. Suddenly after years of this, I found I was seeing and hearing these things for real in Karongwe [Game Reserve], and nothing could have prepared me for how that felt.
Seeing the burning-sun rise and fall in the bush for one month was the most incredible time of my life and by no means long enough. As well as the incredible experience of simply spending time in Karongwe, however, I was also trained and supervised to help the project record vital scientific data on the various species in the reserve.
We have all seen worldwide media publications regarding the plight of much of Africa's wildlife, so to be able to spend a month making a genuine difference to their conservation was a once-in-a-lifetime opportunity. My time in Karongwe was a life's dream come true and fulfilled every expectation and hope I could have ever had."
What parents need to know about our teen volunteer opportunities
Are you ready to sign up for one of our teen volunteer abroad programs, but aren't so sure about how your parents will react? GVI is an organisation that has been running volunteer programs abroad successfully for many years. We have a health-and-safety track record that will put any parent at ease, and that promises you an ethical, responsible, and safe volunteer experience abroad. 
To get your parents on board with a volunteer abroad program, start them off with our parent pack. This pack will fill them in on what volunteering abroad is all about and how GVI ensures volunteer health and safety. 
There's ample opportunity for personal and professional development
Volunteering abroad is a meaningful experience for teen volunteers. Most high school graduates leave school with little or no work experience and zero international experience. After completing a GVI project, you will have both. Telling your parents more about the specific program you'd like to take part in, and how it can benefit your professional and personal development can go a long way in making them feel more comfortable with the idea.
Let your parents know that many of our volunteers use this experience to help them discover what they're passionate about and get clear about what they would like to study after high school. 
Let them read up on the benefits of volunteering abroad in this article: What to expect from the best high school volunteer abroad programs. 
Volunteer health and safety is a top priority
You should also tell them all about our comprehensive Health and Safety and Child and Vulnerable Adult Protection policies. And, why not let them know that GVI is a British Standards 8848 compliant provider, which means that we follow best practices for providers of expeditions outside the United Kingdom. 
If your parents are still not convinced about the value of this trip, why not refer them to this testimonial sent to us by the parent of an under-18 volunteer:
"This is a very belated thank you to all at GVI, who recently hosted my son, Joss Cary when he came for the teen program in Mexico. 
He had in his words the 'best day of his life' when he swam with the whale sharks. As he's swum with whale sharks already, it must have been good!
He enjoyed it all: the cooking, bonding and diving. He has already been in contact with his GVI friends here in London and will be visiting one of them for Christmas this year. You opened up a whole new world [for him].
He hopes to return next year to maybe do the intern course for a month if he's old enough. He was very happy with all the care you provided. He felt safe and that everything was well-organised, a particular concern for me as a parent so far away, as you will appreciate. Thank you from all of us."
– Soraya Cary
With all of this information, your parents shouldn't have any undue concerns about helping you to prepare for your volunteer experience abroad. But GVI's support doesn't end there. 
Once you're ready to book your trip, we'll send you a guide to staying safe while volunteering abroad. When arriving at the airport, GVI staff will meet you there and ensure you are safely transported to our designated under-18 accommodation facilities. You'll be staying here up until the time you are ready to leave for home.
While you're on project your parents will have access to a 24-hour emergency phone line should anything unexpected happen. 
And when it comes to costs, let your parents know that your accommodation, food and weekend activities will be covered by your fees. If you're worried about funding then check out our fundraising page to get some ideas.
Take a look at our volunteer opportunities for teens that offer great benefits. Speak to your parents and  start planning your trip abroad as soon as possible.