India Community Development Experience
Discover India's fascinating culture while contributing to an array of community development projects.
Our Impact
Location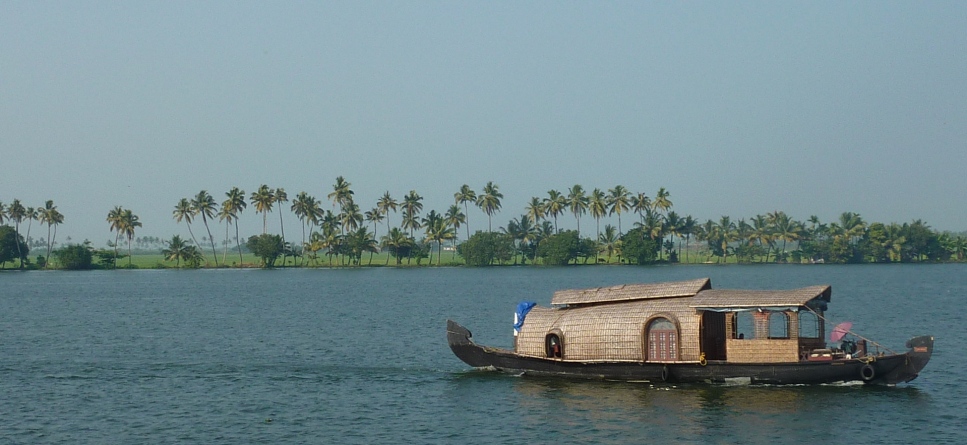 Volunteer in Kerala
Program Information
Travel to the culturally rich location of Kerala, India and get involved in valuable community development work. Teach sports to young children, spend your afternoon building an eco-garden or eco-toilet or get your hands dirty with one of our community construction projects.
Overview
Overview
Volunteering in India with GVI will open your eyes to a rapidly developing country, filled with a rich culture, traditions and beautiful landscapes.
Project work takes place around the city of Kochi (Cochin), a port town offering fascinating snippets of history and culture, including the oldest Church in India, an extensive spice market and the famous 15th Century Chinese fishing nets. GVI has been operating in Kochi for almost 4 years and are well established and respected within the community. GVI's long-term involvement, capacity building and commitment to our projects, ensure that the service elements of your students' trips are contributing to long-term sustainable projects helping to achieve our partners' objectives. These local partnerships along with stakeholder discussions drive the service elements of our trips to ensure they are fully focussed on the most prevalent issues and produce the results required locally.
Project Aims and Objectives
Our projects incorporate a range of community work. Days are long, hot and physically demanding in an environment quite unlike any most students are used too. Expect to be challenged emotionally as well as physically! A typical day could involve teaching English to slum children in one of our school projects, teaching art activities in our special school, or making an eco toilet while chatting and interacting with local slum residents. You could even teach sports to young children in the morning and spend your afternoon building an eco-garden. At one stage GVI was involved in the construction of a football field and have even helped a number of residents put the finishing touches to their houses. Our projects are structured as well as flexible enough to accommodate individual passions and interest.
Location
Our base in India is located in Kerala. A sliver of a state in India's deep south, shaped by its landscape – almost 600km of fascinating Arabian Sea coast and beaches, a network of backwaters and the spice and tea-covered hills of the Western Ghats. Besides it's famous backwaters, rice paddies, coconut groves, intriguing houseboats and delicately spiced, taste-bud-tingling cuisine, Kerala is home to wild elephants, exotic birds and the odd tiger; and crazily vibrant traditions such as Kathakali plays and snake-boat races. As with the rest of India it also plays host to an expanse of informal settlements (referred to as slums) with communities living well below the breadline with little access to formal education, income opportunities and decent hygiene standards.
Kerala's short, mid, and long-term objectives:
All of our programs have short, mid and long-term objectives that fit with the United Nations Sustainable Development Goals. This enables us to report on our collaborative impact across the world in a streamlined manner, measuring which UN SDGs we are making a substantial contribution to. Furthermore, this will help our local partners and communities measure and visualize their contribution to the UN SDGs.
Upon arrival to base, you will be educated about the history of the UN SDGs. You will learn about the specific goals of your location, the long-, mid- and short-term objectives, and also clarification of how your personal, shorter-term involvement contributes to these goals on a global level.
Our aim is to educate you on local and global issues, so that you continue to act as active global citizens after your program, helping to fulfill our mission of building a global network of people united by their passion to make a difference.
Learn about the long-term objectives you will be contributing to in Kerala:
1. Increase women's opportunities in Kerala
2. Ensure healthy lives, well-being and promote opportunities and equality for those with special needs in Kerala
3. Enable the absolute development of children and young adults in Kerala by providing support and training in LSBE (life skills base education)
Program Details
Program Type:
Schools , University
What's It like?

If you'd like to find out what the experience of joining a GVI project is really like, simply contact us and we'll put you in touch with one of our many Alumni.
We'll try to match you to an Alum based on your location, nationality, age, stage of academic career, gender, and program interests. This allows you to gain insights into the experience that is most relevant to you.
Depending on your location you might be able to speak to an Alum over the phone or online, or meet up with them face-to-face at a coffee shop nearby. We also run a series of small events around the world where you can speak to GVI Alumni, Ambassadors and staff members.
Flights
Please note that if you use this service delivered by Student Universe and / or if you buy your ticket through this portal you are agreeing to the Student Universe Privacy Policy and Terms and Conditions. Your agreement regarding flights will be between you and Student Universe or as per their terms and conditions.
As GVI is providing this portal as a service we are not responsible for the accuracy of this site.
We are also not responsible for any loss, damage (including loss of profits or consequential damages), injury, illness, harm or death in relation to your flight and travel arrangements.
Live Updates
Follow GVI Kerala's Facebook page for live updates straight from the field. Get an idea of the types of projects you might be involved in, meet our staff and participants, experience life on this GVI base, hear about free time activities, and learn about the local culture and environment.
Meet the team -
Senior Field Management
Cheryl Martin
Regional Director for Nepal and India
Introducing you to Cheryl. Cheryl is the Regional Director of GVI Nepal and India. Her journey with GVI began in 2011. Before this Cheryl had a history of teaching, although she fancied a change, which lead her to volunteer with GVI in Cape Town. After this she became a staff member and subsequently she stayed in Cape Town for the next four years.

Another role came up as Program Manager for Pokara, Nepal, which Cheryl took on before finally getting to where she is now.

Cherly has always possessed a love for travel. She has backpacked across Europe, working as a nanny. Her main highlight however has to be Peru. In fact it was her experience here that inspired her to volunteer in the first place.
Jill Walker
Deputy Director of Programs
Meet GVI's Jill,also known by her rap name, Rainmaker, or her spiritual name, Field Whisperer. Her journey with GVI began back in 2007 as Thailand's Country Director, where she helped set up GVI's first TEFL program!

Now she is based in Chaing Rai, Thailand. Jill's role involves providing support for all of our programs around the world. Working closing with each base, she looks to identify and manage any issues that occur so GVI are able to offer the best programs possible.
Paul Whitehouse
Program Manager
Say hi to Paul, the Program Manager at GVI's Kerala hub in India. Paul is from the UK and came over to India last year. He originally came on a service learning program, however has since become the Program Manager. Paul has a background in experiential education and has previously managed operations of community development programs. They have been in a variety of countries, including: Nepal, Ghana and the UK. Paul's passion lies with engaging with people in service learning activities so that they are able to get the most out of a experience while also giving back to a community. Lastly Paul is a freelance trainer. He enjoys capacity building and working with people from all walks of life. He is really excited to apply everything he has learnt to his time in India.
Meet the team -
In-Country Staff
Jutten George
Program Coordinator
Meet Jutten. Heis originally from Kerala in India, where he currently works as a Program Coordinator at GVI's hub there.
Jutten has been with GVI since 2010. He started his career as a translator and a Community Liaison. He really enjoys the work that he is involved in, as it helps him to empower and help the people in his community.
Your Impact
All of our programs have short, mid and long-term objectives that fit with the United Nations Sustainable Development Goals or UN SDGs. This enables us to report on our collaborative impact across the world in a streamlined manner, measuring which UN SDGs we are making a substantial contribution to. Furthermore, this will help our local partners and communities measure and visualise their contribution to the UN SDGs.
Upon arrival to base, you will be educated about the history of the UN SDGs. You will learn about the specific goals of your location, the long-, mid- and short-term objectives, and also clarification of how your personal, shorter-term involvement contributes to these goals on a global level.
Our aim is to educate you on local and global issues, so that you continue to act as active global citizens after your program, helping to fulfil our mission of building a global network of people united by their passion to make a difference.
India is known as being a popular cultural and foodie destination among international visitors. Due to this, the country has a thriving tourism industry which provides many locals with employment opportunities. However, the ability to speak English is often a vital skill needed to access these jobs.
The fact that a large portion of the community live in rural areas with low resoruces, limited infrastructure, and deep-rooted cultural values, often impedes their access to education. Our programs in Kerala assist in the socio-economic development of the country by supporting English language learning, women's empowerment, global health and community development.
As such, the main UN Sustainable Development Goals of this project include, #4, Quality Education, and #5, Gender Equality.
Project Objectives
GVI Kerala, Long-term Objectives
1. To empower women and increase their access to employment and alternative livelihood opportunities in Kerala


2. To ensure healthy lives, well-being and promote opportunities and equality for the local community in Kerala
3. To enable the further development of children and young adults in Kerala by providing support and training in LSBE (life skills base education)
Cultural Immersion
Engaging intimately with a new context teaches not only global awareness but adaptability and critical thinking, skills highly valued in the modern marketplace. Local and cultural immersion is encouraged on all our programs around the world, and is also one of the most enjoyable aspects of your experience. Luckily, there are many activities you can get involved with in your free time, or before and after your program. On our community programs the focus is on cultural topics, while on marine or wildlife programs the emphasis is more on the environmental element. Use your evenings and weekends to explore diverse and eclectic topics like Theravada Buddhism in Laos or how plastic pollution and climate change affects Indian Ocean coral.
Festivals
Unique to Kerala:

Thiruvathira: This festival is held either during December or January, depending on the movements of the moon and stars. It celebrates the birth of the god Shiva, in the Hindu tradition. The main customs of the festival are observed by women in the community. It features a specific dance known as thiruvathirakali performed only by women, seen as an embodiment of traditional feminine elegance.

Vishu: This festival is celebrated in April and is seen as New Year celebration in the Hindu tradition. A older family member, typically the mother, create shrines of auspicious items, usually yellow and gold items, to allow them to go into the New Year with good expectations. She lights lambs before the sun rises on the first day of the Hindu New Year and then wakes each family member to ensure that their first sight is one of joy and light.

Onam: This is possibly the most famous Keralan festival which is celebrated during August or September. It is a rice harvesting festival and celebrated with much fanfare including massive parades and boat races. In homes and business, Keralans create flower carpets, large, ornate patterns created using a range of fragrant flowers including marigolds, magnolias, jasmin, and hibiscus.

Other Festivals: Kerala is a multicultural city and the region honours many of the celebrations popular in other locations throughout India. Some of the popular Hindu celebrations include Diwali, Holi, and Navratri. With a high Christian population, Easter and Christmas, are also major festivals. Eid is also popular among the significant islamic population of Kerala. Although there are fewer attendees, significant dates in the Judaic, Buddhist, Jain, and Sikh calendars are also honoured in their communities.

Handicrafts
Kathakali Masks and Figurines: Kathakali is a symbol of Kerala and as such many of the souvenirs on offer are representations of this performance style. You can buy colorful masks and little figurines of the dancers in many locations throughout Kerala.

Coconut Crafts: The Kerala area is abundant in coconuts. Therefore it is no surprise that many of the local crafts are based on this major resource. You can purchase numerous homeware items that are both functional and beautifully made from coconut wood and fibres.

Pulpaya Grass Mats: Although popular throughout Indian, pulpaya grass mats are particularly popular in Kerala. Making them is an ancient tradition and they are possibly the original yoga mats. Grab one at the local market for your morning yoga practice.

Keralan Saree: The Keralan saree is a symbol of traditional elegance in India. Many of its unique features are lost on those who are not familiar with this style of dress. However, the traditional colours and pattern, of crisp white with a bold gold border, are universally recognisable. While in the province, be sure to try out the Keralan Saree.

Yoga and Meditation
In the West, yoga is most commonly associated with a specific physical exercise of holding certain postures. This is, however, a very particular type of yoga activity known as Hatha yoga, falling within the broader umbrella of yoga as a kind of psychological or spiritual practice. The term 'yoga' is interpreted in various ways by ancient texts. In general it is seen as the integration of the human body, mind, and spirit and alignment with divine will using discipline and thereby attaining enlightenment. Hatha yoga is practiced throughout India and there are plenty of ashrams, Hindu monasteries, and formal teaching organisations, throughout Kerala, where international visitors can learn Hatha yoga, as well as more about the overarching yoga philosophy. Meditation practices and areyuda medicine are also often taught at these facilities.

Mehndi or 'Henna Tattoos'
Mehndi, temporary staining of the hands and feet in lace-like patterns, has been popular in South Asia for many centuries. Ancient Vedic texts refer to the use of the leaves of the henna plant and tumeric to create these designs. While it is most commonly applied during weddings, festivals, and other special events, there are many designers available year round to offer this beautifying service to international visitors.

Kathakali Dance
Kathakali dance is one of the eight classical Indian dance forms. Its name derives from Sanskrit and can be loosely translated as 'story art' or 'folktale performance'. It's designation as a dance form is a bit of a misnomer because it includes not only specific choreography, but unique music, costumes, and acting styles. It is therefore rather a performance style akin to classical opera. Kathakali performances tell stories from Hindu epics, through elaborately dressed and painted male actors, dancers, and singers. More modern Kathakali groups have incorporated women into their performances. The specifics of this artform are detailed and complex ranging from the instruments used to the eye movements of the actors. The Kerala Kathakali Centre is located in Kochi and there will be plenty of opportunities for you to visit one or more of the performances.

Keralan Cuisine
Keralan dishes are typical of South Indian cuisine, featuring lighter, fresher dishes as well as plenty of coconut and seafood. It is also rumoured that southern cooks are more liberal with their use of chillies. A famous Keralan dish is a Sadya, a kind of mini buffet of about two dozen distinct dishes served, with rice, on a plantain leaf. Due to its Hindu heritage many Keralan dishes are vegetarian, and Sadya is no exception. This is however, only popular during celebrations. Everyday Keralan dishes include, dosas, a kind of light crispy pancake filled with vegetable curry, ethakka appam, fried bananas, and, of course, chai, sweet milky tea flavoured with spices. Some ethno-cultural groups like the Jewish and Syrian Christian community have their own specific cuisine. In your free time, feel free to book one of the many Keralan cuisine cooking classes available in the region.

Kochi
This port town has been a centre of global trade for many centuries, known to European explorers since at least the early medieval ages. Its main trade was in spices and the region's cuisine still reflects this penchant for flavour complexity. Due to it being a merchant hub, the city has known influences from all around the world including China, Middle Eastern territories, Portugal, Holland, and Britain. This has resulted in a very specific 'kochiite' culture. Languages and religions common to the city reflect this diversity. The language of Kerala, Malayalam is popularly spoken, but Hindu, a language more common in North central India is also spoken here. Religious traditions include common practices in the South of India such as Hinduism and Jainism, but specific communities also practice Islam, Judaism, Syrian Orthodox Christianity, and Catholicism. Visitors can learn about these historic influences by visiting the old town, but it should also be noted that Kochi is very much a modern Indian city, and is the economic hub of the Keralan province.

Kerala
Kerala is one of the Southernmost provinces of Indian, known for its luxury houseboat tours through the region's lush, tropical backwaters where wildlife like the Bengal tiger, leopard, sloth bear, and lion-tailed macaque can be spotted. It's uniquely delectable cuisine, featuring lots of coconut, which grow abundantly in the region, and seafood, common in a coastal region, is also a major attraction. The region was popularised in the Western mind, by author Arundhati Roy, who grew up here, and set her Booker-Prize -winning novel, The God of Small Things, in Kerala.

India
The great diversity of the Indian subcontinent, and a perceived contrast to many Western norms, keeps international visitors coming back for more. India's unique cultural milieu, featuring over 22 languages, seven major world religions, Hinduism, Buddhism, Jainism, Sikhism, Islam, Christianity, and Judaism, 25 UNESCO World Heritage Sites, and distinct cooking traditions, make for a life-changing cultural experience, no matter which location in the region you choose to visit. Tourists also flock to its many breathtaking landscapes, including snow-capped mountain ranges, tropical evergreen forests, mangrove swamps, and grasslands, not only to spot endangered species like the Bengal tiger, the snow leopard, the Indian Rhinoceros, and Asiatic lion, but to experience adrenaline-fueled activities like white water rafting, waterfall rappelling, or paragliding.

Our Ethics
Below is a list of core ethics and best practices we believe are essential to the operation of high quality, ethical volunteer and sustainable development programs. We believe that all responsible volunteer and sustainable development operations should focus upon these principles. If you are considering volunteering, these are some of the key considerations you should question, to ensure that your time and money contributes towards positive change.
We want to constantly develop our own understanding of ethical best practice. In so doing, we aim to provide an exemplary industry standard for other education institutions, international development organisations, and social enterprises. Our Badge of Ethics stands for the drive to always do good, better. Find out more, click on the Badge below.
Our 10 Ethical Commitments
Locally Driven, Collaborative Projects
We aim to design all our projects in collaboration with local organizations and communities and ensure that they are locally driven.
Clear Objectives & Sustainable Outcomes
We aim to clearly define short-, mid-, and long-term objectives with sustainable outcomes for all our projects.
Impact Reporting
We aim to track, record, and publish the impact of each of our projects.
Working Against Dependency
We aim to build in-country capacity by assisting local organizations in becoming self-sustaining.
Responsible Exit Strategies
For each local organization we work with, we aim to have a plan in place for withdrawing support responsibly.
Clear Roles & Specialized Training
We aim to ensure that ever participant is assigned a clear role and that they are fully trained and supported to carry out their work by specialized staff.
Respect for all
In all our actions we aim to respect the skills and efforts of all and seek to protect the rights, culture and dignity of everyone who engages with GVI.
Local Ownership
We work to ensure that credit for the results of any project, along with any data collected, research conducted, or Intellectual Property developed, remains the property of local organizations.
Transitioning from the Orphanage Model
We do not condone and aim to withdraw support of orphanages and residential care centers.
Child and Vulnerable adult policies
We will live by our Child Protection and Vulnerable Adult policies.
Continual Development
As an organization, GVI is committed to striving toward best practice, and to educating both our potential participants, our partners, and the world at large about them. Both the volunteering and sustainable development sectors are increasingly, and rightly, under scrutiny. Many recent local and global articles highlight poor practices and questionable ethics. GVI is widely recognized for striving to apply global best practice in the volunteering, education and sustainable development sectors throughout our operations by reputable organizations such as ChildSafe.
However, global best practice is always evolving and we dedicate both time and resources to engage with internationally respected experts and learn from the latest research to ensure our programs both fulfil their potential to create maximum positive impact, and minimise their potential to create unintentional negative impact. Along with and as part of the sustainable development and volunteering community, we are constantly learning and applying this learning to practice. We do not always get everything right, but we seek feedback from our community members, partners, participants and our staff, and react accordingly. We know are already doing a great job, and feedback we have received confirms this, but we aim to do even better and are continuously refining our operations to improve upon our already excellent reputation.
Parent Info
'If only every student could do this. It changes your life in all the right ways,' says Chris Heritage, parent of Luke Heritage, one of our teen volunteers who has participated on two GVI programs, one in Costa Rica and another in South Africa.
We are a parent-run organisation that is incredibly serious about health and safety, and increasing the impact, as well as the long-term career benefits of our programs. Our programs help young people develop the skills to select a career path that is personally fulfilling, and live a life aligned to the well-being of our planet and the global community.
Ken and Linda Jeffrey, whose son Sam volunteered with GVI in Thailand, talk about how the experience affected Sam. He also went on to volunteer with GVI again in South Africa. 'I know it sounds like a cliche but in a sense, he did go away as a boy and he came back as a young man. Both of us could recommend GVI without any hesitation to any other parent thinking about exploring an opportunity for their children to explore the world and to see different parts of it.'
Parent Info Pack
Download the Parent Pack and learn more about:
Our staff: All our projects are run by staff, selected, vetted, trained, and managed by our central office.
Health and safety: Our safety practices include a child and vulnerable adult protection policy and high participant ratios.
Staying in touch: See what's happening on base, by following a hub's dedicated Facebook page.
Free parent consultations: We would love to talk to you about exciting opportunities available for your child.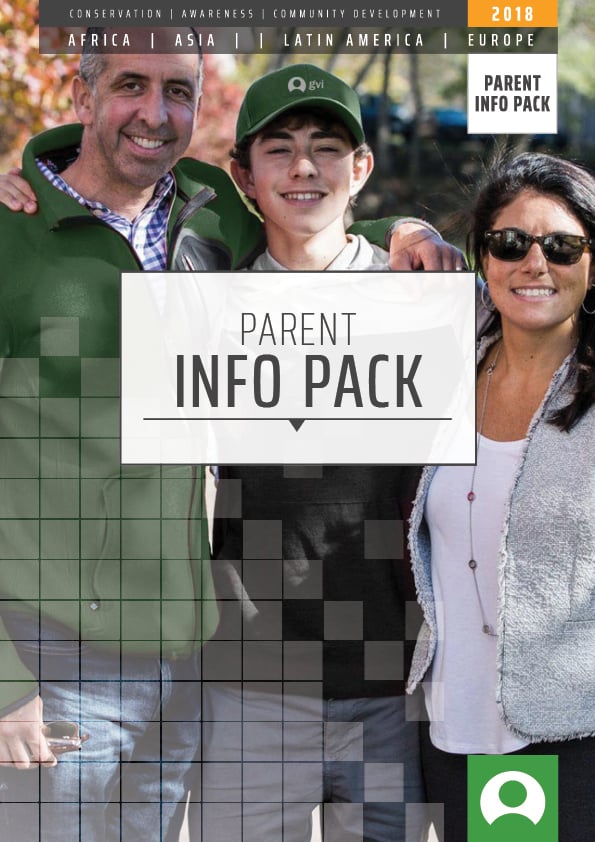 Teacher Info
Additional Teacher Info
GVI runs curriculum, CAS and experience focussed service learning opportunities around the world on multi-award winning trips. With over 25,000 travellers since inception, GVI's know how to ensure safe, life-changing challenges that make a real difference, fostering global citizenship and intercultural understanding. Staffed and resourced by GVI all year round, our projects offer unique opportunities to engage in long-term, high impact work, whilst experiencing deep cultural immersion and some adventure.
A teacher travels free with groups of ten or more students!
GVI provides 24/7 support from our experienced staff who are based full-time on the ground, as well as support from HQ. An experienced group leader will accompany the group, taking overall responsibility for the safety of the group.
Please note prices are subject to seasonal fluctuation and will vary depending upon the needs of the group.
**Optional extras include travel insurance and flight services
---
Example Itinerary 
Day 1: Arrival at Kochi Airport and Transfer to Base
On arrival the group will be met at Kochi International Airport by a GVI appointed driver. We recommend that flights are booked to arrive first thing in the morning so as to maximise time spent in-country. Students and accompanying teachers will be transferred to their accommodation by GVI's driver and given time to settle in and rest before meeting for an afternoon orientation session with the GVI field team. The week's logistics, duties and responsibilities will be explained. This session will also include familiarisation with Emergency Action Plans and Health and Safety Risks as well as an overview on GVI and what our overall aims are globally and locally.
Day 2: Welcome and Orientation
The team will be given an orientation tour around the city of Kochi, where they will be based throughout the service element of the trip. The afternoon will be reserved for relaxation before the busy week's work. There may be an opportunity for a cultural experience in the evening depending on the group's interests.
Day 3-5: Service Work and Reflection
This time will be spent in the community with students contributing to a variety of projects required by our local partners at the time. These service elements, working alongside GVI field staff, may include construction projects, childcare and sports, and arts and craft initiatives with local community groups. GVI can structure the focus on the group's overall objectives and interests. Being immersed in the local community for the week will give the volunteers an opportunity to experience a new and fascinating culture while contributing to projects in a meaningful and genuine way.
In the evenings, students will be expected to effectively prepare for the following day's requirements and also reflect upon what they have achieved that day through individual and group reflection.
Days are tiring but equally rewarding with plenty of time for fun!
Day 6: Optional free time day
A possible day off and time for exploring Kochi! The GVI field team will be happy to arrange an activity for this day. Options could include a traditional Keralan Kathakali dance show, a backwaters tour on one of Kerala's beautiful and iconic houseboats, a safari outing to the Periyar Forest and National Park for a chance to spot elephants and monkeys (and tigers if you're lucky), or a visit to the sea side village of Marari (40-minute drive away) which boasts beautiful sandy beaches lined with coconut trees.
Day 7: A Fond Farewell
GVI field staff transfer the team back to the airport and bid them a fond farewell! GVI will endeavour to keep the group informed of any updates there might be in the field and with particular reference to the projects volunteers contributed to during their time in India, through "GVI LIve" on social media.
**Your trip can be extended to include additional side trips and / or further service work.
Support & Safety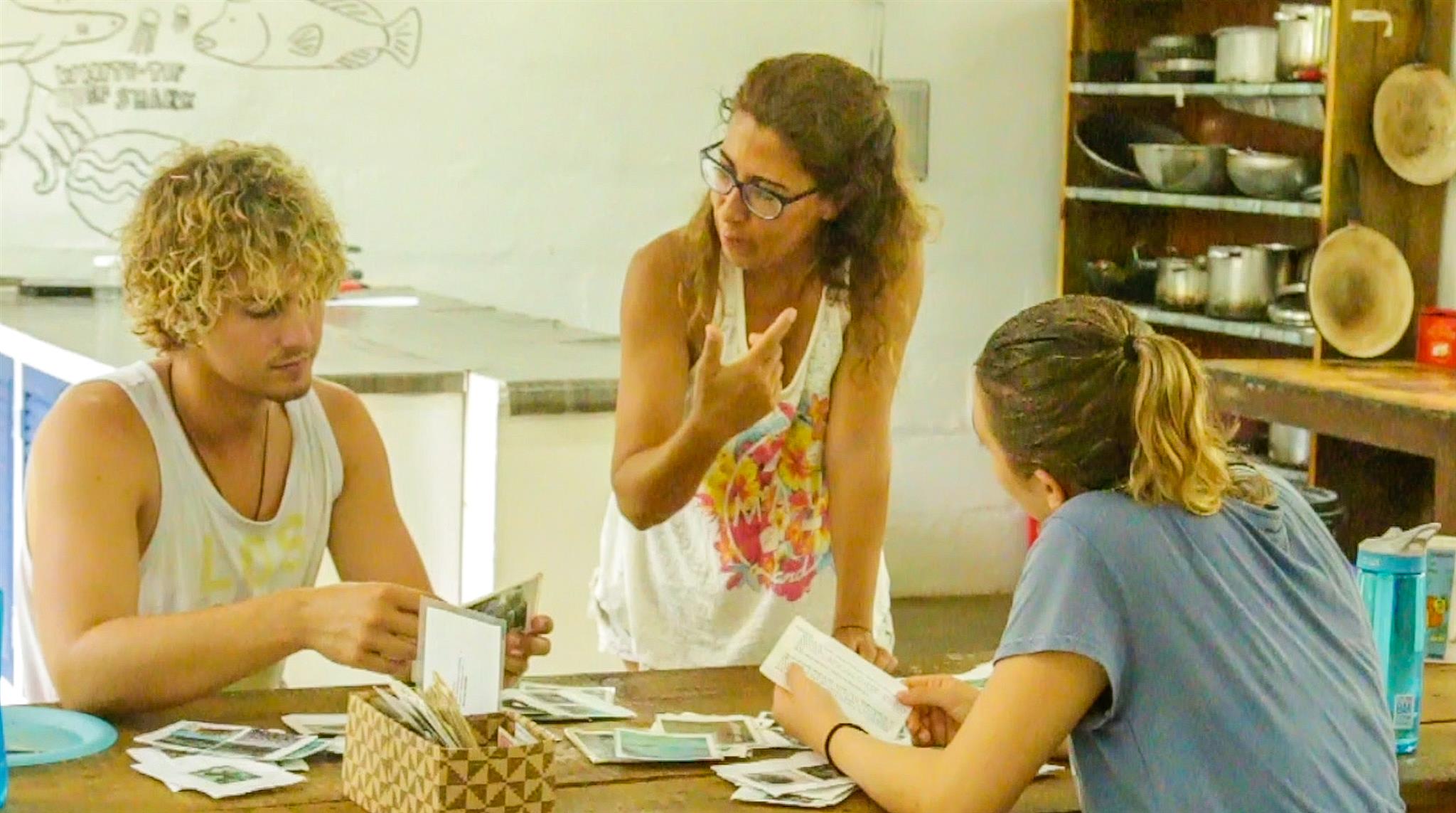 We won't sugarcoat it — traveling abroad is usually a complex process that carries an element of risk. But this is exactly why we're passionate about providing extensive support throughout the process as well as the highest safety standards during the in-country phase. We believe that volunteering abroad should not only be impactful, but an enjoyable experience that carries as little risk as possible. This is exactly how we've been able to maintain our reputation as the most highly respected volunteering organisations in the sector over the past two decades.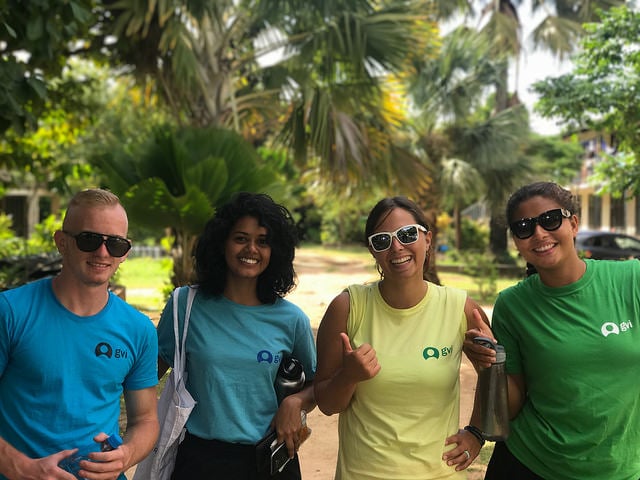 Support
Once a participant books, our support team will oversee their pre-departure journey. This helps to bridge the gap between program enrolment and arrival at one of our field bases. We will ensure that you are provided with all the necessary information required to apply for visas, background checks, and any other documentation.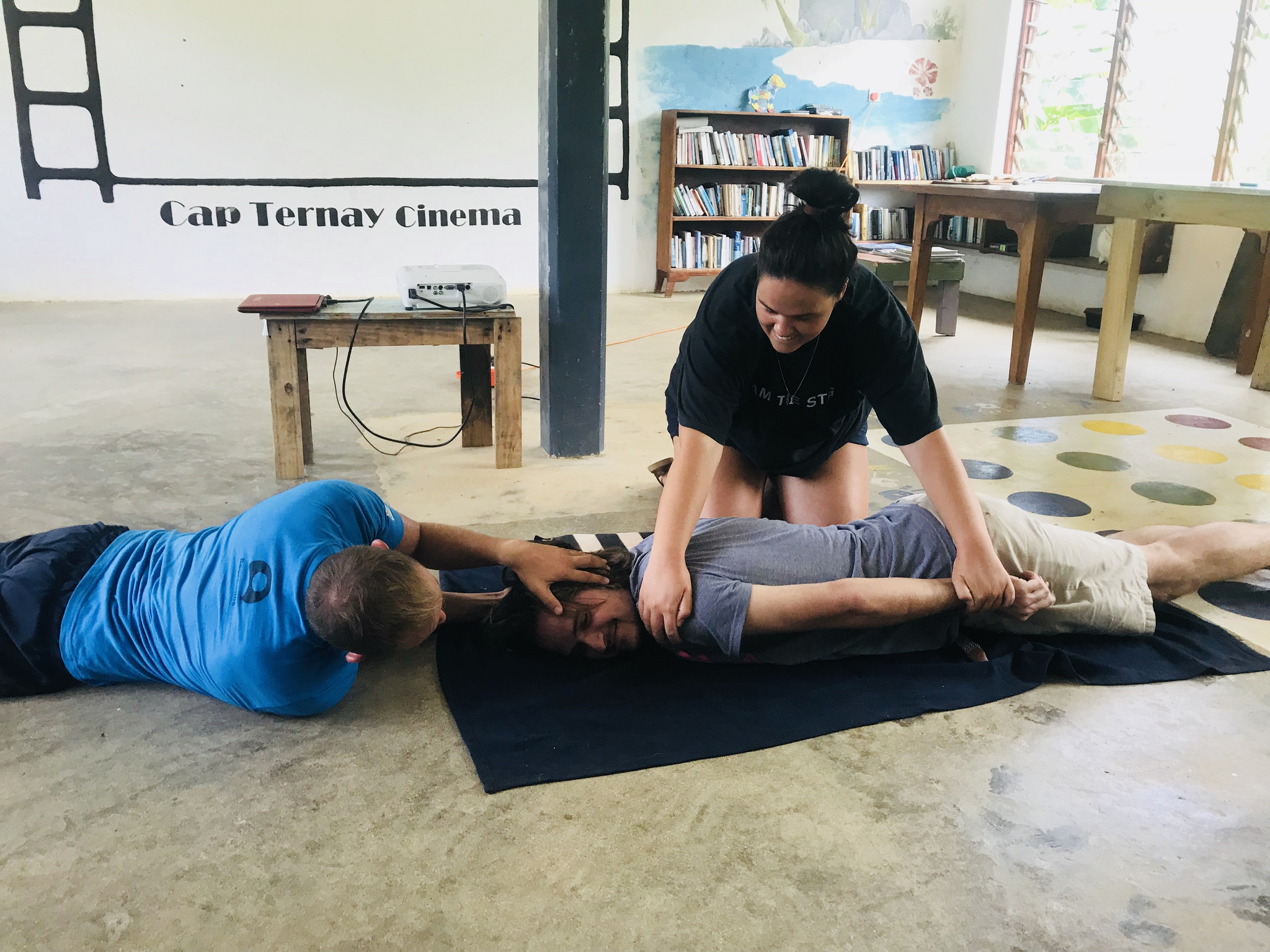 Safety
Once a participant books, our support team will oversee their pre-departure journey. This helps to bridge the gap between program enrolment and arrival at one of our field bases. We will ensure that you are provided with all the necessary information required to apply for visas, background checks, and any other documentation.
Health & Safety Case Studies
Why Choose GVI?
There are many reasons why you should consider GVI for your group trip. Allow us to take you through some of the important points:


GVI has over 15 years of experience - Since we began in 1997, we have sent over 20,000 young people on trips all over the world. Most describe their experience with us as life-changing with a 95% approval rate from our customers




We are a ground operator - We run and staff our projects 24/7, all year round which means we understand and know the area you will be visiting enabling us to deliver a high quality level of support, safety and training at very competitive prices




Our variety of programs is unique and unrivalled - We offer language courses, community and conservation projects, leadership programs, cultural immersion, adventure activities and mountain trekking.




Peace of mind - You know that our projects make a real and positive impact on the local communities you visit. Since we started we have developed over 150 projects around the world.




Project ownership - We run our projects in partnership with local communities, according to the needs on the ground, so you know they are genuinely worthwhile




We are different from most other school providers - We already have projects and programs in place. We have been working in these countries for over 15 years and are working hand in hand with the host communities to ensure their needs are being met.




Teachers/Educators travel free




Safety is our priority - We have comprehensive safety and back up procedures in place.




Flexibility - Our trips are available all year round so you tell us when you want to travel.




The GVI Charitable Trust - Enables your school to stay involved with your program after you return home.




Students will automatically become GVI members, enabling them to benefit from discounts on any future GVI trips.




There are opportunities for students to be GVI Ambassadors – excellent for university and college applications.


What's Included
24-hour emergency phone

24-hour in-country support

24/7 back up and support

A dedicated trip co-ordinator

Access to Alumni Services and Discounts

Access to local medical facilities

Accommodation

Airport pick-up (unless otherwise stated)

All necessary project equipment and materials

All necessary project training by experienced staff

Comprehensive health and safety procedures (Emergency Action Plans and Risk Assessments)

First aid equipment

Flight booking service on request

Food and drinking water

Group leader

Highly experienced and well qualified GVI field staff

In-country support

In-country transport costs

Insurance on request

Location orientation

Long term experienced staff

Meals while on project (except on work placements for long term internships)

Pre-departure information

Risk assessments

Safe and basic accommodations (usually shared)

Up-to-date safety and country information

Welcome meeting
What's Not Included
Additional drinks and gratuities

Additional spending money

Extra local excursions

Flights

International and domestic airport taxes

Medical and travel insurance

Personal items and toiletries

Personal kit

Police or background check

Vaccinations

Visa costs (where necessary)

Visas
Contact Us
GVI
1 Emperor Way, Exeter Business Park Exeter, Devon, EX1 3QS, UK
Learning Provider Number (LPN): 10002692
Centre Number: 17067