Original photo: LoriQoPB
Volunteering in Cambodia's capital city, Phnom Penh is a festival for the senses. The busy streets are full of speeding motorbikes, the air is perfumed with delicious street food, and the Mekong River meanders at a slow pace in the distance.
Once called the Pearl of Asia and the City of Four Faces, Phnom Penh is slowly catching up to its neighboring capital cities. While it might not have the glam of Bangkok or the allure of Hanoi, it has a lot to offer the intrepid traveler.
From its intriguing culture and haunting past to its signature cuisine and thrilling adventure activities, it's the perfect base for volunteers wanting to explore Cambodia.
Here are the top things you don't want to miss while volunteering in Phnom Penh!
Learn about Phnom Penh's history
If you want to understand Cambodia's unique culture, you need to learn about the country's past. It will give you a greater understanding of the values, views, hopes, worries, and fears of the local community.
In Phnom Penh, there are two sites all volunteers need to visit: the Tuol Sleng Genocide Museum and the Killing Fields of Choeung Ek.
Both locations played a significant role during the Khmer Rouge regime. While it is a painful part of Cambodia's history, a visit is vital to understand the country's culture and how the past still affects the people of Phnom Penh today.
Indulge in delicious Cambodian food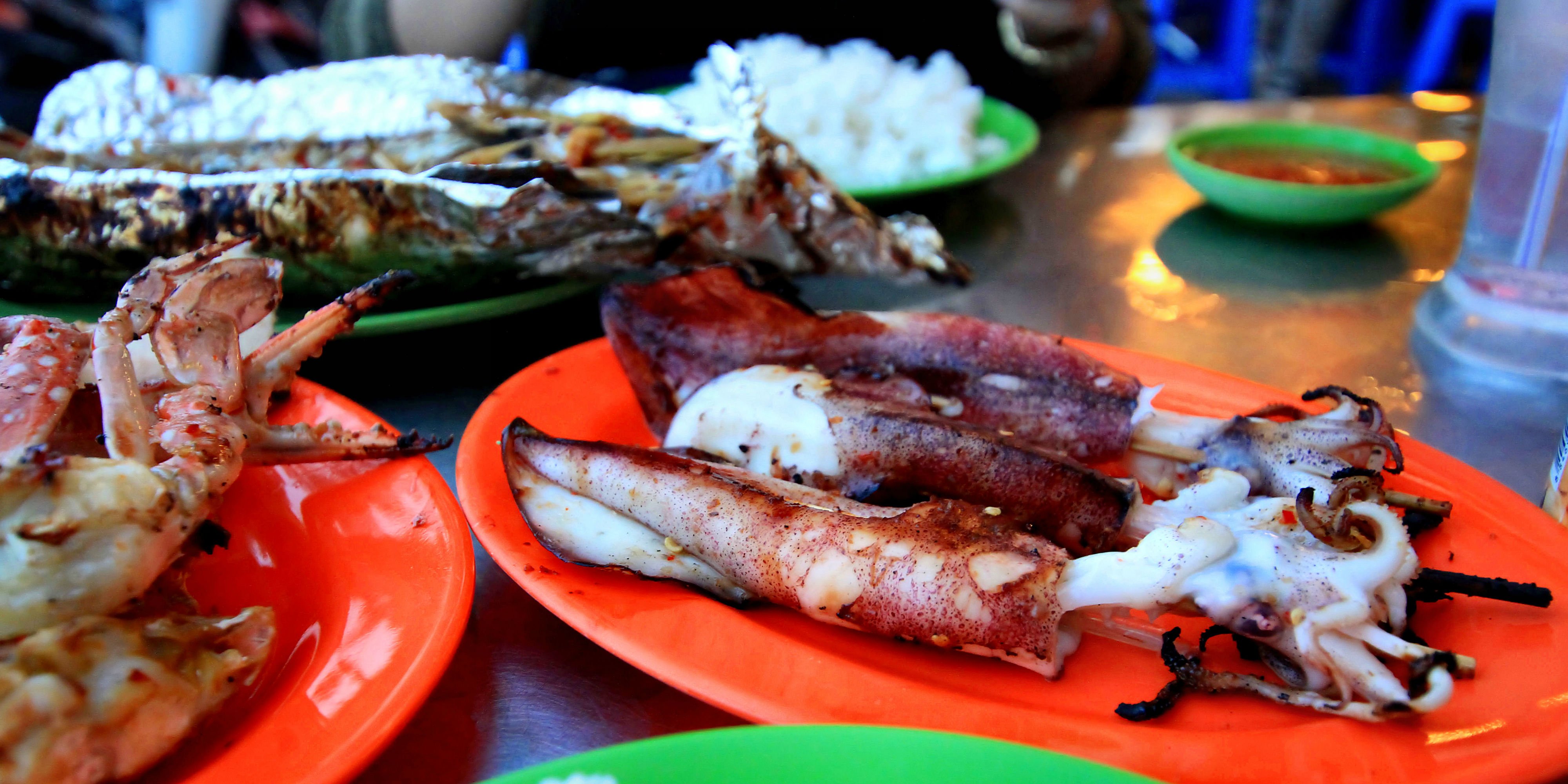 Original photo: Mohd Fazlin Mohd Effendy Ooi
After a long day of volunteering in Cambodia, your first stop should be Phnom Penh's street food scene. Head to Tuol Tompoung – 'the Russian Market' – and make your way around the stalls.
It's one of the best things to do in Phnom Penh if you're an adventurous eater. You can try local delicacies like deep-fried cricket, fried tarantula or chicken feet.
If you're looking to unwind with a good book or eat out with your fellow volunteers, head to one Phnom Penh's restaurants or alluring cafes. You can sip on some iced coffee for under $1 or dine on the popular Kampot pepper crab.
The dish originates from the small riverside town of Kampot and is considered Cambodia's national dish. It's made by baking an entire crab and dousing it in sweet and spicy peppercorn sauce. Other iconic traditional Cambodian food includes the signature fish amok, beef lok lak and the Khmer staple, fried noodles.
Get your taste buds off the beaten track and sign up for a Phom Penh street food tour. Choose from morning or evening options and experience authentic Cambodian flavors by nibbling on little-known dishes.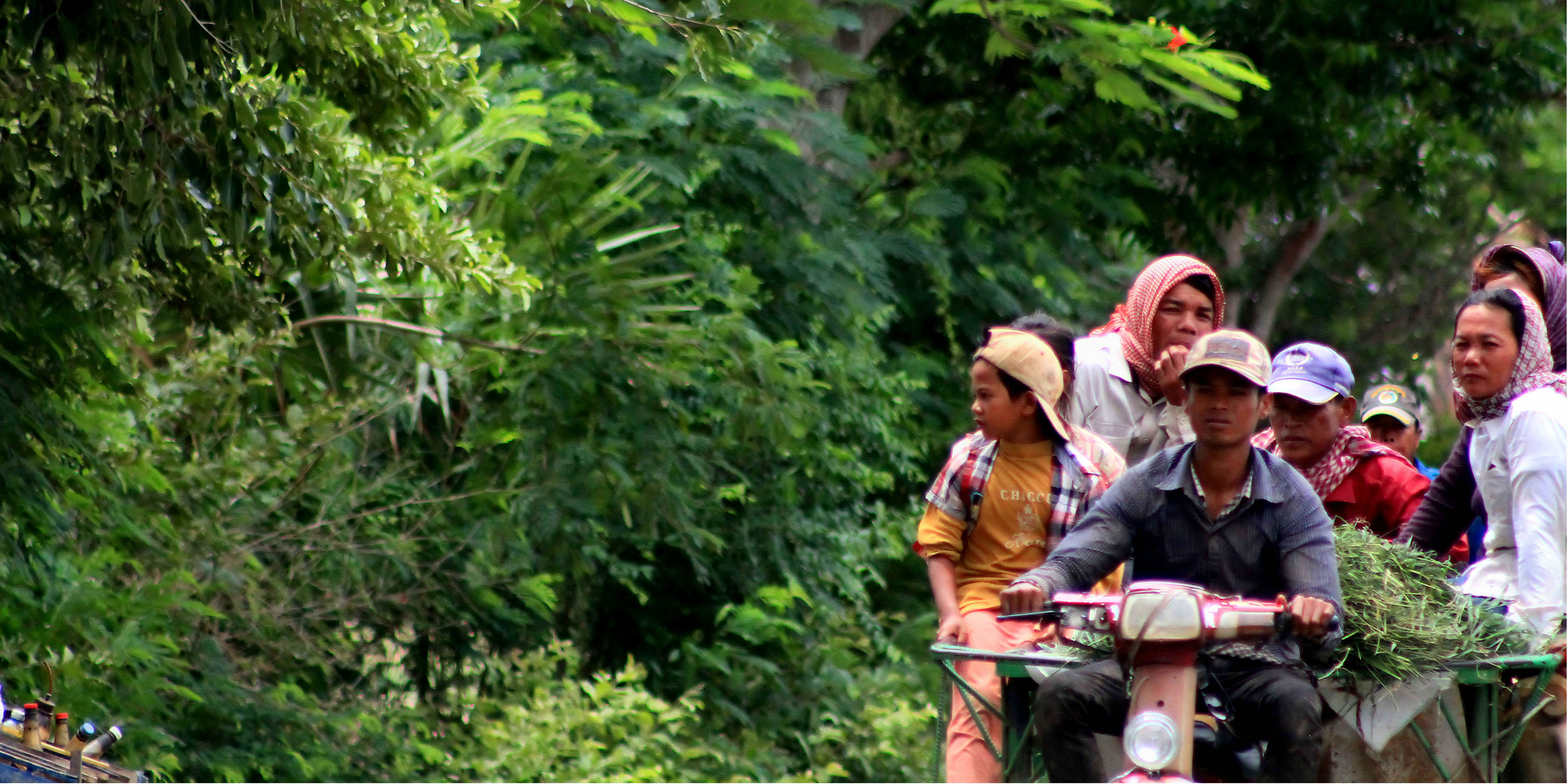 Original photo: Mohd Fazlin Mohd Effendy Ooi
Go on a thrilling adrenaline adventure
Phnom Penh is full of surprises, and there is never a dull moment. Just outside of the city's limits, you'll find a host of hair-raising activities to try out on the weekends.
Tackle the rapids on a white river rafting tour, go kayaking or hire a bike and explore the region on two wheels.
Want something more physically demanding? Hit up Phnom Penh's rock climbing gym after volunteering and get yourself ready for one of their regular outdoor climbing trips.
If you're more into trekking, take a six-hour bus trip to the remote Mondulkiri Province. Here you can choose from a myriad of hiking trails that will take you past rolling mountains, elephant sanctuaries, and lush jungles.
Explore Phnom Penh's beautiful temples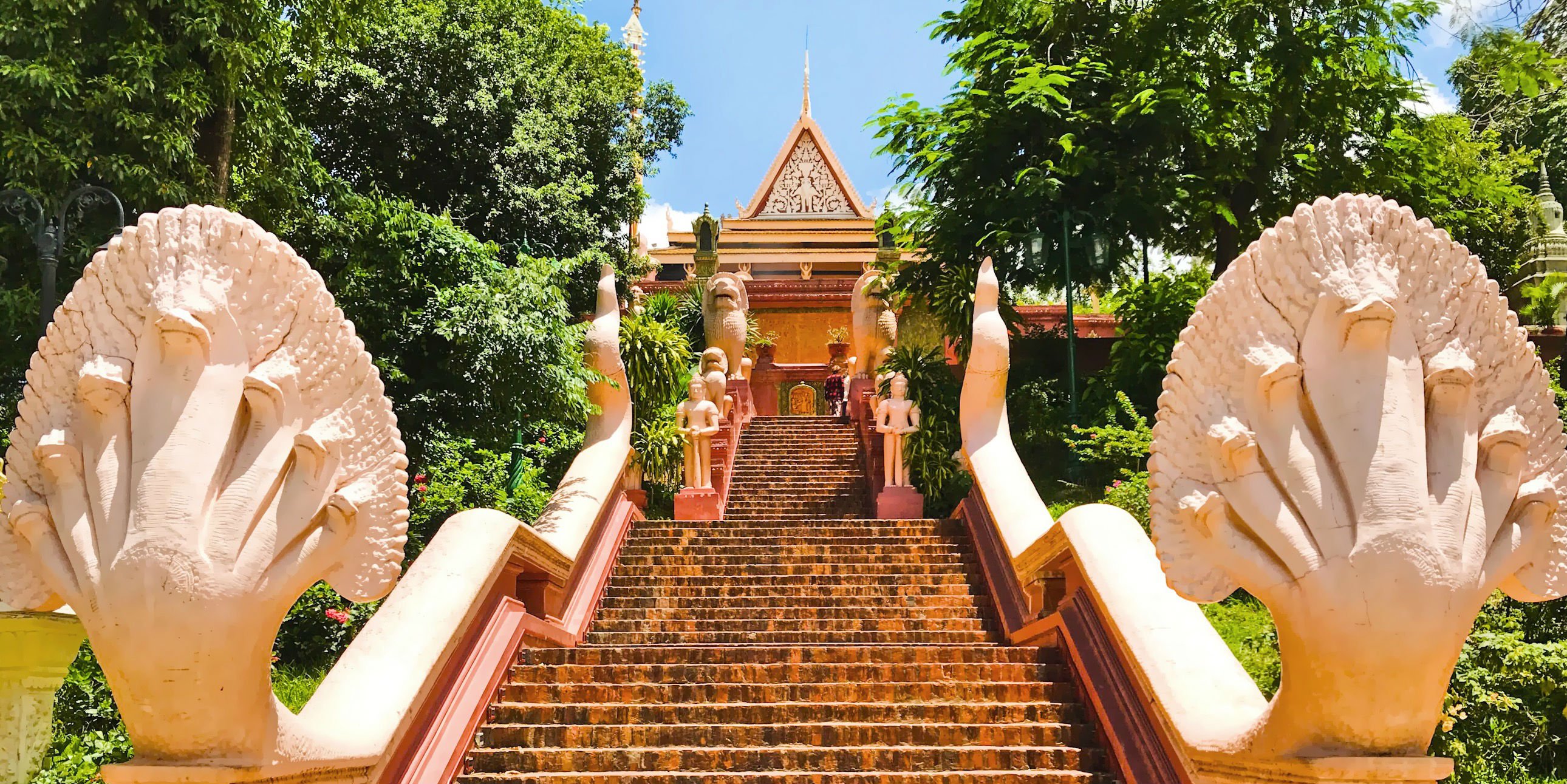 Original photo: Mark Pegrum
You don't need to travel all the way to Siem Reap to appreciate Cambodia's spellbinding architectural gems.
All you need to do is walk around Phnom Penh, and you'll stumble across the city's many stunning temples.
For history buffs, it's the perfect opportunity to learn more about the country's long and interesting history. If you are planning a trip to Siem Reap after your volunteering program, Phnom Penh's temples are a great precursor to help you understand Cambodia's unique architecture.
Some of the best 'wats' to see in the city include:
Wat Phnom: First built in the 14th century, it's one of Phnom Penh's most important Buddhist temples.
Wat Ounalom: Wat Ounalom is considered the most important temple complex in the country. It is the headquarters of Buddhism in Cambodia and dates back to the year 1443.
Before you leave for your volunteering trip to Cambodia, make sure you pack appropriate temple hopping clothes. You need to cover up your shoulders and knees when exploring these ancient sites. Many Cambodians still come to these sacred grounds to pray, and it's important to show respect to the local traditions.
Take part in the local celebrations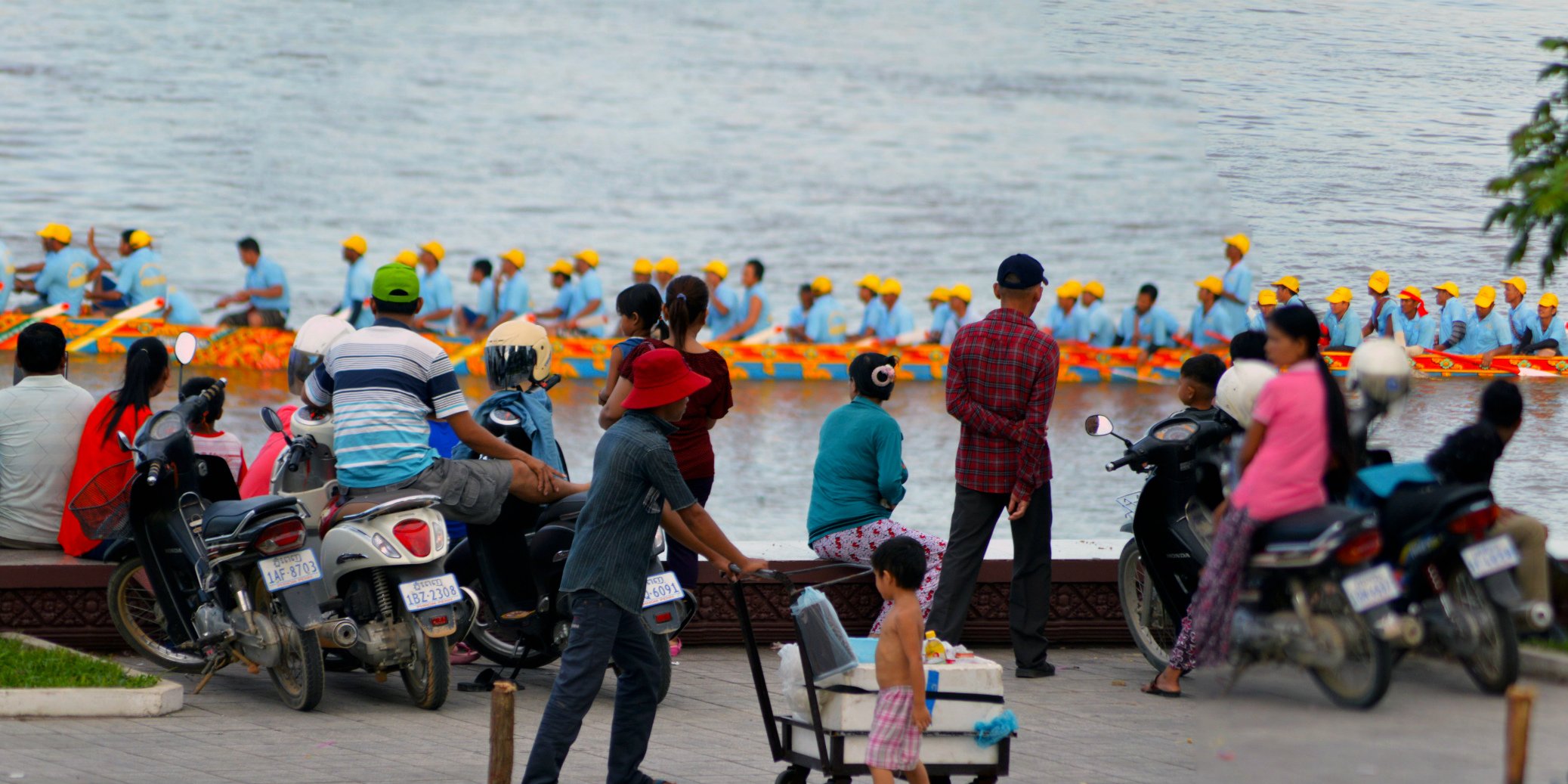 Original photo: Stig Berge
One of the best parts about volunteering in Cambodia is all the local celebrations. The Cambodian calendar is full of interesting public holidays that will give you a chance to immerse yourself into the local culture.
The biggest festival in Cambodia is the Khmer New Year. It usually takes place between the 14th and 16th of April and is an extravaganza of roadside parties and fireworks.
In November, people flock to Phom Penh for the Water Festival (Bonn Om Tuk). The main event is a colorful display of boat races that takes place on the Tonle Sap River. It's one of the largest celebrations in Cambodia, and the capital city's streets are crammed with people.
Volunteers can expect to see several ceremonies honoring the land and water for providing life, a spectacular fireworks display and the midnight ceremony of Ak Ambok.
Ak Ambok takes place on the third day of Bonn Om Tuk, where fried rice is put into a husk, pounded by a giant pestle, removed, mixed with coconut and banana and eaten at 24:00.
Visit Phnom Penh's royal palace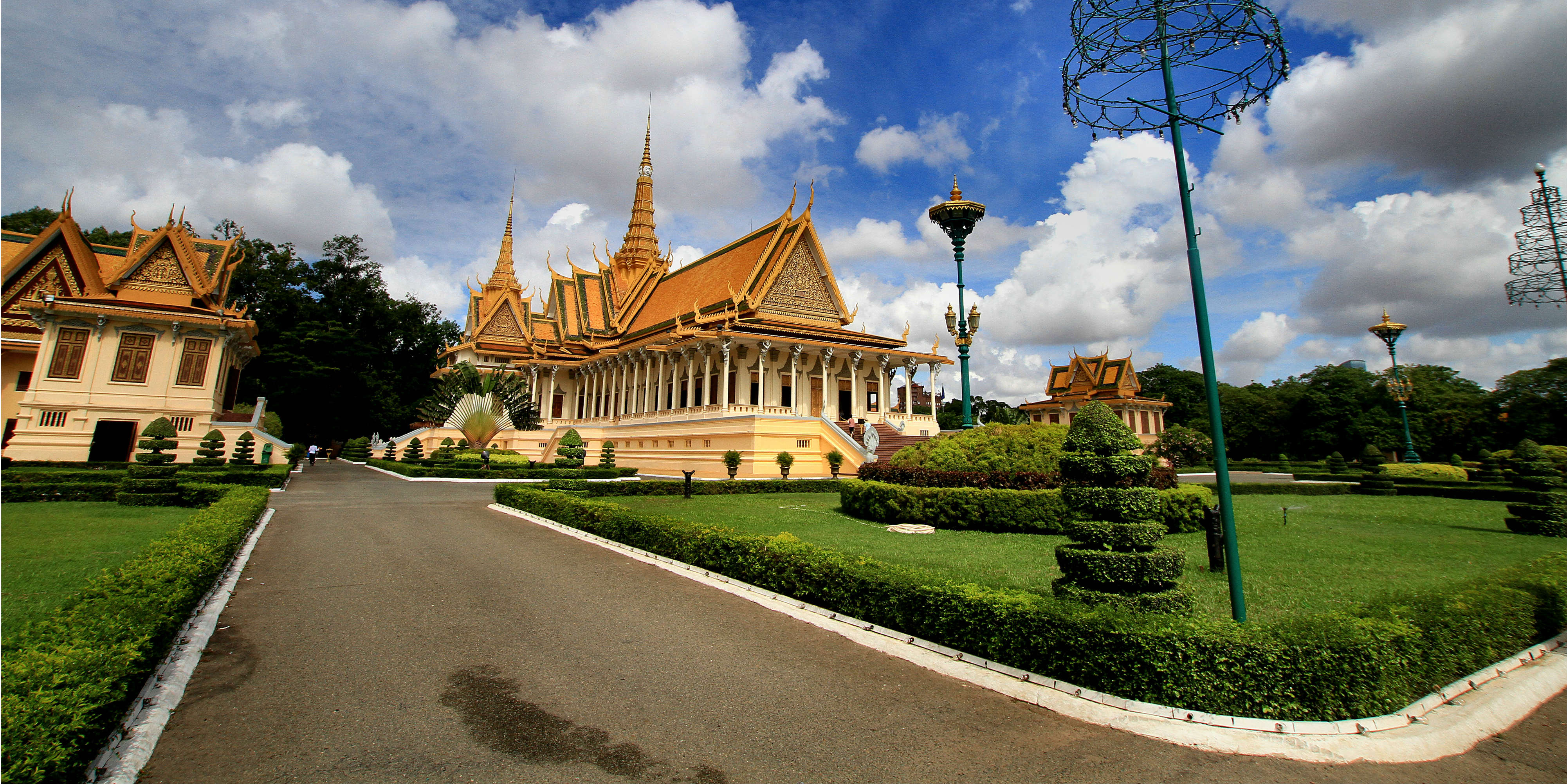 Original photo: Mohd Fazlin Mohd Effendy Ooi
No trip to Cambodia's capital city would be complete without a stop at the enchanting Royal Palace.
Since the 1860s, Cambodia's royal family have called the complex home. It features excellent examples of Khmer architecture, manicured gardens, and the famous Emerald Buddha statue.
While only parts of the palace are open to the public, there is more than enough to explore. The main attraction is the Throne Hall. It features a 59-meter tower and is still used for coronations and ceremonies.
Another highlight is the Silver Pagoda. It houses a 90 kg Gold Buddha that is inlaid with thousands of diamonds. There are also unique artifacts that survived the Khmer Rouge regime, and the ceiling depicts the famous Cambodian poem, the Reamker.
Take a cruise on the Mekong River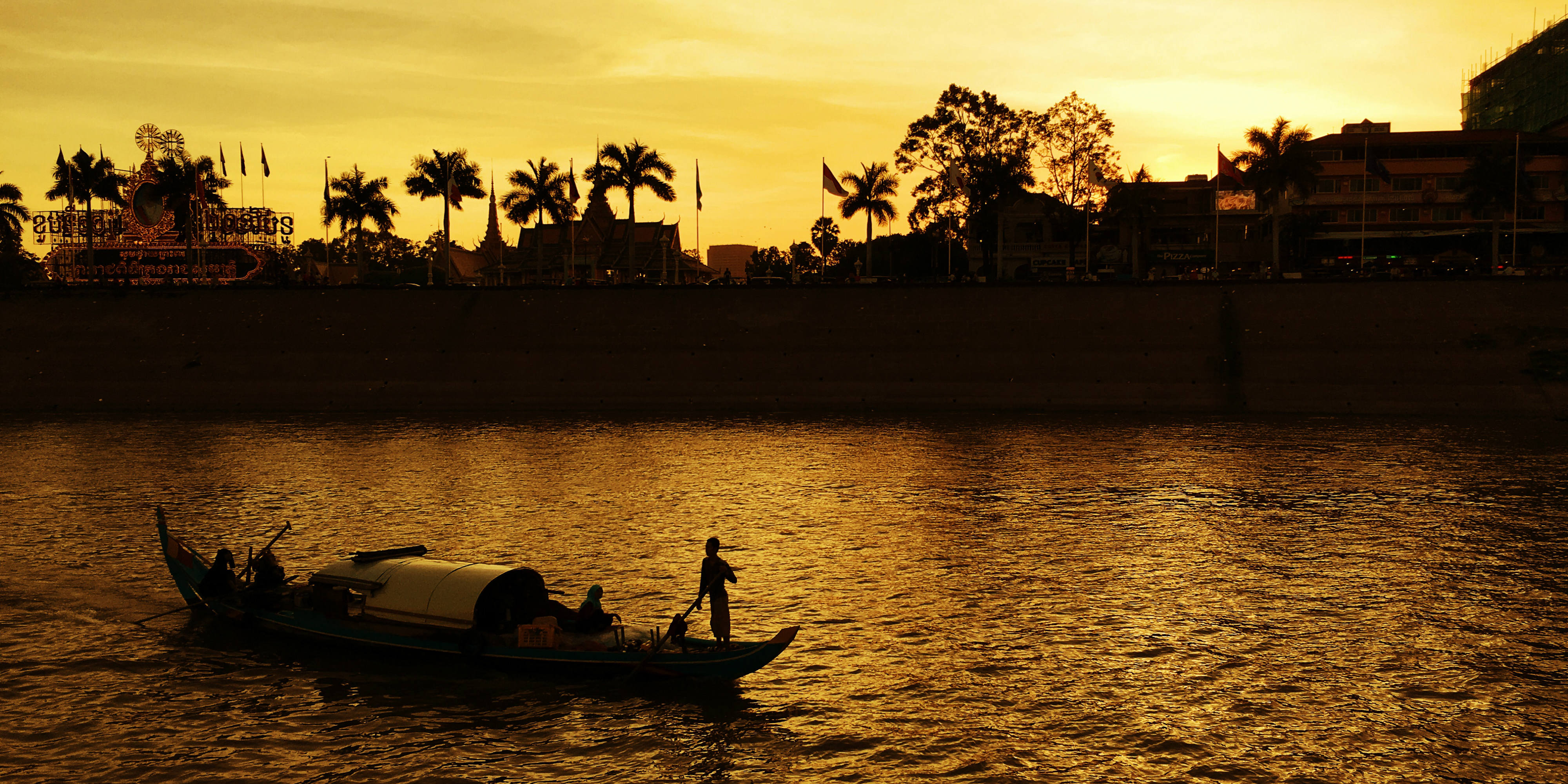 Original photo: Rajeev Rajagopalan
What better way to unwind from a weekend of exploring than with a Mekong River cruise?
In Phnom Penh, you are spoilt for choice. Sign up for a full day tour and explore the many sites along the riverbank. Sail past the floating villages, watch the sun go down and enjoy a delicious meal on the deck.
As you glide down the river, you can also opt for additional excursions to the beautiful secluded beaches of Koh Tonsay.
If you have time before or after your volunteering program, you can splurge on a three-day tour of the Mekong. These luxury cruises can take you all the way to Siem Reap or even Ho Chi Minh City in Vietnam!
Grab some popcorn and head to the movies
Phnom Penh has a thriving nightlife scene. From its scenic rooftop bars to pumping live music, there's plenty to see and do once the sun goes down.
But if you aren't into bar hopping, the city's cinema culture is the next best thing.
There are movie houses playing the latest releases in English and Khmer as well as smaller indie house establishments.
One of the best spots to watch a flick in Phom Penh is at the Empire Movie House. Its furnished with lounging pads, boasts an on-site restaurant and regularly streams cult classics and fascinating documentaries.
Volunteer in Cambodia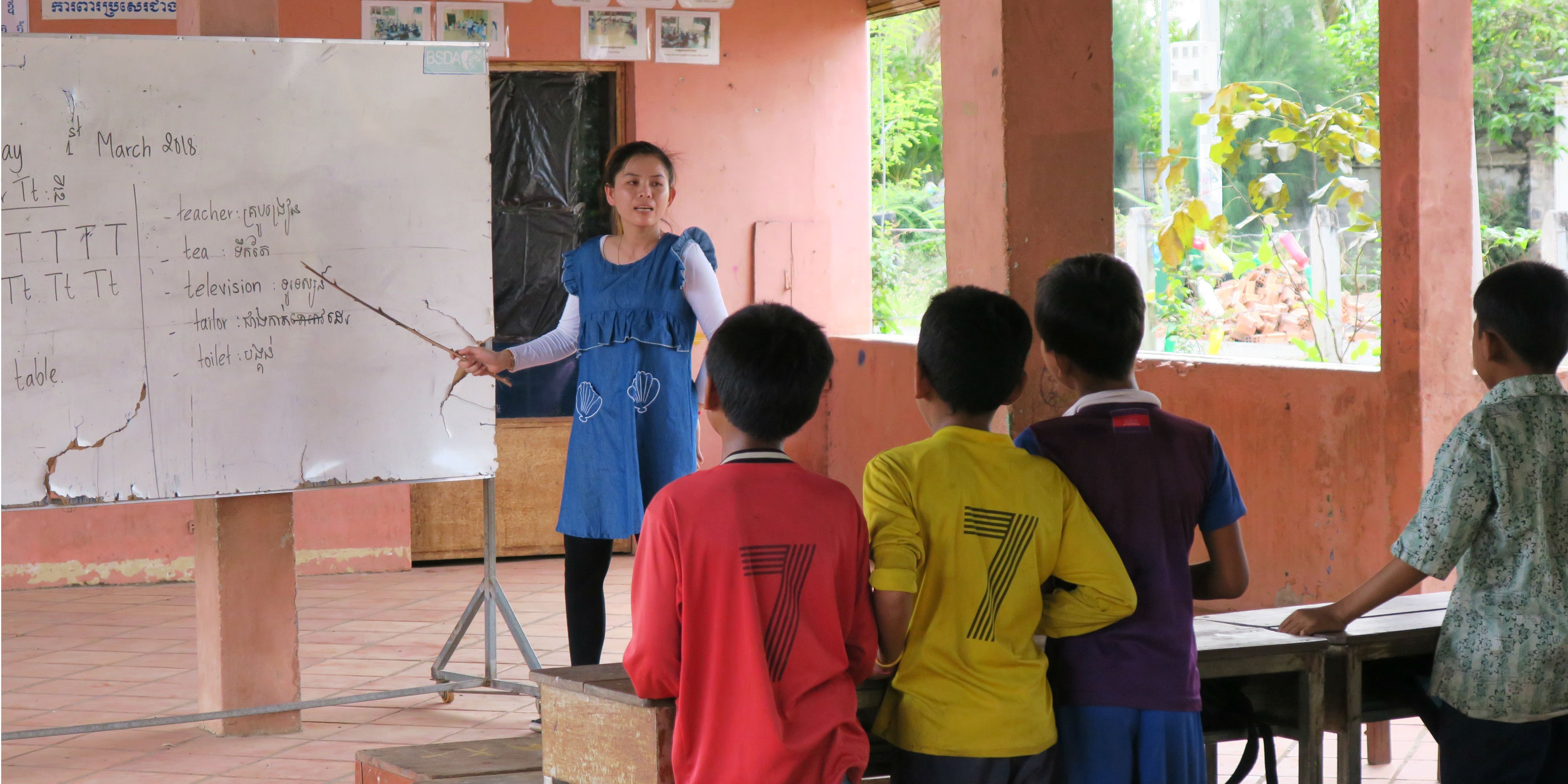 Want to explore the best of Cambodia while giving back to the local community? GVI runs sustainable volunteering projects that support local NGO's and government agencies.
Choose from programs such as women's empowerment, social development and teaching or running various healthcare initiatives in and around Phomn Penh.
Speak to a member of our team today.