How To Choose an Ethical Wildlife Tour Operator
By Jenna Govier
3 years ago

When travelling abroad, alongside seeing the sites and becoming immersed in a new culture, animal experiences top the list of things to do. When choosing your animal experience, you need to make sure you're choosing an ethical operator and that the animals were not, are not and will not be in any danger and are always treated with respect.
Here are a few helpful tips on how to choose the best operator to give you and the animals the best possible experience.
1.    Research Their Main Aim
This should be to help the animals.
It may include rescuing individuals from captivity, helping with reintroductions or protecting them from poaching. If instead, it appears their main aim is to give you, the best possible experience at the animals expense, it is highly likely the animals will be suffering for your enjoyment.
2.    Check Their Affiliations

Tourist and travel companies often provide day trips as part of your holiday plan and are usually affiliated with a range of operators abroad. Watch out for any travel companies that are promoting unethical experiences such as elephant rides or lion cub petting.
This is a warning sign that other activities provided may not be ethical either. Instead, look towards those linked to companies such as STA Travel, who, since 2014 have stopped offering elephant rides, Tiger Temple tours and trips to SeaWorld.
3.    Are They A Registered NGO?
A non-governmental organisation (NGO) is neither part of the government nor conventional for-profit business, and so you can rest assured that the money you pay for your experience will remain within the company and help the animals involved.
If they aren't an NGO, like GVI, make sure they work with NGO's on the ground, work closely with the local community and are transparent about where the funds are being used.
4.    What Ethical Experiences Are They Providing?
A recent study by World Animal Protection, using research from the University of Oxford's Wildlife Conservation Research Unit, created a list of the Top 10 Cruellest Animal Attractions. If any of these are included in the list of activities – do not go.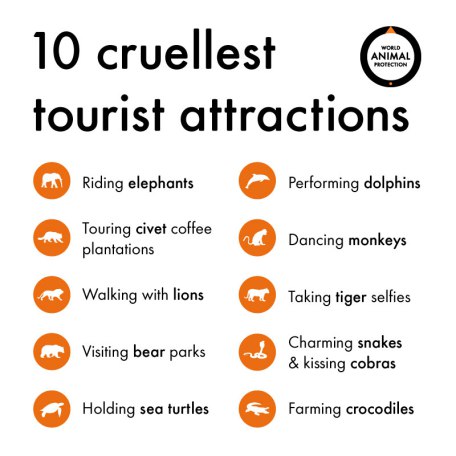 5.    What Are Their Business Plans?
Do they intend to expand to help more animals, or are they really just trying to accommodate more tourists? If an animal operator is not being very clear on its future aims, it may be hiding something.
Try to find out exactly what any money you pay will be put towards. Many ethical operators will already have this outlined for you, but if not, don't be scared to ask.
6.    Read The Reviews
Look at reviews on a range of independent websites such as Trip Advisor to see how people really felt about their experience. Don't just look at the rating; read what they have said.
The same review that produced the Top 10 Cruellest Animal Attractions list highlighted that while many tourists commented on poor animal treatment, it did not affect the scores they gave the attraction.
It doesn't take long to make sure you chose an ethical animal operator. Put the animals welfare above your experience and help end cruel practices and mistreatment of the beautiful creatures that share this planet with us.
Find out more about GVI's international, award-winning conservation volunteering programs and internships. Volunteer with wildlife in South Africa, Thailand, Greece and choose from over 150 different projects worldwide! 
Written by Jenna Govier. Visit her blog and read more about wildlife conservation around the world.