8 Unmissable Things To Do In Magical Cambodia
By Jana Jansen van Vuuren
2 years ago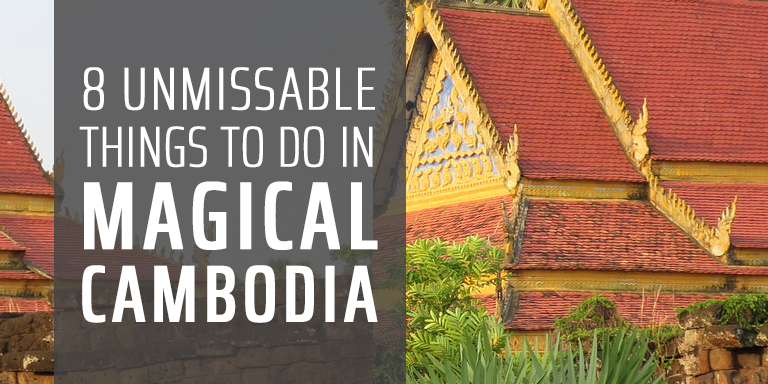 1) Explore Angkor Wat and The Surrounding Ruins of The Khmer Empire
If you're visiting Cambodia, chances are you've come to see the magnificent ruin that is the Angkor Wat. I mean it's on the National flag for goodness sake!  It is by far the largest religious structure in the world, putting all others to shame. Its five towers were originally coated in gold, and its foundation is topped with a layer of gold leaf. Intricate carvings depicting scenes from Hindu mythology, and images of the glamourous devatas (beings from the spirit world) cover just about every surface, from walls to ceilings to floors and doorways.

Although it will be incredibly tempting to touch the exquisite stone carvings — don't. Many of the walls and floors are being irreparably damaged through contact with tourists. Take it all in, capture the moment for posting later and educate other visitors about how to be a responsible tourist.
Further Reading: 9 Inspirational Travel and Volunteering Quotes
The temple was originally built in dedication to Lord Vishnu, the Hindu god responsible for the upkeep of the world. Its five towers mirror the five-peaked home of the gods, Mount Meru, and the colossal surrounding moat portrays the fabled 'Cosmic Ocean'. To get across the lily-pad-clogged waters you'll need to cross the Naga bridge, a stone walkway, designed to look like the giant serpents of Hindu lore, and cross under towering gateways, tall and wide enough to allow access to the many elephants of the medieval Khmer army.
A ten-minute car ride away from Angkor Wat is the complex of Angkor Thom and its temple the Bayon, a Buddhist sanctuary built shortly after Angkor Wat. The many-faced towers of the Bayon are said to represent the many thousands of faces of Avalokiteshvara, the embodiment of compassion.
Further Reading: 17 Excellent Reasons to Volunteer
There are hundreds of other beautiful and mysterious sites to visit in the Angkor Archeological Park. Australian researchers have shown that this capital of the Khmer Empire might very well have been the largest city complex to exist before the industrial revolution.
Must-see attractions include the sophisticated filagree carvings of the rusty-hued Banteay Srey temple, and the beautiful ruins of Beng Mealea and Ta Prohm, featuring outstanding examples of Khmer design interspersed with jungle plants that have been allowed to reach to gargantuan proportions.  
Exploring the huge site can take anywhere from one day to a full week, depending on your stamina and passion for Khmer architecture. The journey can be incredibly taxing if you aren't careful, especially because humidity and heat are high all year round in Cambodia.
Further Reading: 6 Critical Global Issues | What Are The World's Biggest Problems
Be sure to wear a good pair of walking shoes, plenty of sunscreen as well as a hat and bring along some snacks for sustenance. Also be conscious of the fact that many of the sites are still in active use by Buddhist monks and laypersons. Dress modestly, be sure to walk in a clockwise direction whenever possible and never point the bottom of your feet at a statue.
Most visitors to Angkor stay in Siem Reap, a tiny rural village that was undisturbed before the discovery of the lost city of Cambodia and the ensuing influx of tourists. In order to offer food and accommodation for the enormous number of visitors, business owners in Siem Reap started pumping water out of natural sources nearby.
Further Reading: 5 Ways To Handle Reverse Culture Shock
 What no one knew at the time is that many parts of the Angkor Archeological Park are built on sandy ground and that draining water from this soil results in the gradual sinking of several important monuments. You can help stop this trend by making sure that if you stay in Siem Reap, you choose accommodation with a sustainable water policy.
Further Reading: 6 Tips On How To Be A Responsible Volunteer
2) Explore Cambodian Culture In Siem Reap
Touring Angkor Archeological Park is far from the only thing to do in Siem Reap. The town is a Mecca for Cambodian culture. Learn about Cambodian art, both past and present by visiting the training facilities of Artisans Angkor, a social enterprise whose mission is to train modern-day Cambodians in traditional Khmer crafts, like silk weaving, stone and wood carving, as well as painting. The artists not only help with repair work at Angkor's ruins but also make works of art for sale to the public.
Further Reading: The Inside Scoop: 8 Reasons Why You Should Volunteer In Thailand
Outside the city, Artisans Angkor also run a silkworm cultivation farm and preparation facility. You can visit both the farm and the production area where you'll learn how to keep mulberry bushes healthy, how to boil silkworm cocoons to remove the silk gum, and how to make Cambodia's famous Hol Lboeuk silk using the ancient and labor-intensive Ikat dying technique. Artisans Angkor is also famous for producing the finest quality silk in Cambodia so be sure to buy a few items to take home with you.
Or, take a crash course in Cambodian culture by spending the day at the Cambodian Cultural Village, a kind of Cambodian Disneyworld Epcot featuring reconstructions of thirteen villages each with their own unique customs and practices. The museum houses scale representations of famous Cambodian sites, as well as dozens of wax figures of cultural icons from kings to movie stars. You can also enjoy daily performances of traditional dances as well as a spectacular traditional wedding ceremony. 
Siem Reap is set on the bank of the Tonle Sap, the Great Lake of Cambodia. The rich biodiversity and soil of the area have supported human development in this here for centuries. Rice is cultivated along its banks and substantial catches of fish are hauled from its depths. Visiting one of the several 'floating villages', homes built on stilts, gives you the opportunity to see what life has been like for many Cambodians for centuries. Unfortunately, many of these villages have become very commercial, but luckily, Kompong Khleang, a village about an hour out of Siem Reap, is highly recommended, not only because it is less crowded, but because the rights are owned by the residents.
Further Reading: The Top 3 Reasons to Volunteer In Phang Nga
You can also experience the spiritual side of Cambodian culture, by visiting the sacred site of Kbal Spean in Phnom Kulen Park, that attracts many nature enthusiasts and pilgrims alike. Here a gentle stream runs over a riverbed of stone carvings depicting symbols sacred to both Hindus and Buddhists. Downriver, the stream gathers force, crashes down a bank of stones and forms series of clear-watered pools where visitors are welcome to take a dip.
Further Reading: 13 Stunning Thailand Gap Year Photos To Inspire You
3) Discover Modern Cambodia (And Possibly Spiritual Truths) In The Capital Of Phnom Penh
From Siem Reap, you can either take a flight to the modern capital of Cambodia Phnom Penh or take a boat across the Tonle Sap during the wet season, July to March. Once you're there, stop at Phnom Penh's namesake hilltop temple, Wat Phnom. Legend has it that a wealthy widow, Lady Penh found several Buddha statues hidden in a tree floating down the Mekong river. She funded the construction of a hill and temple to house the holy objects, which today is known as Wat Phnom.  The temple is the center of celebration for the Cambodian New Year as well as Pchum Ben, a kind of Cambodian Halloween, where food and other offerings are made to relatives who have passed away, which takes place every September. 
Not too far from Wat Phnom, a 10-minute tuk-tuk ride to be precise, the golden form of the Royal Palace rises up out above the river. This is where the current king of Cambodia still resides. While the entire compound isn't open for viewing (the king has to keep some things private) there is still lots to see.

Like the architecture of Luang Prabang, in Laos, the palace shows a unique combination of traditional Khmer and French colonialist styles. The Khmer influence is recognizable in the delicate gilded detailing, while the manicured gardens are evidence of a French aristocratic influence. At the end of the throne room's opulent interior, stands Cambodia's traditional nine-tired, extravagant throne. Inside the Silver Pagoda, so named because of the use of silver tiles in its construction, guests can view a diamond-encrusted gold Buddha as well as one carved out of a chunk of green crystal.
Further Reading: 6 Reasons to Volunteer in Chiang Mai
After marveling at the lavishness of the royal palace, take a breather by strolling or cycling down the Sisowath Quay, a river walkway, that runs along the royal compound. Nearby you'll find Wat Botum, a temple of great cultural significance for Cambodians, and the nearby park where you'll find locals taking a break from their daily duties.
On the other side of the Royal Palace, a bit further away you can join Buddhist pilgrims at Wat Ounalom, where you can see how most Cambodians observe their daily spiritual practice. If you are still in search of Enlightenment, attend a few of the free meditation sessions available at the splendid Wat Langka.
Another site of spiritual importance to Buddhists is about an hour's drive out of Phnom Penh, at the former Khmer capital, Oudong. Devotees climb over 500 steps under the shade of trees centuries old to reach the temple containing relics of the Buddha.
Further Reading: 10 Awesome Things To Do In Luang Prabang
4) Celebrate Cambodian New Year Like A Local
Cambodian culture has revolved around the cultivation of rice for centuries. In April, just before the new rice is planted, Cambodians celebrate the Khmer New Year. This three-day celebration is observed throughout Cambodia but Phnom Penh is the center of the festivities.
Preparations start before the first day of the festival, the day of creation, when Cambodians clean and tidy every nook and cranny of their homes, in preparation for 'the angels of creation' to visit. On the day, Buddha shrines with food, candles, flowers, and incense appear in homes across the county. In the mornings, everyone washes their face, in the evening their chests and in the evening their feet, symbolically cleaning away the actions and mistakes of the past year away.  
Further Reading: 16 of the Best Fundraising Ideas for Volunteers
The second day is all about giving. Gifts are exchanged between family members, and supplies are donated to the monks and the needy.  At temples, five huge piles of sand, called stupas, are built, one for the Buddha and the other four for his most dedicated disciples.
On the third day, the whole family goes to the temple to bless the stupas and see the elders wash representations of the Buddha with perfumed water. On this final day, you'll also see children playing traditional games and throwing each other with colored water and powder. Down the Sisowath Quay, in Phnom Penh, there is also a huge procession with live music, over-the-top costumes, and dancing.
Further Reading: 10 Things You Need To Know For Your First Volunteering Trip
5) Taste The Exotic Flavours Of Cambodia Food
'Cambodian cuisine' isn't something that you hear about every day. It's not like Thai, Indian or French food which have all gained popularity around the world. But that not due to a lack of unique elements or deliciousness, but rather the relatively recent advent of Cambodian tourism.
The cuisine shares many elements with neighbouring country Thailand, although dishes are fresher and less spicy. India's influence can be savoured in Cambodia's many curries which can be enjoyed with, of all things, a baguette, due to the legacy of French colonialism. 
Further Reading: 10 Reasons to Volunteer in Laos
Over 2000 varieties of rice are native to Cambodia so it's not surprising that rice, or rice noodles, are served with almost every dish. The other major component is freshly caught fish from the Mekong river or Tonle Sap lake.
Cambodian cooking and eating philosophy centers around creating a holistic blend of contrasting flavours, salty, sweet, sour and bitter. Common ingredients include tamarind and oyster sauce, turmeric, galangal, ginger, cardamom, lemongrass and lime leaves. Complex savory elements are created using prahok, a fermented seafood paste, which is added to just about everything unless it is served with rice noodles. Every dish is served with a number of garnishes so that the diner can adjust the flavour to their liking. You'll often be served a small helping of garlic, limes, and pepper, with any dish.  
Further Reading: 7 Reasons to Volunteer in India
Street food is a national institution and many Cambodians will buy their breakfast on the run. Join the tradition by picking up a fried rice cake on the way to the royal palace, or sit down to a meal of rice porridge and dried fish or Kuy Teav, a type of rice noodle soup served with the deep-fried breadsticks found just about everywhere across South Asia. Grab a cup of condensed milk sweetened coffee to finish off your breakfast like a true Cambodian. Jasmine tea and lemongrass tea is also served all day long.
Further Reading: How To Take A Gap Year: Before, During, and After
In the afternoon, as the smell of rumduls, Cambodia's national flower, fill the air and the catch of the day comes in, street stalls start serving lunch. A popular dish is called Amok, catfish stewed in coconut curry and banana leaves. Green papaya salad is also a stable. 
For dessert, buy ready-cut fruit from one of many stalls-on-wheels. Many fruits that Westerners might find alien are pretty common in Cambodia, such as the controversially smelly Durian, and the tangy, purple-rinded mangosteen.
And if you're looking for a snack, don't reach for a packet of chips. Curb your peckishness like a Cambodian and buy a small bag of fried frogs or crickets. While these nibbles aren't for the faint of heart, they might very well be the future. It has been suggested that 'six-legged livestock', as the UN calls them, could be the solution to a potential global food crisis caused by climate change and population growth. Seems Cambodians are ahead of the curve. 
Further Reading: 10 Reasons to Volunteer in Laos
6) Soak Up The Sun On Cambodia's Secluded Tropical Islands And Immaculate Beaches
Cambodia's reputation as a must-visit destination for beach lovers is well-deserved. It's got everything you'd want in a beach holiday location, year-round sun, long stretches of pearly white beaches, clear blue waters and a range of tranquil paradise islands to choose from. Plus, most of these areas are, as of now, very much undiscovered territory for tourists. Spend your time lounging in a hammock under the palm trees or diving down to the bright corals to see the many little fish that make the surrounding water their home.
Further Reading: 7 Ways You Can Help Save The World's Oceans
The two most popular beach towns are Sihanoukville and Kep. Sihanoukville is the main resort destination, so if you are looking for luxury living and people to meet, we recommend heading here. Kep is somewhat more peaceful and laidback.
From Sihanoukville, hop on a boat to the nearby islands of Koh Rong, Koh Rong Samloem, or Koh Russei. Be sure to stay overnight at least once, and bring along your goggles and snorkel, to see the bright blue glow of bioluminescent plankton swirling in the dark water.
From Kep, you can head to the island of Koh Tonsay, also known as Rabbit Island, popular with researchers and tourists alike for its underwater reefs and marine life.
7) Take In Cambodia's Scenic Landscape and Incredible Wildlife
Elephants have been used for transport since the time of the Khmer Empire, and likely, even earlier than that. The resulting damage to the Asian elephant population, an endangered species, is only now being understood. There are believed to be about only 300 in the wild throughout Cambodia, but these numbers aren't confirmed.
Close to Siem Reap, there are a number of elephant sanctuaries in the province of Mondulkiri, working on restoring the forest and protecting elephants from kidnappers and poachers. They also work on supporting economic growth and education in the villages so that people would not have to resort to unsustainable farming methods or give in to bribery from poachers. Also in Mondulkiri, researchers have been working on reintroducing tigers to the ecosystem since they were declared extinct across Cambodia in 2016.
Further Reading: 6 Animal Species And How They Are Affected By Climate Change
Lots of conservation work is also being done in the Cardamom mountains, so-called because, you've got it, an abundance of the highly prized cardamom plant. Rare, endangered species like clouded leopards, sun bears, dhols (a type of wild dog), pangolins and gibbons can all be spotted here. The rivers are also home to dolphins and turtles. More fit travelers can also attempt an ascent of Cambodia's highest peak, Phnom Aural, here in the Cardamom mountains. Tourism to the Cardamoms is relatively new, so you'll have to find access through the village of Chi-Phat, in Koh Kong province.

Near Sihanoukville, you'll find the popular Ream National Park. Take a trip down the mangrove-lined channels and spot everything from cranes, pelicans, and monkeys to turtles and sea cows along the way. If you're in Kep, also be sure to make the trip to Bokor National Park, also called Preah Monivong National Park, in Kampot. This area is part of the Elephant Mountains and is known for its dense cloud forest covered cliffs overlooking the ocean and the 'swirling clouds' of Popokvil waterfall.
Further Reading: 10 of the Best Organisations to Follow That Help Endangered Animals
Volunteer Opportunities In Cambodia With GVI
There are so many ways to make a difference in Cambodia, not least of which is to ensure that you always practice responsible tourism when travelling. But you can also focus directly on helping the Cambodian people empower themselves and become a more prosperous nation.
Next year we'll be launching three new community development volunteer programs in the Phnom Penh area, including a women's empowerment program, a teaching program, and a short-term international development internship.
We'll be partnering with local organisations already working on providing disadvantaged groups in the region with additional resources, to give international volunteers the chance to give back while experiencing the beauty of this magnificent country.
If you are looking for more volunteer vacation opportunities in Asia, nearby Laos, Thailand as well as India. We also offer volunteer opportunities in Africa, Latin America, Europe, and Australasia.
Most of our programs start from two weeks until twelve weeks and run during Northern Hemisphere summer months, May to October, which means everyone from professionals and families to school goers and college students should be able to fit it into their schedule. If not, the increasing popular work sabbatical or student gap year.
For those looking for the chance to work on their career development we also offer three-month and six-month internship programs in sustainable development and business management.
Further Reading: Why I Regret Not Taking a Gap Year