Come Meet Rose in Reading
Caffe Nero 66-68 St Mary's Butts, Reading - Thursday 22nd March from 11am-1:30pm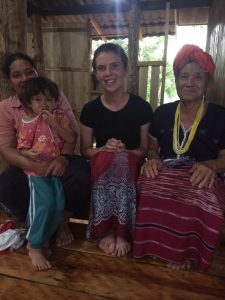 This summer I spent 3 months on an elephant reintroduction project in Huay Pakoot, North West Thailand with GVI. It was absolutely amazing being able to hike into the forest to see a small herd of semi wild elephants. We had a very unique opportunity to study the herd, so we would take both social behaviour and activity budget data to see how elephants adapted to life in the forest. I particularly enjoyed the opportunity to feed and get up close to the elephants once a week to do health checks.
During my time in Thailand I stayed with a homestay family getting to know them and how they lived. The first few weeks were hard due to the language barrier but the whole family were very welcoming and as I began to understand their language, Pakinyaw, I began to feel more at home and became good friends with them One of my favourite things to do in the village was cook with my 'mum', Faw, chat to her and learn some of the recipes of the village food. I also had the opportunity to teach English twice a week at the local school. It was wonderful getting to know the children of the village and be a part of their education.
I really enjoyed being a part of the GVI community and meeting new people from all corners of the world. Signing off for the weekends to go to Chiang Mai, Doi Inthanon and Pai seeing some of the tourist attractions of the area was a great way to see Northern Thailand and also spend time with the GVI staff and other volunteers. I am going to university now and this experience it has given me the confidence to go out, try new things and meet new people. It is safe to say that so far these 3 months was the best experience of my life.
Fill in the form below to register for the event.