Who needs electronics gadgets?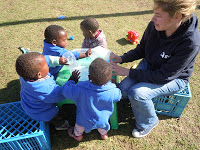 In an age where electronic gadgets are the norm in so many parts of society, it's so great to see that children still have the ability to engage in creativity. They don't necessarily need modern toys to have a great time play.  At Ikhayalethemba orphanage we see this every day.  The children show amazing creativity as a collection of crates becomes a car or a bus and the children pretend to drive off to the beach.  Wooden blocks are used for making all sorts of creations from buildings and boats, to bridges for the Three Billy Goats Gruff. Blocks are also commonly used as mobile phones as part of the children's role play.  A couple of buckets in the sand can keep the children amused for hours. Sand and water play are popular playtime activities for the children.  In a recent activity we made capes for all the children from an old sheet and what a great time they had either pretending to fly or taking on the role of king or queen. The great thing about creative play is that children develop their social skills; interacting, talking and sharing. This play is also so essential to the development of children's physical skills, language and problem solving. And what's more, they have a great time and so do our volunteers!


Cheryl Martin
Project Manager
Gordon's Bay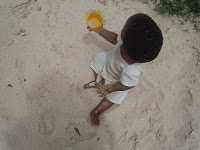 Subscribe to our Blog
GVI on Instagram
Sorry:

- Instagram feed not found.
GVI on Facebook