Which gap year program is best for my career?
By Jana Jansen van Vuuren
1 year ago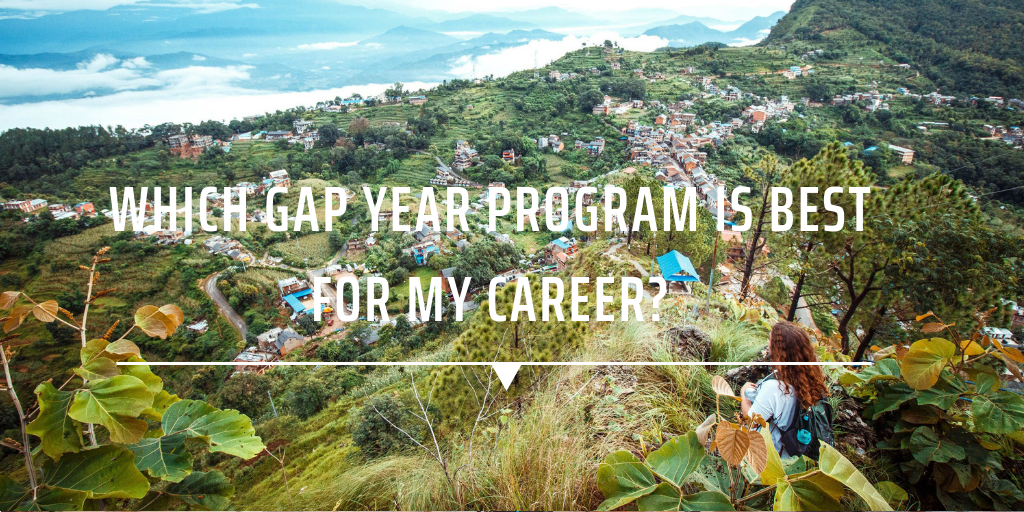 So you've heard about the many benefits of taking a gap year? Perhaps this is because of Malia Obama's well-publicized decision to take a break before college or because your college application letter recommends it.
You've weighed up the pros and cons of taking a gap year and you've answered the question of whether you should indeed be taking a year off. But, what you haven't answered is the question of what exactly you'll be doing during your gap year.
We know that most graduates taking a gap year are high-performers looking to think beyond the four walls of the classroom. They know that landing coveted spots at prestigious colleges and companies doesn't just depend on having excellent grades anymore. Admissions advisors and hiring managers are looking for candidates with practical experience and a list of real-world accomplishments.  
If you're a student who knows where you're heading, but needs help choosing a gap year program that will help you get there, then this post if for you. We looked at some of the most popular career choices among graduates in 2018 and selected GVI programs specifically suited to developing skills essential for excelling in each particular vocational field.
What's also great about these GVI programs is that if you are looking to upgrade your college application or resume, you can request for your service program to count for credit or you can apply to have a manager on base complete a written recommendation.
To use this guide, scroll down to your future profession of choice and select the matching program which most appeals to you. If you don't find your chosen line of work listed below, simply request to speak to one of our enrollment experts who'll be able to help you choose a program based your interests and the skill set you're looking to build on during your gap year.
You can also browse programs at your own convenience and make your own shortlist before requesting to speak to an enrollment expert.
Gap year before medical school
Most graduates entering Duke and Harvard medical schools have taken about a year or more off before starting their medical program. There are many reasons for this shift in sentiment in favor of the gap or transitional year.
The first is that students often find it difficult to study for the MCAT while still completing their undergraduate degree and take the extra year to prepare for the all-important exam. The second is that medical programs are incredibly intense and rigorous. This means that students who have selected this path have to be incredibly certain of their choice before continuing their studies.
If you're interested in pursuing medicine as a profession, a GVI global health internship will allow you to test the waters and see what this kind of career might actually be like. These internships are most suited to high school or college graduates looking to specialize in public or global health as well as occupational therapy, but that does not mean that students looking to specialize in other medical fields like dentistry, pharmacy and oncology will not benefit. 
On a GVI global health internship, you will help educate groups from local communities about how to avoid the spread of communicable diseases like Tuberculosis, colds, and flu and well as HIV and AIDS through effective daily hygiene practices. You will also help communities learn to avoid non-communicable diseases like diabetes and cardiovascular disorders through healthy living.
No previous medical experience is required to join our global health internships as all training required will be provided upon arrival. However, any teaching experience will be beneficial.    
The country in which we operate with the greatest need for healthcare assistance is South Africa. In a World Health Organization (WHO) survey, which analyzed the quality of health care systems in 190 countries across the world, South Africa ranked at 175.
Lack of knowledge concerning the prevention of disease, and scaricity of resources in combatting the high incidence of disease, means that South Africa's population is in desperate need of education and support around creating their own wellbeing.
To help people in these communities cultivate a greater sense of wellness, join GVI's global health program in Cape Town. You can also look at joining our global health programs in India, Mexico, Fiji or Thailand or Nepal, other countries where this type of work is very much needed.
Gap year before law school
Like with most aspiring doctors, most entrants to law school have taken at least a year or more off. This gap year is encouraged by legal education specialists specifically because law, like medicine, requires students to achieve high scores on a profession-specific exam, in this case, the LSAT, while also being an incredibly demanding program.
Pre-law students need the time off, a gap year can offer, to study for the LSAT and take a short break before continuing with the challenging education program each future lawyer will need to undergo.
Unfortunately, unlike for medical students, we don't as yet have a project specifically designed for law students. However, this does not mean that the skills you'll learn on any GVI project like the ability to communicate effectively with persons who don't share your language and culture will not serve you well once you pass the bar. 
This being said, we recommend that future legal professionals choose a gap year program focusing on one of the following fields: global health, conservation or women's empowerment. These programs will help you gain experience in three of the fastest-growing specialties in law, namely healthcare law, environmental law, and immigration law. 
For those keen on immigration law, you might find it interesting to note that most of the immigrant population in America during 90's hailed from Latin America or Europe, but that today, most of the immigrant population in America are of Asian or African origin.
Therefore, although we run sustainable development programs in Mexico, Costa Rica and Greece. If you are looking to be at the cutting edge, we recommend volunteering in locations like India, Nepal, Thailand, Laos and South Africa.
Joining one of our women empowerment internships in these locations will allow you to learn how to communicate with adults from these regions; the same people whose rights you will be helping to protect with as an immigration lawyer.
Gap year before studying engineering or computer science
What are most computer science graduates lacking? Better GPAs? No, better communication skills. Most computer science and students focus so much on getting good grades that they don't develop their ability to understand others or explain their own decisions, projects, and plans. 
However, CS grads looking to excel in their field desperately need communication and intercultural fluency skills in order to exchange information with people from all around the world.
For computer science students looking to improve these skills, we recommend joining one of our teaching programs in Laos and Thailand, where they will learn how to improve their non-verbal and intercultural communication skills through teaching Lao- and Tai-speaking students English and Math.
While future engineers also need to look at improving their communication skills and can also benefit from working on our teaching projects, they will also need to improve their teamwork and leadership skills. Any of our internships worldwide will easily provide engineering students with these invaluable competencies.
However, as biomedical and environmental engineering are two of the most rapidly developing fields of engineering, we would suggest that future engineers take a look at our global health and conservation projects. For those looking to specialize in civil engineering, you can take a look at hands-on infrastructure development projects in Nepal and India.
Gap year before applying for an investment banking role
Several incredibly successful hedge fund managers have endorsed the idea of taking a gap year rather than landing an internship at respected institutions like Goldman Sachs.
The reason for this is that talent scouts at prestigious firms are looking for individuals with a unique background who have insight into real-world situations. The ideal candidate is someone who isn't afraid to take risks, but takes responsibility for their mistakes and displays a business savvy far beyond their years.
If you're keen on a career in investment banking and are looking to improve your chances of being picked up by your dream firm, why not join one of our volunteer projects in Nepal during your gap year?
Nepal's economy was the third fastest growing in 2017, closely followed by India and Laos in 4th and 6th place. Choosing to work on women's empowerment projects in these countries will allow you to help women set up alternative income initiatives in their communities, giving you in-depth insight into the socioeconomic realities of the region.
Gap year before studying psychology
Psychology is an extremely popular subject choice at college-level, but very few of these students will actually complete the many years of study required to become a licensed psychologist.
One of the ways to ensure that you are one of those students who make it to the end is to take a gap year at some point in your academic journey. At the same time, you want to ensure that what you'll be doing during your gap year still adds value to your resume. 
For students interested in traditional counseling, we would recommend our women's empowerment internships, which allow you to work with local women on personal empowerment issues.
If you are more interested in sports psychology you can also join our sports programs. A global health project might also appeal to if you are looking to become a health psychologist you as there is a huge need for educating communities about healthy behaviors. 
Gap year before studying journalism or media
Maybe you dream about traveling to exciting destinations, speaking to new people and documenting breaking news. An easy way to get a taste for what this will actually be like is to join any of our volunteer projects abroad and be sure to document the experience. Be sure to take a good camera along and speak to your base manager about publishing on the GVI blog, Youtube, Facebook, and Instagram. 
While you could choose just about any volunteer program, two of the best would be our teaching projects in Mexico and Costa Rica. On these two projects, you will get the chance to improve your Spanish, the second-most widely spoken language in the world, which is an excellent idea for anyone looking to get ahead in the media and communications field.  
Gap year before studying fashion design
Many people simply do not realize how competitive securing a spot at a respected fashion school or publication can be. Student admissions officers and editors are looking for fashion graduates with an entrepreneurial spirit and an excellent awareness of marketing and brand management.
One of the best ways to secure these skills during your gap year is to join GVI's women empowerment projects in Nepal and Laos. GVI project managers and volunteers in these locations help women set up their own sewing and crafts businesses.
While working on these projects not only will you likely be inspired by the aesthetic of the local craft but you will also gain first-hand experience in how these products are made. Understanding how these textiles are locally produced will also give you a better awareness of the international trade in handmade textiles and crafts.
Fashion students taking a gap year with GVI are encouraged to continue working on their portfolio by exploring their sketching, photography and digital publishing skills while on the project.
Gap year animal conservation projects
Conservation is an extremely demanding career and the difficulty is compounded path to becoming a wildlife conservation is not always clear. The best is to try out what fieldwork is really like in order to see if you really enjoy it and gain the experience you'll need to get a placement at a conservation institution.
We have a range of wildlife conservation internships, where you'll be able to study a range of ecosystems from the rainforests of Costa Rica to the South African savannah and with a range of species, from tropical birds and jaguars to cheetahs and elephants.
Some of our most popular wildlife gap year programs are our turtle conservation programs in Thailand, Greece, and Seychelles. On these projects you'll help to track and increase the global turtle population by measuring and tagging mother turtles, setting up protection for turtle nests, guiding baby turtles to the sea and maintaining a turtle sanctuary.
Marine biology gap year program
If your passion is more directed at preserving life below water we suggest taking a look at some of our marine conservation internships.
GVI projects allow you to study coral reefs and fish species like lemon sharks. Our marine biology projects also allow you to earn a PADI Divemaster Certification, a requirement necessary for working on any well-respected underwater research study.
We offer marine conservation internships in locations where you'll get the opportunity to study some of the most exciting underwater ecosystems, in locations like Mexico, Seychelles, and Fiji.