Dolphin identification training for WWF Kenya
By Thalia Pereira & Zeno Wijtten
4 years ago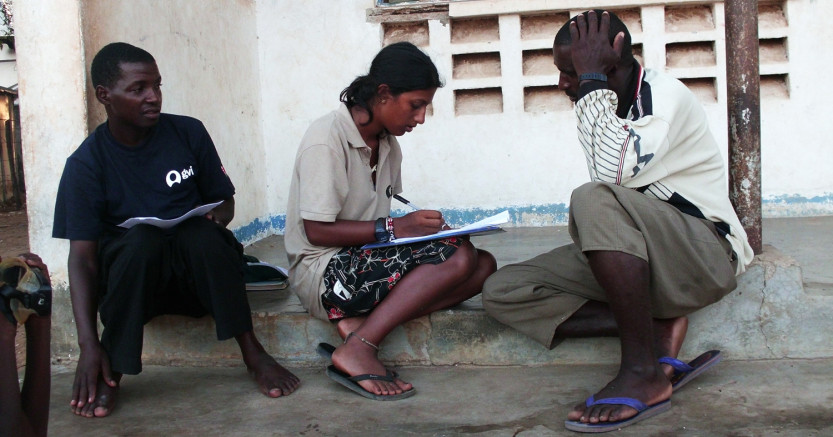 GVI is working for the Kenya Wildlife Service conserving marine life and on good park management. Marine life such as dolphins, dugongs and whales have large ranges and therefore require coast-wide coordination in their protection. GVI started the first long-term dolphin research program in Kenya in 2006 and is now providing training and workshops for coast-based organizations and institutions to create capacity and generate awareness towards marine mammal protection.
On a Sunday morning a handful of World Wildlife Fund (WWF) staff gather in a little conference room in Mkokoni near Kiunga National Marine Park, about an hour from the Somali border. Thalia Pereira who just travelled 16 hours up the coast from the GVI Shimoni hub is setting up an old projector. Faridhi Mshemanga the GVI boat captain who has never been this far from home is chatting to some latecomers in an unrecognizable coastal dialect.
Kiunga National Marine Park is one of the most inaccessible coastal marine parks in the world. It's close to the war-torn Somalia and a harsh two-day drive from Kenya's capital Nairobi. Few tourist visit and although the marine wildlife in the park is probably one of the most impressive in the world it's largely undocumented.
Just one hundred miles South of the Kiunga area, large teams of Chinese contractors are constructing one of the largest harbors in East Africa. The harbor will facilitate the shipping of oil reserves from Uganda, Sudan, Ethiopia and Kenya of which the total amount is estimated to surpass that of Nigeria. With the biodiversity in the Kiunga area being severely understudied, impacts of the developments on the environment are anybody's guess.
When Thalia manages to get the first slide of her presentation up, the room has filled. Kiplimo, the senior park warden working for the Kenya Wildlife Service in the area starts his introduction: "These are the people from GVI. I think it is very good to see what GVI is doing and it would be good if we can start this here". After some explanations about GVI and the principles of volunteer powered programs, pictures of dolphins glide over the screen at a high rate. Before the end of the day the group of participants has reduced itself from 30 to 13. Some participants left after an hour, some after lunch. The remaining participants however are enthusiastic and eager to learn in depth about dolphin behavior, mark recapture based research methodologies and advanced techniques in dolphin fin photo identification.
The next morning a firm breeze is stirring the waters. Faridhi isn't some much worried about the waves, "It's okay, we just won't see any dolphins like this, it's difficult to explain to them how to use the forms then" Faridhi says. Within 20 minutes Faridhi and Thalia are on a boat giving instructions on anything, from the best way to keep field forms dry to the statistics behind boat based surveys, effort types and using GPS data. Nobody did see dolphins, despite an enthusiastic text message from a nearby lobster-fisher informing us about a large group right next to his boat.
By lunchtime on Tuesday everyone has been enthusiastically discussing and pointing on large map of the area for hours. Pictures of Dolphins, Whale sharks, Short-finned pilot whales and Dugongs are linked to places on the map. Just when everything seems in place someone pulls out a pile of local fishermen questionnaires and the map changes again.
For WWF-Kiunga this workshop is an important first step towards establishing priorities and determine study areas. Eventually WWF-Kiunga might be able to establish a reporting system on dolphin sightings using local fishermen. Under the umbrella of the Kenya Marine Mammal Network, GVI is aiming to collectively provide an understanding of the marine mammal distribution and population along the Kenyan coast. With these workshops, more people are able to get involved in collecting data on Marine mammals by either working directly in the field or by reporting any sightings. This will help increase the knowledge of species occurrence in Kenyan waters and possibly more collaborations between the local communities and researchers along the Kenyan coast. It allows the local community to get involved in contributing towards a national effort and at the same time promotes awareness and conservation of species.