By Robyn Lewis
2 years ago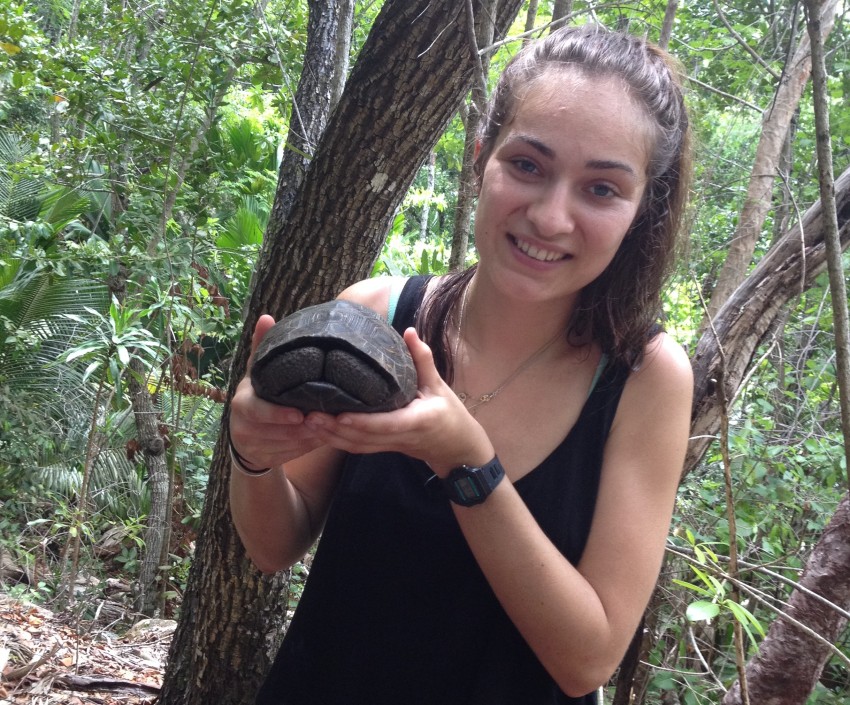 So we were hiking back from Grande Anse on the other side of Curieuse after a 'Long Wurtle' (turtle walk to our main turtle nesting beach!) where we had just done two Hawksbill turtle nest excavations, and found 5 turtle hatchlings in one nest (which we released into the sea) and another nest full of hatchlings that were just about to emerge! So we were already in high spirits on the walk back to camp. We were on the lookout for tortoises as we were walking, as always during Giant Tortoise Census season. However, we knew the Grand Anse famous-five had already been found, measured and marked so no one was expecting to see any new tortoises. So when Science Officer Becky shouted 'TORTOISEEEE!' no one could believe it. And as everyone ran over, it became clear that this was no ordinary Aldabra Giant Tortoise… it was a juvenile!
This was a hugely exciting moment for everyone as they are very hard to find, since they are so small and usually head uphill and stay hidden in the leaf litter as a defense mechanism against predators. It is to date the only one we have found outside of the Rangers Station where most of the tortoises hang out. The little tortoise was estimated to be around 3-4 years so he/she (we can't know the gender until they are sexually mature) has done well to avoid the rats on Curieuse, which are thought to predate them. The tortoise was weary of us and wouldn't pop his/her head out of his shell, so we did our best to quickly take our usual tortoise measurements of the carapace (upper side of the shell), third dorsal (middle scales of the carapace), and tiny toenails. After some photos were taken, we released him/her again so that he/she could get back to business moving around in the undergrowth. This amazing find gives us hope for the Aldabra Giant Tortoises on Curieuse Island, which are only found on a few islands in the Seychelles; it is great to see that they are continuing to nest and reproduce, and the prospect of coming across this little tortoise's brothers and sisters somewhere on the island in the near future is thrilling!
GVI on Instagram
Sorry:

- Instagram feed not found.