For anyone who didn't already know, kids are simply amazing.  Their ability to learn and soak up information like a sponge seems to have no limitations at times.  This remains true for all the children we work with, but most notable recently have been the toddlers.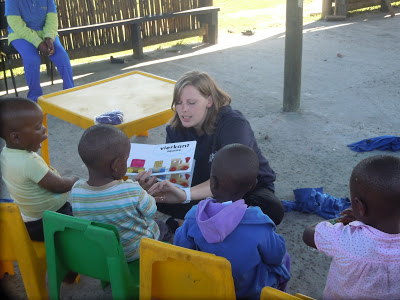 Just a few days ago I found myself sitting with a couple of the 2-3 year olds working on puzzles and talking about the pictures.  Then it occurred to me, not only were they completing the puzzles with little difficulty, but also they were having equally little difficulty having a conversation in English, which is a second language for them.
Now, to me that is hugely impressive.  However, that is only the tip of the iceberg for these particular children.  To see them during class time now, they all seem focused and interested in whatever the task may be, and they maintain focus throughout the whole class period. On some days they'll even be the last ones to leave class because they remain engaged and focused so well.
Another session of the day they excel in is song time.  It is a great way for young children to learn language, and quite a bit of fun when all the kids are singing along.  For us, the toddlers are some of best singers.  They all know a bunch of songs in English, and will ask for specific songs by name.  And if that doesn't work, they will happily break out into song on their own and put on a performance.
It is crazy to think of how much these children have grown and developed with the help of our volunteers over my time here.  And I look forward to seeing all that is still to come.
Ikhayalethemba coordinator