Teaching and living in Mombasa
Teaching and living in Mombasa
I spent 12 weeks on the Mombasa project, it was a thoroughly enjoyable and fulfilling experience.

I was surprised by the living standards, the volunteer house is very nice, electricity and running water is available nearly all the time however power cuts are more prominent than I was used to.

Teaching was my favourite part of my time in Mombasa, as a volunteer you are asked to teach English, Art, PE and reading lessons also you may be asked to teach phonics lessons with a young class.
I wasn't very certain about my teaching abilities when I first arrived, so I was first given the chance to teach alongside another volunteer who had been on the project for a few months already. After a while my co-teacher's time had come to an end and I had the class to myself which by then I was very happy with my ability to control the classroom. With two weeks of my time remaining I had another co-teacher who was going to take my class on when I had left.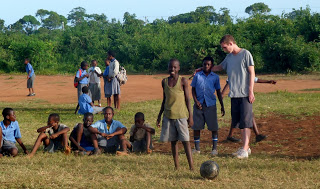 Josh with his Students getting ready for a penalty shoot out.  
I had the largest class of all the schools with 60 kids aged roughly 9-14, most classes had upwards of 35 children at Olives (it is quite a large school by population).There were times when I had to teach myself certain rules of the English language before I could then teach my class but that was never a problem. I loved teaching my class the lesson planning and book marking was the least favourite part of the role but it was also an important one.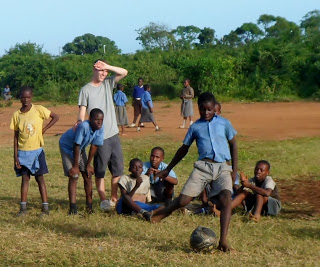 Very tense moment for all taking part.
You have a lot of time that you can make the most of, weekends are the best for this, there are many places and many activities you can do, from Safaris to relaxing in Watamu, partying in Diani to spending time visiting Wasini (south of Mombasa).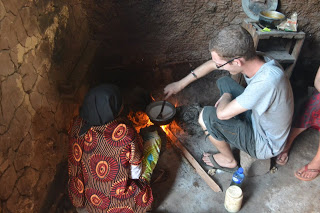 Josh learning to cook on Wasini Island
Myself, I didn't visit many places; I preferred to stay in Mombasa. Sundays I spent on the beach playing football with local friends, to anyone who might do this take note the goals are infuriatingly small.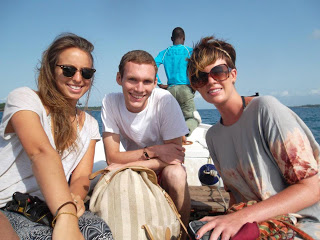 Josh with fellow volunteers Laura and Lauren.
I hope this has given you a bit more detail to what life can be like on the program, and if you can do this I strongly advise it, everybody I met on the project loved it and most are trying to volunteer again, I know I am and will be there again in 2013.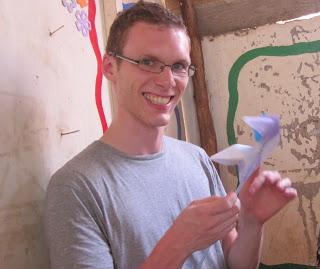 Josh looking very proud of the Windmill he has made. 
Subscribe to our Blog
GVI on Instagram
Sorry:

- Instagram feed not found.
GVI on Facebook