By Dave Spencer Sports and Surfing coordinator
4 years ago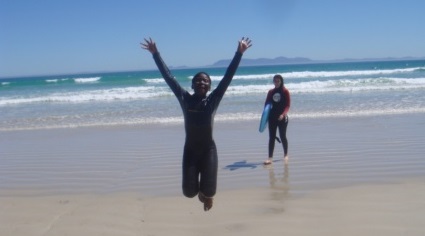 During the year GVI, along with the help of Son Surf school in Strand, we have the ability to take 9 learners from ACJ surfing.  The programme is not only designed to teach the learners how to surf but also to teach them about beach safety.
When Sima first started the surf programme she was not confident around the sea. She rarely went deep enough for the water to go over her knees. We start the learners on body boards to allow them to get used to the feeling of the waves pushing them along. It took her a long time to lie down on the body board. You could see that she was enthusiastic about surfing but her fear of the sea always took over. We tried everything with Sima and we started to think it was never going to happen, so we took a new approach and let her just play in the sea getting her to jump over waves and blow bubbles in the water. After a while we persuaded her to grab her body board again and give it another try, she jumped on her body board and rode the wave all the way into shore, jumping off her body board she had an ear to ear smile. For the rest of the term you could sense a growth in confidence in Sima a smiling laughing girl who loved coming surfing with us.
Term 2 saw the introduction and progression to foam surf boards. Upon seeing the actual surf boards Sima's face dropped and insisted she wanted to take out her body board again, it seemed like we were back at day one.
Once in the water Sima didn't want to lay down on the board, so after 20 minutes of trying to convince her to lay down she did only to then jump off again when a wave came, so we took her shallower and let her decide what waves she wanted to get and finally she laid down and caught a wave into shore, now that was an achievement in itself but Sima had one more surprise for us, the very last wave of the day she caught the wave and stood up for the very first time, with a massive grin on her face when she jumped off what a great achievement.
The following week, Sima insisted she didn't want any help  and the very first wave she jumped on and stood with no problems and all. I couldn't believe it and then wave after wave she jumped on and stood, laughing and smiling for the whole lesson. I was so privileged to see her that lesson and what a turn around it was. To see her smiling and the confidence within her is one of my proudest moments since joining GVI, it just goes to show, you may encounter many defeats, but you must not be defeated.