By Amy Bastow- 6 month conservation intern
5 years ago
It was my first week back on marine in three weeks after having an amazing time working on the forest and community programs.  It has been a very rainy week so today was only the third time we were able to get out.  Unfortunately every other day so far we had to come back early because of the rain.  Both these days however, we managed to see Bottlenose dolphins, and on Wednesday there were more dolphins in this group than I have seen throughout all my time here put together!
Today the sun was shining and we were certainly going to make the most of it!  We started the survey with a lap of the channel as we saw rains up ahead, and luckily managed to avoid them.  After a couple of hours of surveying we came across four very pretty bottle nose dolphins.
They appeared to be foraging, and would disappear down underwater popping up randomly 20 metres or so from when we last saw them!  We managed to identify a couple of them and get some photos of the fins so we could identify them later.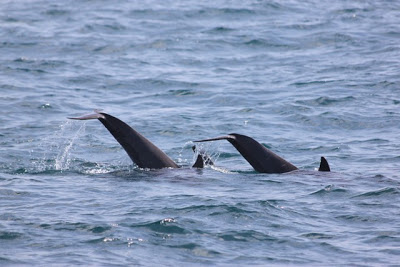 We headed over to transect 7, which is located in Kisite National Marine Park Area.  It was an amazing survey, the water was so clear, and there were tonnes of pretty fish!! Within ten minutes we saw two octopuses!!  I had never seen an octopus before in my life, and they were stunning!  They were brown/orange with dark spots, one of them even changed colour when he started moving!!!
Moving along the transect, we saw a wide range of beautiful brightly coloured fish, and a really interesting one who blended in very well with the sand.  It was amazing watching how they all moved so gracefully, and the sandy coloured one how he moved short fast bursts before settling again on the sand camouflaging perfectly.
Amy Bastow- 6 month conservation intern