Schools to the Sea trip with Precious
Thanks to a local diving company called Buccaneers in Mombasa who operate from local hotels all of Standard 6 at Precious had the opportunity to snorkel on Mombasa's infamous reef. In preparation for the trip, during our weekly standard 6 swimming lesson we tried out and practised using the snorkels (which they loved).
On the day we began with a talk about the different types of fish and marine life that can be seen near the reef such as zebra fish, barracudas and the beautiful coral . Followed by practicing snorkeling in the swimming pool, we had a large lunch of sausages and chips and then it was time for us to set off on the glass bottom boat.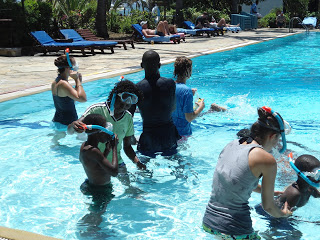 Once out in the ocean the Buccaneers instructors aswell as volunteers each took a group of children with a ring and snorkeled looking at the coral and various fish. The children were alittle apprehensive at first getting into the water but with some encouragement they got in. The coral and starfish were amazing to see. It was a wonderful day had by students, teachers and volunteers.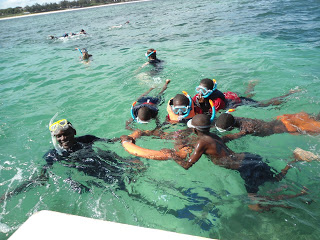 Aoife, November
Subscribe to our Blog
GVI on Instagram
Sorry:

- Instagram feed not found.
GVI on Facebook