9th October 2011
Last weekend we had our first group side trip – kayaking! Side trips usually take place on Saturday morning, giving us plenty of time to make the most of the rest of the weekend – it's also the coolest part of the day.
We took a song thaew to Bor Thor, stopping along the way for a quick breakfast of fresh waffles! When we arrived we were surrounded by limestone mountains, as you are anywhere you go in Ao Luk. The highlight of this trip was not just kayaking through the mangroves – the guides took us in and out of caverns in the limestone.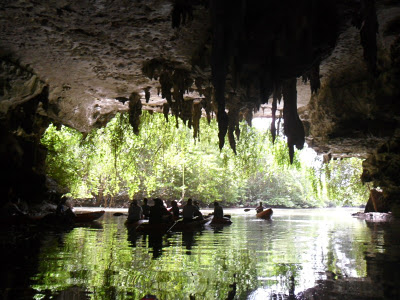 Kayaking through the limestone caverns

At some points we were led into dark caves with stalagmites and low ceilings that opened into the most magnificent lagoons enclosed by jungle covered limestone cliffs – probably the most beautiful sights I've ever seen.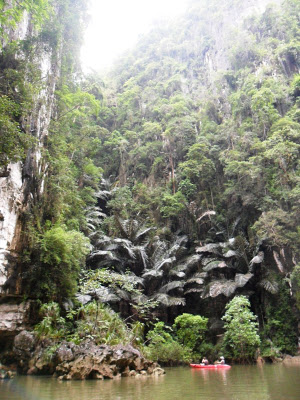 The lagoon in Thanbok Koranee

We were guided through 3 separate caves, and at the last cave we tied up our kayaks and ascended on foot into the infamous Tham Phi Hua To – 'Big Headed Ghost' or 'Big Skull Devil' Cave. This is Ao Luk's claim to fame; it is thought to have been an ancient burial site, due to the several abnormally large human skulls (hence the name) which were found here. On the walls of the cave over 100 ancient cave paintings were found – one of which has become the mascot of Ao Luk, depicted in statues and pictures throughout the town. We wandered through the cave taking pictures and by the time we arrived back at the kayaking drop spot we had worked up a huge appetite.
The Big Headed Ghost of Ao Luk

A seafood lunch (with accommodations made for vegetarians) was served in a floating restaurant on the dock; it was some of the best food we've had in Thailand thus far – a perfect way to satisfy our appetites!
Limestone mountain at Bor Thor

We all loaded back into the song thaew and headed back to base, where we prepared to head out again and spend our first Saturday night in nearby Ao Nang…but that's another story…
Katie Daly
Also this week in Ao Luk we've started a new project for GVI's Charitable Trust. As you may have heard, there have been devastating floods across huge areas of Thailand, affecting millions of people. We are raising funds to help support people in a temporary shelter in Pathum Thani, north of Bangkok. Please visit our website to find out more and help us provide urgently needed supplies – thank you.
Subscribe to our Blog
GVI on Instagram
Sorry:

- Instagram feed not found.
GVI on Facebook