Sad Farewells and Hello to the New Vols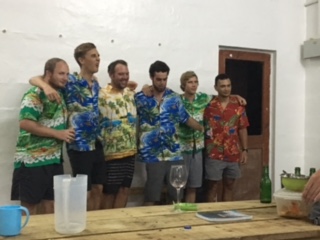 Despite an awesome barbecue (including lots and lots of Hawaiian shirts) to end week four, week five kicked off on a rather sad note – three of our dearly beloved volunteers left camp to go home or embark on further adventures. They left many a broken heart behind here at base. Nik, Sam, and Tony, you will be missed!
However, the start of February wasn't all bad. Even though we lost three volunteers, six newbies arrived this Saturday to lift our spirits. They adapted quickly (all have learned the resident UNO rules already) and definitely lower the average age on base. The rest of us "oldies" are re-energized and relearning the various duties on base as we attempt to teach our newbies. Luckily, they all catch on quick.
In other news, several volunteers and one staff member had birthdays on base in the past few weeks. Reaching a milestone in paradise ensures it will be one to remember. To celebrate, there was singing, games, good food, and fun evenings spent together in the dining hall. With all the birthday cake available, those of us who planned to lose weight while in the Seychelles are seriously reconsidering.
On a coral dive not too long ago, my buddies and I had a near heart attack when, upon surfacing, we heard frantic high-pitched screaming on the boat. It took us a second to realize there was no emergency; in fact, amongst the screaming we could make out the word, "DOLPHINS!!!" A pod of more than a dozen bottlenose dolphins was making its way towards us, skimming the waves with their dorsal fins. As we swam towards the huge animals, they ducked down and passed below us. What an insane experience – my heart was still pounding by the time we made it to shore. That dive really takes the cake in terms of cool things witnessed in Bay Ternay.
The rest of week 5 has been quiet. Everyone is still trying their best to get accustomed to new living arrangements and a long work week (seven days of work since we pushed back the weekend to accommodate Saturday concert-attendees). Everyone is working hard to push through their training and start surveying over the next week or so. It's going to be tiring, but very rewarding!