We had to walk to the local bus stop to catch our bus to 'rafting'. Where and what rafting was going to be like we had no idea. We did not need to worry however as we were delayed by a good hour due to some strike that was apparently taking place in the middle of the road.
Anyway we arrived at what can only be described as a shed. Here (whilst the rain was tipping down) we were shoved behind a curtain and told to change into a 'one size fits all' wetsuit. One size does not fit all.
We got in the raft and continued down the mild rapids – praying not to get wet as it was a bit too cold. Lunch was when things started to pick up. The instructors set up a table and then made coleslaw. Like from scratch. And it was AMAZING. It turned out to be one in a long line of incredible meals. After lunch we were bundled back into the raft, floated down for a bit refusing to do any exercise an thankful the rain had finally stopped. When we pulled up at our 'campsite' the jaws hit the floor. Sonam (our trekking guide) had slightly undersold it. Instead of a couple of tents on a beach this was a proper tented paradise. Each little tent/hut had two beds AND A LIGHT there were even hot showers – not that we actually used them, we're far too used to being dirty now.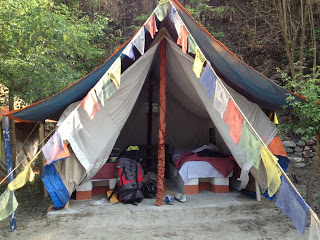 That evening was sort chilling round a fire, eating a 3-course meal of soup, barbecued chicken and rice and banana fritters (the bananas here are about the size of a big man's thumb and are so sweet and delicious) it made the packed breakfast of old cheese sandwich and boiled eggs seem a distant memory.

 

We had probably the most chilled evening yet, it was absolutely perfect, only made better by waking up the next morning to see the world's best view. Breakfast even had 2 courses, and English breakfast muffins with butter, jam and even peanut butter!! We were supposed to be shown around the tiny village but apparently we looked like we were having so much fun sunbathing and playing frisbee they didn't want to move us. A wise move on their part. 
After having to wait most of the morning for other people to arrive from KTM we finally set off on the raft this time without wetsuits but with a lot of suncream. We made the most of the sunny weather by jumping into the water at every opportunity, sometimes by choice sometimes by force. We even got to swim down a couple of the rapids, just floating in our life jackets as the Surrey swept us along. This was fine until Kirstie pushed our guide in just as a massive gust of wind hit and they realised they were heading for a rock. After some more intense rapids we pulled up on a bank just as the rain and wind were picking up.
All bundled in the van we headed for pokhara. Although mostly uneventful, we did have to stop in an umber traffic jam. We filled the 45 mins or so by playing more frisbee and becoming a spectacle worth stopping and watching for the locals. We finally made it to Pokhara safe and sound only about 3 hours late but very hungry and tyred.
By Adventure Group Volunteers Emma and Kirstie.