Plain of Jars Teacher-Student Trip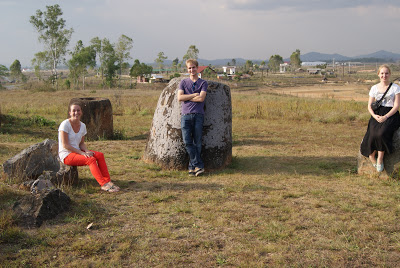 When GVI offered us volunteers to go on a fieldtrip with our Xayadeth students, I knew that it was an opportunity that I couldn't pass. The destination was Phonsavan, and the main attraction to be seen was The Plain of Jars.
We left an early Thursday morning, and it was clear that this trip was a big deal for the students. The bus trip there offered karaoke (with students and teachers singing), a beautiful view the entyre way and a lot of excited students. Because of "Lao time" the bus trip ended up being 12 hours instead of 8, but the students didn't care and stayed happy, so it was hard to get frustrated. After a stop at a pretty lake (and a lot of toilet breaks), we arrived in Phonsavan. After dinner and a much needed Beer Lao, we went to bed early. Phonsavan had such a different vibe, compared to 'good old' Luang Prabang, everything was so new and "big city" like.
After a good night sleep, we woke up early to start our big day. Besides Plain of Jars, a cave and a hot spring was also on the agenda. I loved Plain of Jars! We arrived there in the afternoon before sunset, and our 100 + students "invaded" the jar decorated hills. The students took a lot of pictures, during the entyre trip and got so excited if us teachers wanted to be in the pictures with them. They clearly had a good time during the three days we were away – and so did we!
-Written by Kat from Denmark who was on the project for 84 days. We miss you Kat!