Phang Nga February Achievement Report
By Sam Horton, Conservation Field Staff
11 months ago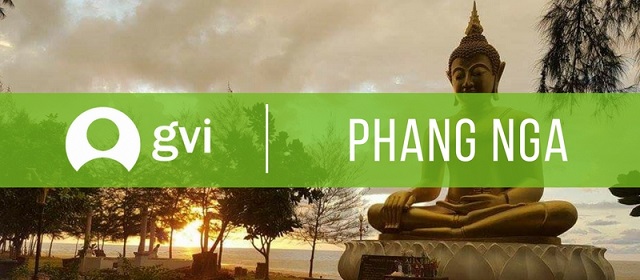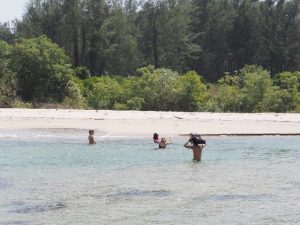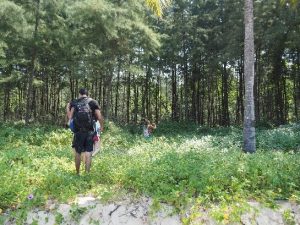 Objectives:
Quantify and catalog terrestrial and marine animal species' populations to allow scientific studies that contribute data to current conservation focuses on endangered species and habitat management plans.
To strengthen our reputation in the community and surrounding areas.
To provide volunteers with an exciting, safe, informative and satisfying experience.
Intro to the islands
Koh Prathong was identified as a potential satellite camp in June 2016 during a staff visit to see the work of a marine biologist who lives and works on the island, running a small sustainable sea cucumber farming project with some of the islander's.  The island is unique to Thailand, from the perspective that it is much less developed than most islands in the South, and fortunately here biodiversity remains high.  It lies approximately 10 kilometers from the coastal town of Kuraburi and the journey from the towns pier to the island takes an hour, weaving through the dense mangrove channels out into the wider ocean channel at which point Koh Prathong and its neighboring island, Koh Ra, become visible.  These two islands lie close to each other, with only a few hundred metres of water separating them, however they harbor incredibly different habitats.  Koh Prathong is a large island, rarely raising above sea level, with a high percentage of savannah and grassland cover.  Its west coast has a long golden sandy beach spanning the length of the island, whereas the east is surrounded by mangrove forests.  Koh Ra embraces the beauty of ecosystems of all types, from mangroves to tropical forests at high elevations, beach and swamp forests, and with very few people apart from local Moken tribes inhabiting the island, a huge variety of flora and fauna thrive peacefully here.  As if this wasn't enough, both islands have sites of coral reefs that have been recovering since up to 80% of them were destroyed during the 2004 tsunami These islands have an incredibly special appeal about them and have excited all staff and volunteers that have already been involved in the development of the satellite camp and the wildlife monitoring projects.
GVI Phang Nga Marine and Coastal conservation program will aim to document and monitor the wildlife over a long-term period on the two islands, pushing for necessary management and wildlife patrol efforts where necessary.  After discovering the high biodiversity of the island through interviews with locals realizing it is home to Oriental pied hornbills, Sambar deer, Hawksbill turtle, dugong, leopard cat and binturong, it became obvious that the ecosystems and islander's livelihoods are so intrinsically linked on this island that in the aftermath of the tsunami, restoring sustainable livelihoods required the restoration of ecosystems, and still, to this day, efforts towards sustainable land management and habitat protection are still necessary.
One species in particular caught the teams attention; one which is at risk from extinction.  The Sunda pangolin.  Firsthand accounts of the presence of the Sunda pangolin (Manis Javenica) on both Koh Prathong and Koh Ra were told to the GVI staff during one of the interviews, noting that this species is more common on Koh Ra, yet pangolins have often been witnessed swimming across the channel from one island to another.  Confirming the presence of the most illegally trafficked mammal in the world, and one that is extremely vulnerable to extinction within the near future, is an important start to ensuring correct species and habitat protection and management on both islands.  Very little scientific data on population status of the Sunda pangolin has been collected as the species lives an elusive, solitary and nocturnal life, so any information that GVI can gather can help towards the overall picture of the population health of the pangolin in Thailand is valuable.
In February 2017, GVI Coastal Conservation staff took the largest group of volunteers over to Koh Prathong yet; 7 volunteers and 3 staff spent three days and two nights at the satellite camp. The camp makes use of houses that were built after the tsunami and provides a substantial income to the families that run the homestay program in the least populated village on the island, Ban Lions.  The team conducted daytime exploratory surveys and night time surveys with the assistance of a local guide who helped identify camera trap locations resulting in three camera trap set up's.  The team took kayaks out to two of the smaller islands, Koh Pling, and surveyed two coral reefs at this location, with the data collected sent back to Green Fins Thailand.  Monitoring of these two sites had previously ceased, so GVI Phang Nga will ensure that continuous data on the health of these reefs will be collected.
GVI Phang Nga will continue to visit this island monthly to begin with, and will start to explore Koh Ra within the near future.  We aim to develop an environmental education program for both adults and children providing the community with a better understanding of their islands unique biodiversity. This will also allow us to understand more about their reliance on the local ecosystems, and ultimately develop conservation initiatives to help both the people and its wildlife live in harmony.
For more information on the exciting development of this project and our other projects please "like" our Facebook page: GVI Thailand Phang Nga
Subscribe to our Blog
GVI on Instagram
Sorry:

- Instagram feed not found.
GVI on Facebook