A new library for Navunisea Primary School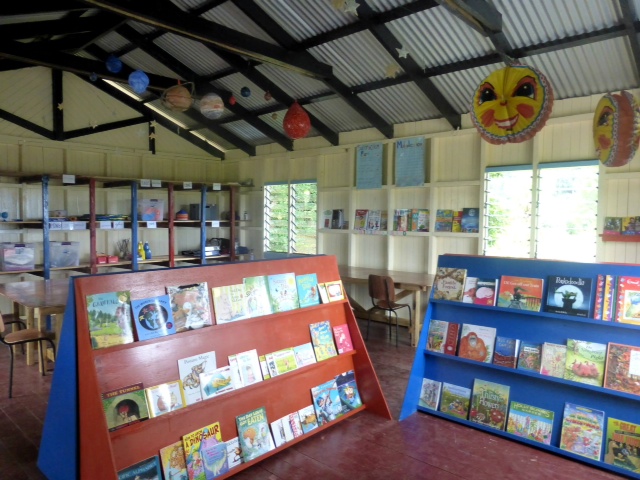 GVI began the construction of the new Library in March 2014 using funds raised for the GVI Charitable Trust. Building this library is part of our long term goal to improve the infrastructure and standard of education at Navunisea District School. GVI volunteers worked alongside a team of local workmen and on Friday 16th May we were proud to announce the official opening of the new library, suitably named 'Vale ni Wilivola' meaning 'house of learning'.
Upon arrival to school pupils and the GVI team were met with a wonderful surprise. The library had been beautifully decorated and a marquee erected in front, both were covered in balloons, tropical flowers, woven palms and draped in colourful fabric. The school staff had been up until the early morning putting everything together for the auspicious occasion.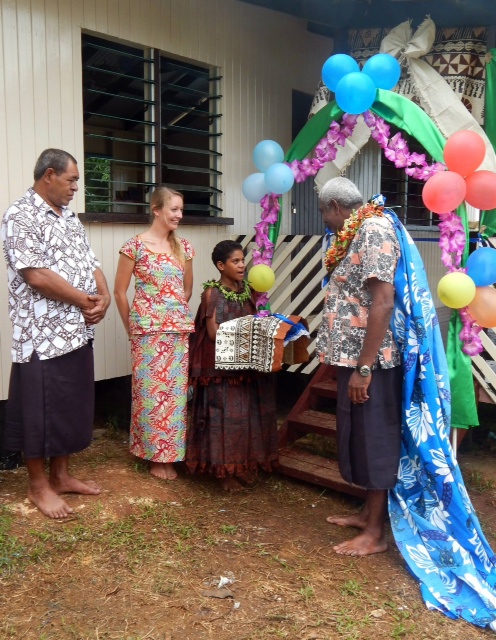 The program began with a traditional Fijian welcome ceremony for the elders of the village, the school committee and our chief guest Mr Serupe Udre, the Divisional Education Officer for the Ministry of Education. Each member was presented with a large waka of kava for the sevusevu and a garland.
Kasaia, a pupil from class 7, had been chosen to present the key and scissors, laid upon a blue satin pillow, for the official opening of the library. She was adorned with a garland and dressed in a tapa dress, a traditional costume made from bark cloth with designs printed in black and rust.  She stood nervously by my side as the Silana Minister led a final mass, and then she presented the keys to Mr Udre. Together Mr Udre and I took up the scissors and cut the blue and white ribbons across the entrance to the library – it was officially opened and a huge applause erupted from the students.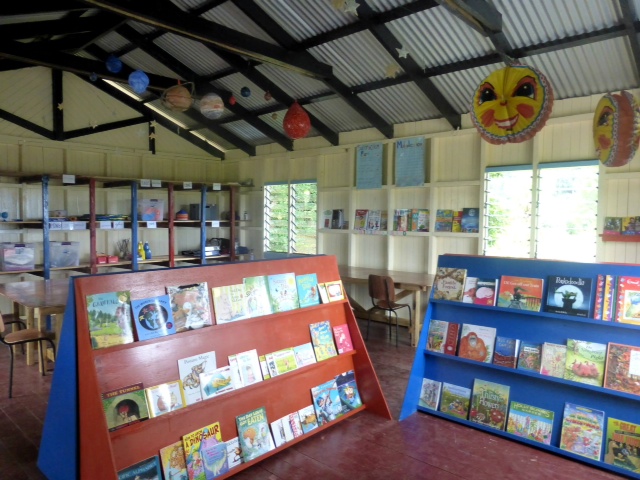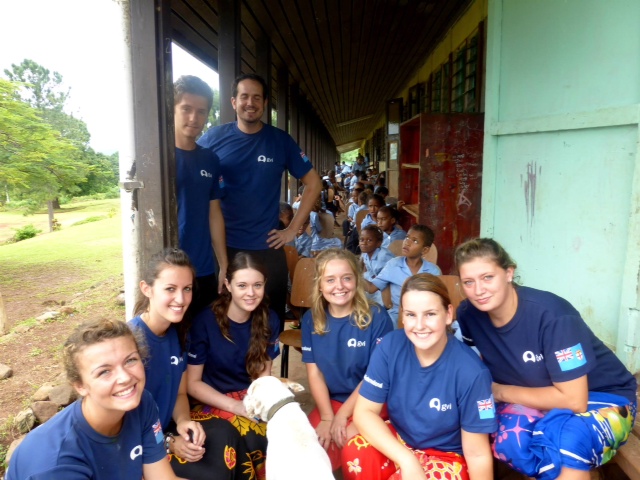 After the official opening it was time to sit back and enjoy ourselves. The women provided refreshments of delicious homemade coconut cake and sweet lemon tea and the men gathered around the kava bowl. Each class presented different types of entertainment and Meke, the traditional dances which enact stories and legends. The pupils drummed, stomped and cheered as each class danced and sang their way through the afternoon, with teachers and members of GVI jumping up and joining in.
The celebrations were concluded with a great feat of many types of fish, octopus, watermelon, curries and other Fijian delicacies.  In the afternoon many rested after such an exciting day, while others gathered back round the kava bowl and toasted and danced until the small hours of the morning.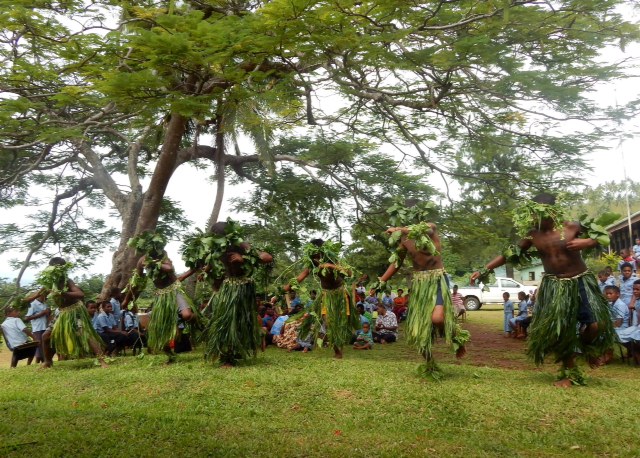 Eleanor Hanson – GVI Education Project Leader