My experience at GVI Playa del Carmen, Mx
By Nicholas Robinson
9 months ago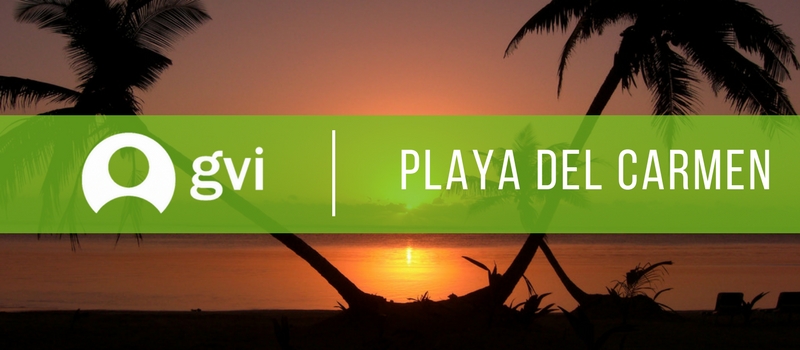 The two weeks that I spent in Playa del Carmen with GVI have been absolutely fantastic and one of the best experiences of my life. I had never been to Playa del Carmen so I was not sure what to expect. But I soon discovered that it was a fantastic place to explore. Everyday, after volunteering, I would go down to the beautiful beach for swimming and relaxing. Also, everyone you meet in Playa del Carmen is very sociable so you can make a lot of friends. Firstly, I was pleasantly surprised by the house and the wonderful people it accommodated.  The mixture of personalities and nationalities in the house created a very fun and interesting atmosphere. We became a tight knit group in the house and will definitely stay in contact with all the volunteers. Every Wednesday we had a traditional Mexican chef come to the house and teach us how to cook local food. The food was so tasty and everyone got involved so it was very fun and informative. I travelled down with a friend and we started off getting trained in CPR in case the kids had any problems. I thought this was very helpful- especially if any accident would have occurred. The volunteering opportunities were absolutely fantastic and I had a great time working with the kids. The first place I worked was Escuelita, a school for the disabled. I helped kids with autism, cerebral palsy and severe OCD through their cognitive and physical forms of therapy.  I felt very humbled by what the kids go through every day and it felt great to help them learn and have fun. The second school I went to was Ludoteca which is a school run by the Save The Children. I had great experiences teaching and playing with the kids. The kids are a rambunctious lot so we created fun and interesting lesson plan to keep them focused. Also, be ready for a lot of running around and football. The third school was Contando con un Amigo in a rural  neighborhood in Playa del Carmen. I taught a class of four-year-olds animals in English, it was probably my favorite experience as all the kids were excited to learn English and I had to put my teaching skills to the test with my limited Spanish. I loved every minute of my time in Playa del Carmen, thank you GVI for this amazing opportunity.
Subscribe to our Blog
GVI on Instagram
Sorry:

- Instagram feed not found.
GVI on Facebook