May 2014 Monthly Achievement Report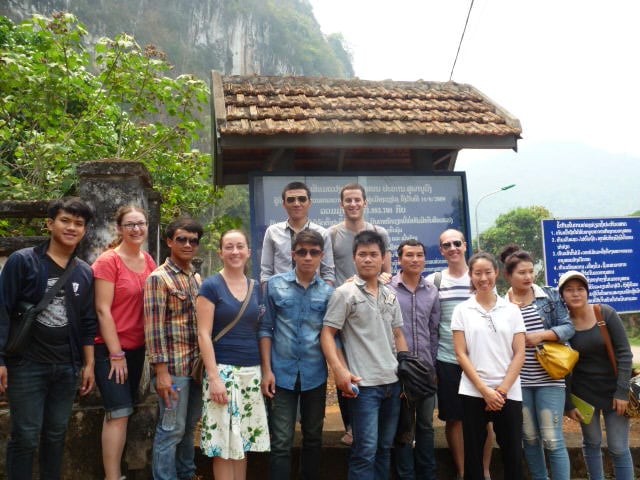 GVI Laos
Xayadeth College Class Trip
In April, the director of Xayadeth College in Luang Prabang, Laos invited GVI volunteers and staff to join the students and teachers on a 3 day field trip to Northern Laos. 2 GVI field staff members and 3 teaching volunteers excitedly agreed to accompany 50 students from Years 1, 2 and 3. Traveling with Lao locals is a rare experience for volunteers so we are proud to have been invited along on the adventure.
On day one we left bright and early and drove 16 hours on extremely bumpy roads passing small villages, rice paddies and steep limestone mountains all while singing karaoke. We stayed in a small city called Xam Neua which is a 30 minute drive from the famous Vieng Xay caves where prominent Lao figures hid for several years during the war. Our second day was spent visiting these caves and listening to the students teach their teachers about their country's history. The trip was designed for the students to gather information for their final reports that are due at the end of term so our volunteers stayed busy answering numerous questions, mostly about pronunciation. The 3 days proved to be an excellent chance for students to practice their English speaking skills with their teachers in an informal environment.
On the last day, after boiling eggs in a hot spring and visiting a waterfall everyone was ready to ride another bumpy 16 hours to return home. Karaoke was sung for the majority of the drive and at the end of the trip we noticed a much closer connection between students and teachers. We thank the director and his family for including us on this opportunity to explore greater Laos with our eager to learn students.
Objectives met through this achievement:
– Provide authentic volunteering experiences to GVI volunteers which address local needs in the areas of English Education.
– Work collaboratively with local Lao partners and organisations.
Written by Molly Plexico, GVI Laos Field Staff