Mahout Biography - Singtoh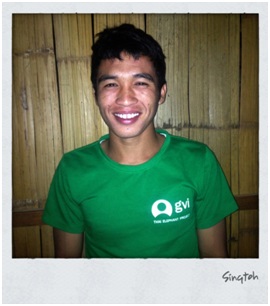 | | |
| --- | --- |
| | |
| | January 6th, 1994 |
| | |
| | |
| | |
| | |
| | |
| | |
Singtoh, the head mahout, has lived in Huay Pakoot for his entyre life. He attended the school here until age 12, worked in the fields for 3 years, and then became a mahout at age 15. His upbringing was relaxed, as he got along with his parents and was well-behaved (aside from one time when he was 5, he ran after a car and was subsequently hit with a bamboo stick by his father). His family has owned elephants for over two centuries and currently owns four elephants (Kham Suk, Tong Kham, Som Wang, and Bai Fern). His father was a mahout for Mana and thus when the time came, he taught Singtoh everything he needed to know about mahoutship within the span of a week. However, before becoming the first mahout to work with GVI, Singtoh worked in five different elephant camps. Once he returned to the village, he became the mahout for Mana. At age 17, Singtoh got married to his wife, Mint, and they had their daughter Nambrin. Despite becoming a father relatively early in his life, Singtoh is a natural family man, describing himself as family-oriented, energetic, and outgoing. Singtoh enjoyed being Mana's mahout, but he wished to work with one of his family's elephants. Therefore, Singtoh became Kham Suk's mahout as soon as she returned from working in a camp. Singtoh has never been outside of Thailand and he does not plan on leaving the village. In his free time, he enjoys playing guitar, football, and simply spending time with his family.
| | |
| --- | --- |
| | Professional football player |
| Favorite thing about being a mahout | Being with his elephant every day |
| Knowledge about medicinal plants | |
Subscribe to our Blog
GVI on Instagram
Sorry:

- Instagram feed not found.
GVI on Facebook