Learning to live ' la pura vida'....my first month as an intern.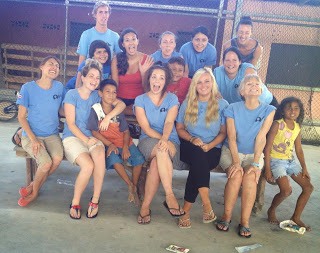 So I'm finally settling into my new home for the next six months and getting to know the children in both El Cocal and Boca Vieja. As a group we have been getting into lesson planning and doing the lessons with the children, who have been responding to them really well and have been enjoying leaning English whilst doing arts, crafts and sports as well. 

We have also enjoyed learning new games that the children have taught us, especially freeze tag! I am enjoying getting to know the kids individually and possibly meeting even more when school starts next week.
As well as all this, I have been enjoying exploring around Quepos, especially Punta Naomi and the delights of "Byblos" on a Friday night! Also next to the bus stop, we had a mother and baby sloth living there… however the baby was sadly dropped by his mum and despite great efforts from the local pizza delivery guys, the baby didn't make it, so he was buried near the tree that his mum lived in. 

The beach is amazing and a great place to cool off after school… the sun sets are also getting nicer by the day. We have had three new volunteers who have joined the family which makes it now eleven people living in the house, trying to cook for so many has proven difficult when you're trying to make wraps and end up having to make twenty eight so everyone's full! Over all I have had an amazing experience so far and can't wait to see what the next 5 months hold for me here! 
Miranda Jones, 6 month intern.