Kate's first impression of Mkwiro
I am just going to admit straight out that I absolutely love it here.  I've only been here only three  weeks as a community volunteer and I do not want to leave in ten days' time when my program comes to an end.  Having spent two weeks in Shimoni working at the schools there, I have now come to Mkwiro – a small, but incredibly vibrant village on Wasini Island that runs adjacent to Shimoni.  Life here is very different to that back on the mainland – different in a good way!  Life slows down even more.  You really do feel removed from the world – internet access, electricity, running water no more!  This is what I came for!  Doing water runs, collecting the weekly food supplies from the boat and washing in the ocean all become a part of everyday island life (OK, nearly every day when it comes to washing yourself).  Once you forget all the norms of living back in Shimoni, you become accustomed to it all surprisingly quickly.  This has been the case for me.  I have really just thrown myself into everything.  I guess this is why I have come to love it so much!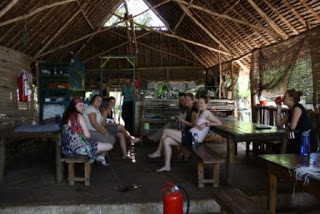 Our kitchen banda in Mkwiro.
Subscribe to our Blog
GVI on Instagram
Sorry:

- Instagram feed not found.
GVI on Facebook