Since relaunching our operations on January 14th we have had an exciting and challenging time as we introduce the third program to Tovuto base's growing family of intiatives- The Fiji Marine Conservation Program. We have spent time preparing our new equipment and dive center and it has been rewarding to see the first dives of the program head out in our new boat 'Waqanunu'. Matthew Russ has also been the first diver to earn his open water certification on base. The education program ran a fun and successful education program in the southern villages of Vuake and Matathacalevu. While the construction program nears completion of our water improvement program in Malakati Village. The base is a busy place these days! The last 10 days or so Fiji has been hit with some rough weather and there has been some severe flooding in Nadi Town on the mainland and a brief cyclone warning. However the weather is clearing and we hope to be back to normal operations in the next few days.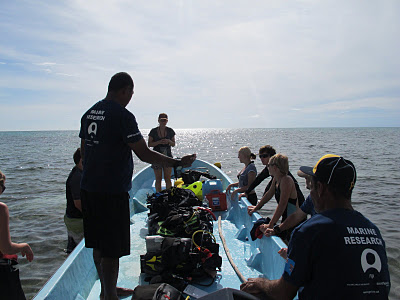 Divers heading out on a point out dive in the Blue Lagoon
Subscribe to our Blog
GVI on Instagram
Sorry:

- Instagram feed not found.
GVI on Facebook