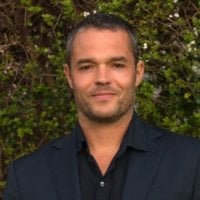 This week, we decided to sit down and interview GVI's founder Richard Walton. Richard started GVI way back in 1997 after spending some time volunteering abroad he decided he wanted to help more young people around the world make a sustainable, long-term difference in places where it is needed the most.
GVI: Why did you decide to start GVI?
RW: When I was younger I went on a project with a well known UK organisation and even though it was an incredible experience, the whole trip was focused on personal development and not at all on benefitting the local communities. My friend, Ben who co-founded GVI, had a similar experience with a research project. The organisation he was with wouldn't release any research data to the local communities, preventing NGOs and charities the opportunity to utilise the information. We knew we could do something similar, but better and so GVI was born with the aim to fully involve the local communities and allow them to benefit more from the projects.
GVI: What has been the biggest challenge thus far in your career?
RW: I have had many, but the biggest was getting GVI off the ground. I had very little money and no experience in building an international organisation. Luckily I was young and full of passion and idealism which can go a long way!
GVI: Where do you see the future of volunteering abroad heading?
RW: I think more and more people are looking at combining volunteering with learning experiences for themselves. We have recently launched a website devoted to service learning which addresses this demand. The great thing is that this does not devalue the impact the volunteer has on a program, in fact, I truly believe that the projects benefit even more.  On top of this volunteers want to know a lot more about  the impact the projects they are joining have on the ground, that they are ethical and that they get good support while on the program. Overall I see a rising demand for quality programs that benefit both the community and environment and the participant themselves.
GVI: What surprising lessons have you learned along the way?
RW: That people really, really want to help. Just ask for it. The world is much more open and kinder than most people think. In fact, the easiest way to form a relationship with someone is to ask for help. If you want to get networking (which everyone should) start asking for help!
GVI: Do you have any advice for volunteers looking to make a difference?
RW: Really relish the opportunity to become part of another culture with new perspectives. Whilst you can help local communities through volunteer projects, you can also learn a lot from them. Pick somewhere completely foreign to you and push yourself out of your comfort zone that's when the really exciting things happen.
GVI: What's the best advice you ever received?
Listen to other people. It seems like a simple piece of advice, but one I definitely ignored when I was younger. Almost everyone can help you in some way, whether that's by giving you new, creative ideas or showing you a different way to look at the world.
GVI: What do you want your legacy to be? How do you want to be remembered?
RW: I want to make sustainable and educational travel more widely available to people whatever the economic background
GVI: What's next for you?
RW: Recently my career has taken a bit of an unexpected turn. 8 months ago I set up a company called AVirtual, which brings virtual personal assistants to the UK. It's an unfamiliar industry, but having run GVI for 20 years, I wanted to try something a bit different.
Find out more about GVI's international, award-winning volunteering programmes and internships! Choose from over 150 community development, animal care, teaching, women's empowerment and conservation projects worldwide!