When you're looking to add to conservation efforts that benefit both the land and the sea, diving volunteer work can be the perfect option. 
While marine conservation is the main focus of diving certification volunteer work, the initiative you'll be contributing to will be important to terrestrial ecosystems too.
And, getting involved in scuba diving volunteer projects won't confine you to only experiencing the ocean in places like Fiji, Mexico, Seychelles or Thailand. 
In fact, the best marine conservation volunteering programs with a focus on diving volunteer work will also give you plenty of time to set foot on land. This means you can see the country's most sought-after terrestrial attractions too. 
Volunteer scuba diving programs can get you up close and personal with what's happening in the world of conservation today – whether it's what's happening in the water, or what's taking place on land. 
This can go a long way in broadening your understanding of how global marine conservation efforts are working towards safeguarding land and sea ecosystems. 
It's also a way to see first-hand how different natural environments are linked, and why all efforts that build on the United Nations Sustainable Development Goals (UN SDGs) 14: Life Below Water and UN SDG 15: Life on Land are important. 
Let's take a look at exactly how diving volunteer work can have you building on land and sea conservation goals. 
How are the land and the sea linked?

Ecological connectivity is the study of how living things move around on the Earth and interact with each other, and how natural processes – like the movement of nutrients – flow through an ecosystem. 
This is a key concept in conservation ecology, and is also what links up marine and terrestrial ecosystems – because natural processes aren't restricted to one type of ecosystem, and happen across the land and sea.
For example, fish feed on marine resources – like smaller fish and crustaceans – which allows them to grow to maturity. Terrestrial animals like bears and birds then catch and eat these fish. 
For these terrestrial creatures, fish may be the main and most nutritious source of food they have access to. So if the marine processes that allow fish to survive aren't in place, terrestrial animals – and the processes they contribute to – won't be able to continue either.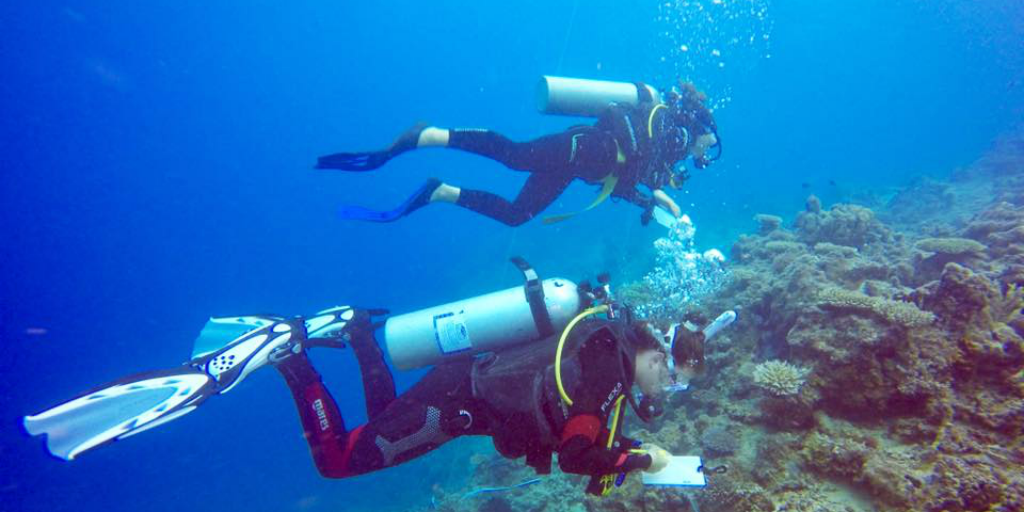 Another example is that, when terrestrial plants and animals die they decompose and this adds to the nutrients in the soil. If this happens near to the sea, these nutrients can be incorporated into marine ecosystems. This builds on the growth and development of marine plants and animals – like plankton, kelp, fish, seals and even dolphins and whales. 
And because they travel great distances and depend on many different ecosystems, migratory species like birds and whales can be greatly affected by interruptions in the connectivity of ecosystems. 
In fact, the thirteenth Conference of the Parties to the Convention on Migratory Species (CMS COP13), highlighted ecological connectivity and its importance in the survival of migratory animals. 
But why does ecological connectivity matter? Well, whales provide a good example. 
Whales are some of the biggest life forms on the planet, and a vital source of carbon storage. Whales aren't only made of carbon, but throughout their lives, they're able to accumulate carbon and keep it "trapped" in their bodies. 
This basically means that, through the carbon cycle, whales can pull carbon out of the atmosphere. This can reduce global carbon dioxide levels and have a positive impact on climate change. 
If efforts to conserve whales aren't continued, over time there'll be significantly less whales on Earth, and fewer life forms that are able to impact the carbon cycle in a big way. This will affect all life on Earth. 
Also, if whale carcasses decompose in an oxygen-rich environment – like on sandy shores, or the surface of the ocean – all of their carbon will be released back into the atmosphere as carbon dioxide. 
How does diving volunteer work contribute to the conservation of the land and the sea? 
Marine conservation volunteering means that you'll be working with organisms, and be based in natural environments that are key to the health of ecosystems of the land and the sea.
While doing diving volunteer work in Mexico, you could focus on coral reefs and get involved in underwater surveys. This research aims to assess the recovery of the Mesoamerican Barrier Reef System after coral bleaching events. 
And on land, you'll get to contribute to growing coral in a laboratory. By assisting in transplanting these offcuts back into the reef when they are strong enough, you can build on the health of the world's second-largest barrier reef as a scuba dive volunteer. 
Coral reefs are essential parts of healthy environments. They protect coastal terrestrial ecosystems from storms and erosion, and provide homes for a wide variety of marine species.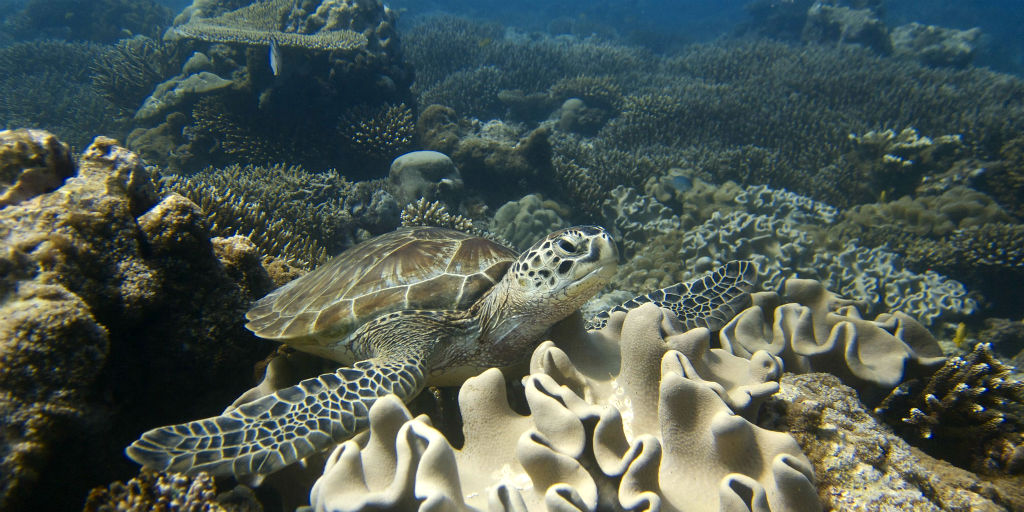 In Seychelles, you can swim alongside a whole host of these marine creatures while doing diving volunteer work. Gear up, dive in and take part in scuba diving volunteer projects focused on fish and marine invertebrates.
Since this marine conservation volunteer program includes a Professional Association of Diving Instructors (PADI) Advanced Open Water Diver diving certification, you'll need to have a PADI Open Water Diver certification before you start. 
This will allow you to start off in the ocean from the start, and spend more time practising your diving skills while gathering important marine conservation data. 
Since you'll get to venture out further as a PADI Advanced Open Water Diver trainee, you're much more likely to spot the sharks, rays and dolphins that live in these waters. Also keep an eye out for the lengths of colourful coral reefs ringed around the 100 plus islands that make up Seychelles. 
Further reading: Which scuba diving qualifications can you get while volunteering abroad?
And on land, you'll build on achieving UN SDG 15: Life on Land and UN SDG 14: Life Below Water by participating in beach clean ups that clear plastic pollution from the shore. 
With the shoreline acting as a major link between the land and the sea, conservation activities done here have a positive impact in marine and terrestrial conservation at the same time. 
What impact can you make as a scuba dive marine conservation volunteer? 
As a marine conservation volunteer, you'll be part of global efforts aimed at understanding the structure and function of marine ecosystems, and working to safeguard them.
Your contribution to scientifically based diving volunteer work can add to the health of the world's oceans, and the plants and animals that live in them. And this can have a big impact on terrestrial ecosystems too.
With the ocean packed full of photosynthesising plants that produce oxygen, it's the source of 50–80% of the world's oxygen. So, if marine ecosystems aren't maintained, plants and animals on Earth could experience a major drop in their oxygen supply.
And this is just one of many examples of how ecosystems interact with and depend on each other.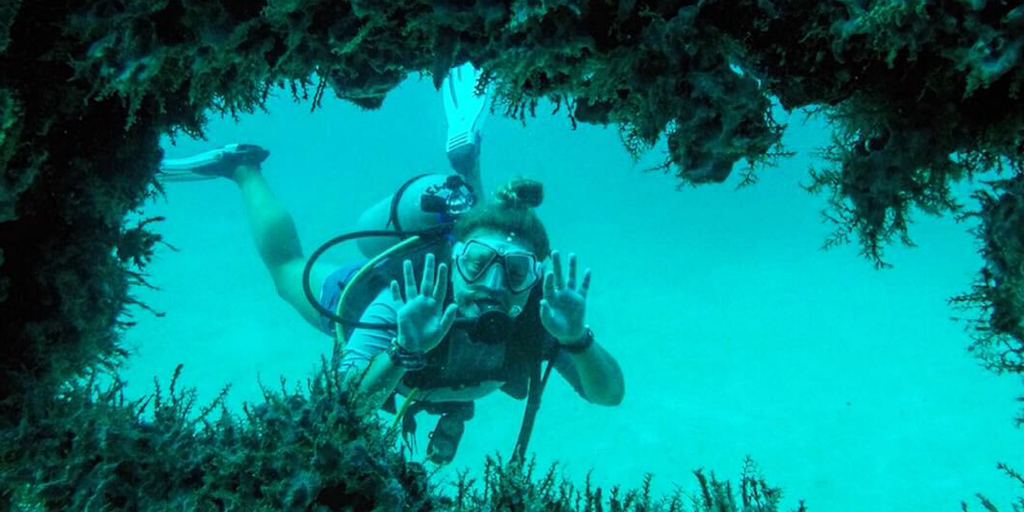 Marine conservation volunteering means that you can add to conservation efforts on a global scale. 
And volunteer scuba diving also means that you can also up your diving certification level, add to your professional development, and get closer to working in your pick of scuba diving careers in the future. 
Swim through GVI's selection of marine conservation diving volunteer work and internships in destinations abroad, and see how you can build on the well-being of the land and the sea.