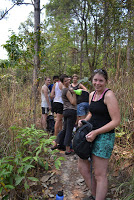 On Saturday the 3rd of March, we went on a hike up Doi Suthep to raise money for a new elephant clinic in Huay Pakoot, Northern Thailand. Six volunteers and two staff members did the 12 km hike in the 42 degrees. Actually, it was the hottest day of the year so far, but what won't you do to raise money for a good cause?
We started the hike at 10am under the burning sun and were all a bit surprised about the severity of the hike. Dripping with sweat and tyred we all ade it to the top with smiles on our faces.
We managed to raise $1700 and we are proud to give this money to help set up the new clinic and train the mahouts in basic elephant first aid.
Thanks to all you guys who have donated and helped our project.