GVI EFR Scenario and Seychelles Adventure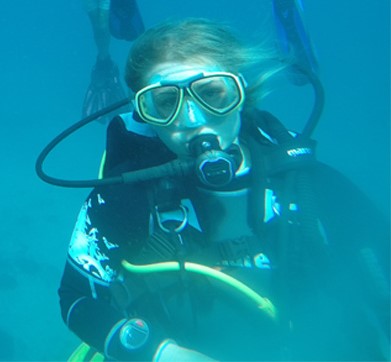 I am an intern on the Indian Ocean project with GVI which I chose to do as I wanted to combine my Dive Master with travel alongside trying new things and meeting new people, as well as the desire to find out more about fish we dive with.
It is now week 3 of my three month internship here at Cap Ternay with GVI. It has been a busy few weeks with lots happening and much to learn. We are all well into the swing of base life now and Easter Sunday became a 'funday' here on base, with one of our volunteers organising egg related games such as an Easter Egg Hunt which got very competitive. We also got to enjoy a lovely chocolate cake, hot cross buns and a BBQ which was a really good start to the week for everyone.
Following on from this during the week, the staff had a surprise for us involving a staged scenario for our EFR training with a fake car accident in which we all had to respond and use our skills to help the sick and injured involved. This was quite a laugh for everyone especially the sight and smell of a staff member covered in BBQ sauce (aka fake blood), but it did help us to put our training into action. Every day and every week is different here, which certainly keeps us all on our toes and keeps things interesting. Although what keeps us all motivated is our love of diving and adventure alongside the desire to help and study our underwater world and with two dives a day we certainly get to fulfil this. Swimming with dolphins, schools of fish, rays, sharks and turtles definitely makes for an exciting time especially for me who has always loved the larger ocean creatures and enjoyed diving with many of these before.
We also do a lot of outreach work in the local community and nearest to us is Presidents Village for children and young people. We usually have weekly snorkelling sessions with them to teach them about their local marine habitat but occasionally we also run classroom sessions with them in which we have more in depth discussions and teachings about the marine life here on the island, they all really enjoy this and we get to learn some 'Creole' in return. The children are so full of energy and really enjoy the learning games we play with them after to help concrete their new knowledge, alongside the base baked cookies we bring for them.
It is not all work and no play; my days off every week so far have been spent enjoying the beautiful weather and scenery that the island has to offer such as the waterfalls, beaches and markets. We all really enjoy exploring on our days off and having time to better get to know each other outside of the weekly routine and base duties. There are lots of exciting things to do on the island, even if they are a bit expensive! Myself and the other interns have lots of fun things planned to enjoy our time in the Seychelles.