First week impressions from a newbie
By Susan Deane
5 years ago
Playa. A much calmer cousin to Cancun on the Mexican shores. After 7 months of travelling I jumped on a Ferry over from Cozumel and landed straight onto a glorious almost-white sand. Avoiding the market sellers touting the cheap sombreros and offering free drinks, I haggled with some loose Pesos, jumped in a taxi to start my Playa del Carmen adventure…..
I started with a week learning basic Spanish as a means to orientate me into the 'Roo lifestyle. Past the infamous 5th avenue, the grid system of streets and avenues seemed mysterious and easy to explore. A wealth of interesting looking bars and restaurants with fascinating combinations of ingredients lay ahead. Without getting too distracted on possible weight gain, I spent a first hectic week in a student accommodation with many friendly enthusiastic ants willing to share my bed. I wonder what the next place will be like? I knew the Community Playa House was central and was eager to get comfortable in my new surroundings and meet some friendly faces.
And the surroundings felt incredibly homely; with the emphasis on responsibility. I wasn't disappointed. Friendly smiles welcomed me. And warm water and fewer ants ready to snuggle up next to me. After a great orientation with GVI staff and some appropriate first aid training to help any bumps and bruises along the way; I was more encouraged to start on the childcare program straight away.
The great work of GVI in association with Save the Children on the childcare program ensures that local issues affecting children is maintained through the pastoral and practical support working in the Ludoteca. I had no concept of what a Ludoteca was, so the learning space was a curious port of call.
On my first day after a collectivo bus journey to work, whizzing past shops and restaurants with fascinating hand painted signs; I landed at a public community space. The Ludoteca itself surprised me in how secure it was. It was refreshing to be welcomed by affectionate children all wanting to say hello and curious to ask more about yourself. It was a great test of the basic Spanish I learnt. Soon after an introductory game, we went straight into homework time. Whilst my brain scrambled at maths, I couldn't help but admire the staff working there on a daily basis. The patience and energy working with the children was challenging. I could only imagine what the Health therapy and Marine conservation programs were like.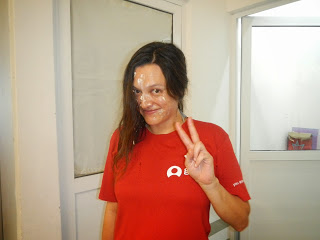 During dinner break, the children happily swapped food and encouraged me to share some of theirs. The combination of mandarin and chilli was a refreshing surprise, and I lapped up the treats offered to politely accommodate me into the settings and their daily almost-home from home environment. It became apparent that as a volunteer even though I was there to help provide practical support to the existing staff to achieve learning goals, simple praise by a child about my snack of an apple and some water to another child highlighted the need to act with due care.
With an average of 30 children to care for daily at the Ludoteca; I was also responsible for showing them good responsible behaviours. Such a small comment that made me realise the impact an adult behaviour can have. This is what helps shape memories, I thought. After some more play time encouraged to recharge batteries, the daily chores of tidying and housekeeping began. It was a good opportunity to chat to the other volunteers and staff in the field. Although my Spanish was basic, the helpful and positive body language cues and wide smiles made me feel at home. I was told about children that were socially withdrawn and aggressive that became more calm and receptive to their peers. It was obvious that results were being achieved here.
The following days followed a familiar pattern. The children learnt about hazards such as hurricanes and were made to think carefully about these dangers. A visit to the local playground and interaction with Zumba dancingwas also a joyful treat. The days went by quickly and the staff treated me to some amazing Mexican stuffed savoury bread. The myriad of restaurants around 5th Avenue I wanted to explore became an instant blur.
Reflecting on the end of a productive and enjoyable first week; I still won't forget some gorgeous cake for a volunteer leaving do which I snaffled a little too fast. The post-work food scuffle still makes me giggle. And I'm sure some cream is still lodged firmly in my left ear….
At the end of the week I was offered the chance to attend and assist the Equine Therapy support healthcare program on the weekend which I eagerly agreed too. More than anything, the first week demonstrated the tenacity of the staff and volunteers to make the children feel welcome, included and at home with their peers.
They certainly made me feel welcome 🙂