Exploring the caves of Huay Pakoot
Recently five intrepid explorers set off on an adventure to spend a night in one of the caves near Huay Pakoot.  Mie, Natalie, Miranda and Lynsey along with their jungle expert Dee journeyed out of the village, battled rivers, crossed valleys, scaled ridges and navigated our way up and down slippery rainy-season slopes. The journey was tough but tales of mystery, bats and spirits drew us on and we soon reached the cliff wall that housed the cave, but where was the cave? The cave had not been visited for a long time, the path ways had grown over and no track could be seen, it was up to our wonderful guide Dee to hack back the tangled mass of vines and spiky bushes and unveil our home for the night.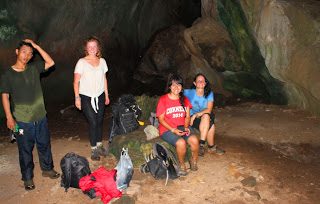 Once settled into the cave, firewood collected and our dinner planned, it was time to explore. We ventured into the cave to check out the beautiful rock formations, dodging the hundreds of bats, scaling rickety ladders and being awestruck by the huge caverns that we found at every turn. Tired out and hungry from the journey and the adventure we started a fire to cook up a banquet of roast onion, garlic and chillies, fried eggplant and potatoes and toasted bread all washed down with a bamboo cup or two of rice whiskey and topped off by deliciously gooey "smores" fresh off the fire.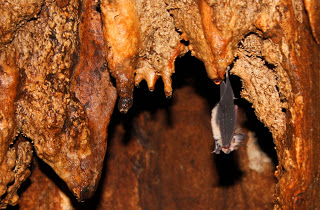 Subscribe to our Blog
GVI on Instagram
Sorry:

- Instagram feed not found.
GVI on Facebook