Allow yourself to be swept away to a mystical wonderland where tradition meets startling scenery and adventure aplenty. The beautiful and culturally diverse country of Nepal promises to stun any visitor with its enchanting landscapes, vibrant traditions, and sacred architecture.
Nepal, a South Asian country, warmly referred to as "The Himalayan Nation", "Land of Mount Everest", or "Land of Temples", is one of the continent's best-kept secrets. We caught up with some of our local staff and previous Nepal volunteers to get the lowdown on the most popular sights and sounds this magnificent country has to offer. Get ready for the journey of your life and enjoy the top 6 reasons to volunteer in Nepal!
1. Ornate Temples
Apart from their aesthetic beauty, temples like Pashupatinath, Muktinath and Janaki are pilgrimage destinations to the Hindu nation of the world. Nepal also boasts a magnificent array of Buddhist temples, including Boudhanath, Swayambhunath and Lumbini. Here are some interesting facts about Lumbini:
• It is the temple where Buddha was born in 623 B.C.
• The temple is now being developed as a Buddhist pilgrimage centre
• Lumbini is seen as one of the holiest places of the Buddhist religion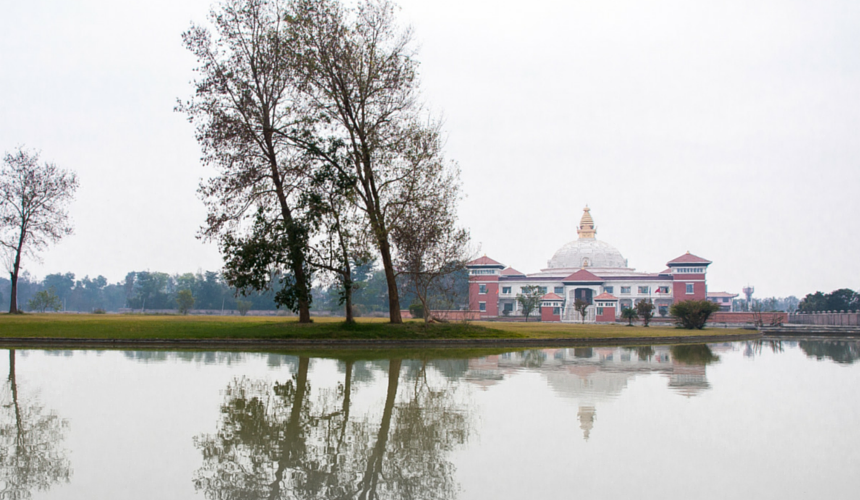 Photo: Jean-François Gornet/Flickr.
2. A Legion of Languages
Over 60 ethnic groups live in Nepal and consequently provide the country with a rich language diversity. Although the official language is Nepali, only about 44% of this relatively small country's population speaks this language. The remaining 66% speak one of the other 123 languages spoken in this South Asian country.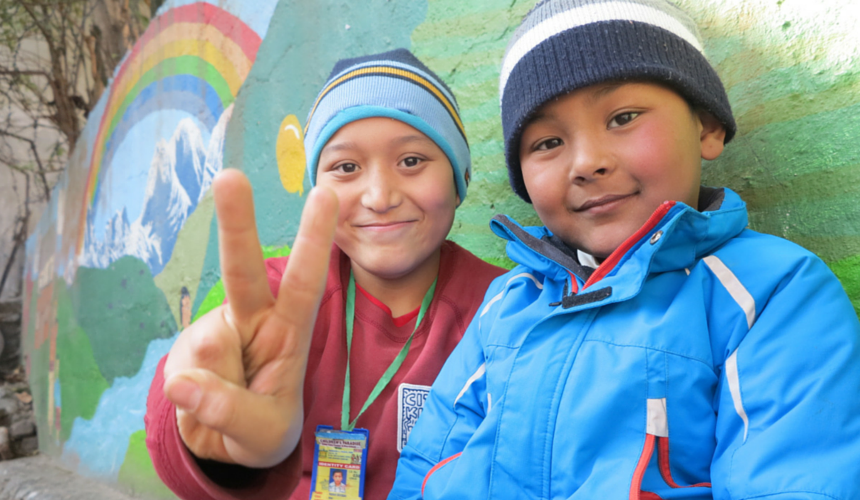 I needed something else. Something outside of my comfort zone. My solution: climb a mountain and help those who truly need it. Those were my expectations and by the end of my 6 weeks in the majestic country of Nepal, I'm happy to report that GVI delivered – with interest!  – Jeigh Tiu
3. Let's Get Festive
The Nepali nation knows how to have fun and they celebrate over 50 festivals each year. Among these entertaining events is Nepal's New Year, a national holiday determined by the Nepali calendar. It usually takes place in the second week of April and is celebrated with festivities and picnics. Another celebration, called Holli is one of the most popular Nepali festivals:
• It is known for its bright colours and happy vibe
• "Paghu" is the local word for this celebration
• The Holli festival is a celebration of the slaying of the demon, Holika
• If you are a first-timer you can expect a playful street celebration filled with a rainbow of powder paint and water balloons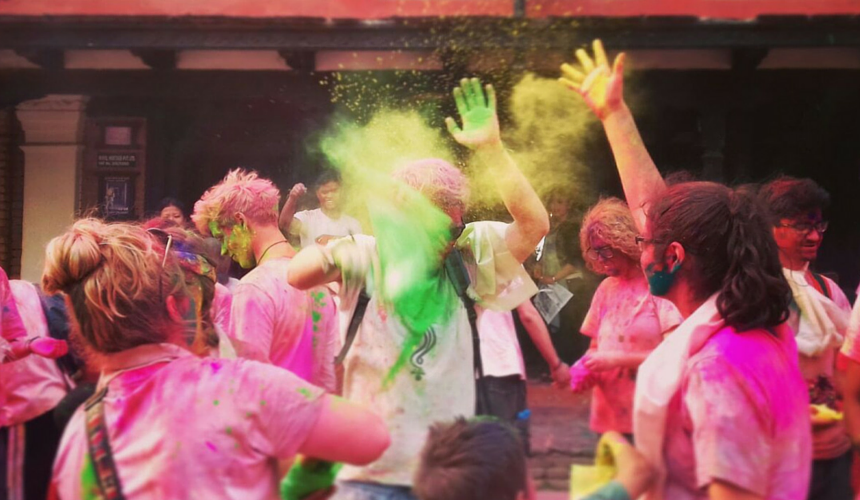 4. World Heritage Site Hotspot
Nepal boasts the densest concentration of World Heritage Sites in the entire world. These sites have been officiated by the UNESCO World Heritage site and include:
• The Kathmandu Valley is home to various monuments and buildings of artistic and symbolic value, depicting the coexistence of Hinduism and Buddhism
• Lumbini, the birthplace of Buddha
• Chitwan National Park – the first national park in Nepal, found in 1973
• Sagarmatha National Park, a protected area in the Himalayas and home to Mount Everest.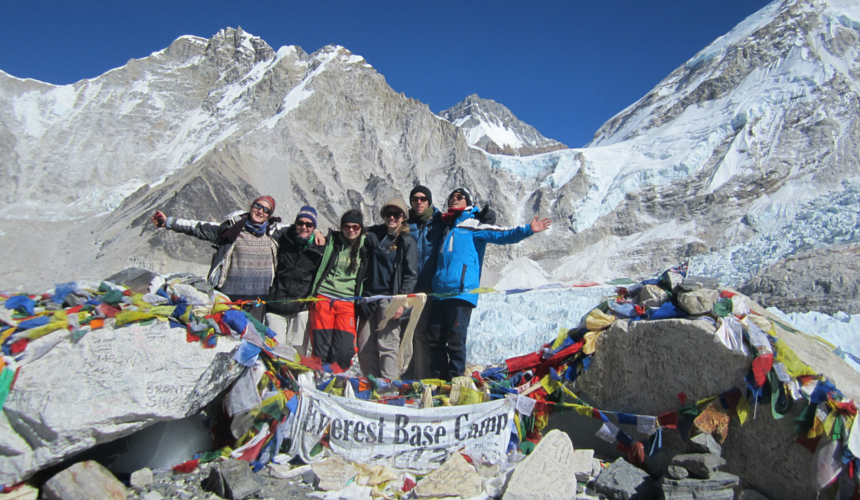 Volunteering in Pokhara, Nepal was undoubtedly the most amazing experience of my 21 years – Elise Greedy
5. Mountain Mania
Nepal is home to eight of ten of the world's tallest mountains and mountaineering is one of its highest income generators. Mount Everest, or as locals call it, Sagarmatha, is a popular tourism landmark, attracting mountaineers from all over, hoping to follow in Hillary's footsteps. A local group of brave Sherpa people, known as the 'icefall doctors' maintains the route to Everest's peak. Other impressive mountains in Nepal are:
• Ama Dablam, this climb can be quite a technical one
• Himlung, this mountain was climbed for the first time in 1983
• Manaslu, the 8th highest mountain in the world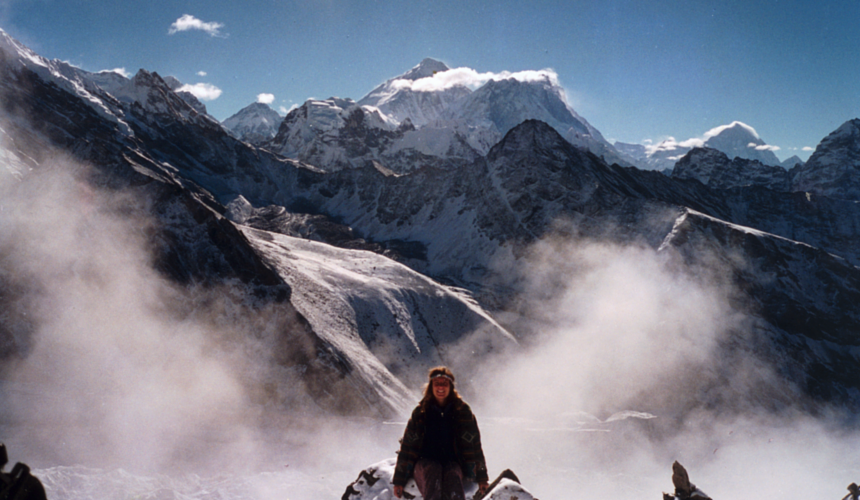 Something about the Himalayan Mountains brought me a sense of contentment and peace of mind. – Chelsea Wilcox
6. A Taste of Asia
Like any other Asian country, Nepal's food takes your senses on a taste journey. Momos, or Tibetan-style dumplings, are an all-around favourite, they come in different variations and cater for both the meat-lovers and vegetarians. The Nepalese have an annual momo eating competition to see who can eat the most momos in a minute; the current record is at a high number of 133 momos! Nepal is also famed for its delicious, traditional Dal-Bhat, a dish made up of rice and cooked lentil soup. Get ready to feast!
Photo: Ritesh Man Tamrakar/Flickr
Journey to "The Himalayan Nation" and give yourself the true Nepali experiences with all the trimmings. Adventure is calling!
Travel to Nepal and other incredible locations with one of GVI's international, award-winning volunteering abroad programs and internships! Choose from over 150 community development, animal care, teaching, women's empowerment and conservation projects worldwide!