What on earth am I doing here?!
By Abarna Kugathasan
3 years ago

So I'm just sitting in this boat with some of the other volunteers I just met. There is this guy from GVI who picked us up in Praslin together with some volunteers who have been on Curieuse for a while already, his name seems to be Alan. Alan is driving the boat, the waves are pretty rough and the only thought that keeps popping up in my mind is to hold on as tight as possible to the rope because otherwise I will fall into the water and god knows what creatures are swimming around in the Indian Ocean! I am so filled with excitement and scared to death while making my way to Curieuse Island. As we're arriving the other staff members are waiting for us and help us to carry our luggage. They seem to be quite friendly! Let's first check out the place where I'm going to stay for the next three months… There are crabs and s

kinks everywhere as we're making our way to the dorm and the heat is intense. A mosquito net is necessary to keep the wildlife outside of your bed, the kitchen is pretty basic and to flush the toilet you have to use a bucket full of water. The shower is outside and there's no washing machine so we will be washing our clothes in buckets. I see where this is going, sooo… What on earth am I doing here!?
That was my first initial reaction upon arriving on Curieuse, but after a couple days had passed and I got to know the staff members and the other volunteers a bit better, we started to go out in the field on surveys. We saw some giant tortoises, all sorts of other kinds of animals, parts of the island,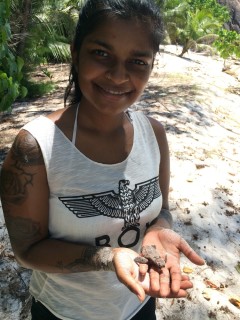 breathtaking views, did some amazing snorkels, witnessed some of the most beautiful beaches in the world and experienced the island life. My thoughts now? I honestly think this is the right place to be. The surveys might be hard, and the heat might take a while to get used to, and you will have
quite some work to do here, but it's all worth it. I get woken up by the sound of the waves to the most amazing view every single day, and I am getting to know other volunteers from all around the world. Everyone works togethe as a team, we share the work which really makes the group bond together pretty fast. During the surveys there is so much to learn about different species of animals, and with the giant tortoises, and plants you only find on the Seychelles like the Coco de Mer palms, just the whole environment here in general is so fascinating.
I reckon all these mosquito bites covering my body and not being able to auto flush the toilet for the next three months is worth living in paradise