By Jack Chambers
2 years ago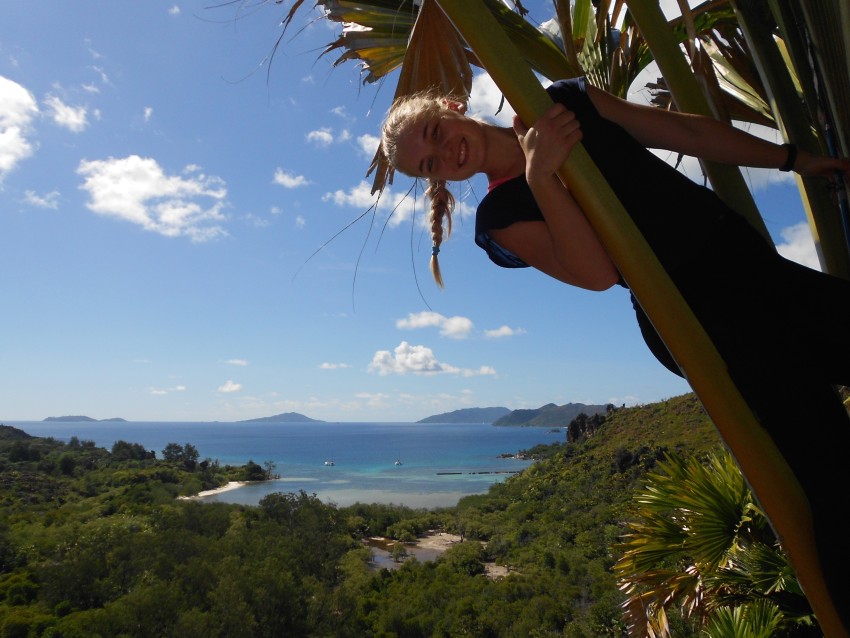 Coco de Mer is a species of palm tree, which bears the biggest seed in the whole world and is only found in the Seychelles. This week we went and carried out one of our weekly Coco de Mer surveys – we went and had a look at the population that is present on Curieuse Island in Pat's Valley. This is my favorite survey as it allows you to go and visit some of the most beautiful spots on the island and have a good look at what a lot of the island would have looked like before the Curieuse fires and over-harvesting of the Coco de Mer had occurred. We hiked up to the trees within the valley and passed a variety of different landscapes, from mangroves all the way up to more barren red earth closer to the summit of the mountain. Us volunteers are able to climb into the smaller trees, and the ladder allows the staff to reach the much taller trees. Once we are at the tree or seedling, we do a variety of measurements that allow us to calculate the growth of the trees. The first time we measure a leaf, we make a mark 40cm up ('Mark A'). Each survey after we can measure just up to Mark A and calculate how much the leaf has increased in length. We also measure the bayonets, which are new leaves that haven't unfurled yet. We also count the number of green leaves present on each tree, and measure the height and circumference of the trunk. All the while we are also keeping an eye out for geckos (Bronze-eyed and Day geckos), which are thought to play a role in the pollination of the Coco de Mer. The species and number of each are written down and, when possible photos are taken.
So this is how we collect the data that allows us to gain a better understand of this rare and remarkable plant which is only found on Curieuse and the neighboring island of Praslin. While doing so you cannot escape the remarkable views of the valley, bays and mangroves of Curieuse. This is how we 'Coco de Mer' – an amazing experience on this unique and beautiful island that we are fortunate enough to visit.
Subscribe to our Blog
GVI Live
GVI on Instagram
Sorry:
- Could not find an access token for didier_8134.
GVI on Facebook