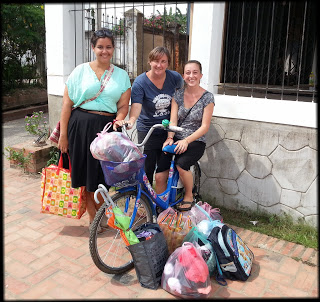 Last Sunday, 2 volunteers and 2 staff members crammed themselves plus several items to donate into a mini tuk-tuk and headed to the village of Phong Peng. We used to teach English on the bottom floor of a house in this village, about a 5 minute drive from the UNESCO World Heritage town of Luang Prabang. Since we have been missing our old students we decided to collect items to donate to them and make a little visit so that everyone could catch up. We collected about 9 bags of clothing, 3 pairs of shoes, 2 umbrellas and even 1 bicycle! The students all live in the small house and have moved to Luang Prabang from remote villages to receive better educational opportunities. They were so happy to see us again but also to speak a little bit of English and to see what goodies we brought. Everyone played a couple of games on geography, drew a little and practised speaking. It was a short but very sweet visit and we cannot wait to teach these eager students again soon.
Subscribe to our Blog
GVI on Instagram
Sorry:

- Instagram feed not found.
GVI on Facebook