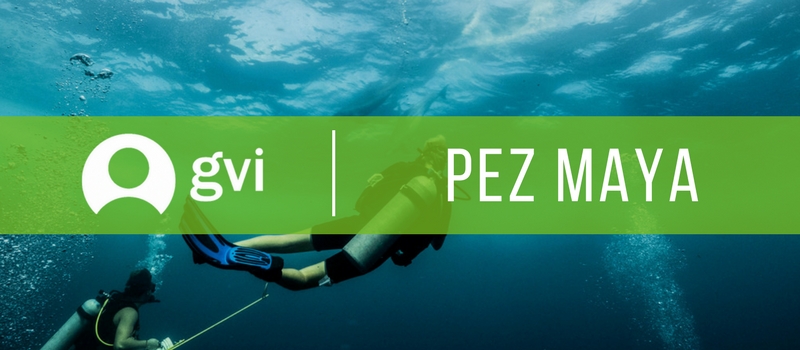 This week saw me enter my fourth week volunteering with GVI at Pez Maya, and it is still as beautiful and fulfilling a place as it was when I arrived. My first month has gone too quickly. Although I have settled into the daily routine, I find that I am still learning everyday.  Getting up at 6.45 for duties at 7 may sound like a trial, and some days it is, but the moment you walk onto the beach and see the sun come up, it makes it all fall away. It may sound cliché and cheesy, but really is true. There is also something comforting in knowing that your day is organized to the hour so you never feel at a loss for what to do that day, however that is not to say you have no down time in the day. If the chores are done and no one needs any help most volunteers read a book in the hammocks (although you have to be quick to grab these) or sun tanning by the sea (although should you have pasty English skin like me, then it may not be the best plan unless you are wearing factor 40).
This week is a four-day week as opposed to a five-day week, as we have new volunteers arriving on base on Saturday (very exciting!) so the volunteers already here have a long weekend. As much as we are all looking forward to meeting the new members of our community, the end of the month means some are leaving, that is Matt and Priska. Even though it has only been four weeks, when you are with people every day, the lack of them will be obvious. Adding to this sadness is that the base manager for the last year and a bit has left to work at the Seychelles project on Tuesday. The staff all spoke about their favorite memories of Jim, which was very emotional, even to those of us who have only known him a month.
This week I began practice monitoring, meaning that I passed my fish spots and fish sizing and am now onto practicing the monitoring techniques I will need to utilize in monitoring the reefs juvenile fish population. This was difficult as it requires the slowest swimming you will ever use underwater, as you're aiming to travel 30 meters in 6 minutes. However, the staff will always help you on each stage of your training and show how you can improve as a diver, while supporting you in any way you feel you need. Through completing these dives and working with the staff, I feel myself improve with each dive.
On Wednesday I was fortunate enough to go to Punta Allan, a fishing village that the GVI Pez Maya team do community work with. This week we went to teach the younger children about snakes and the older children about constellations, which was great as we did some crafts with all of them and also played some games. The town of Punta Allan is also very beautiful, and is a great place to go snorkeling. The visibility is amazing and the sea remains shallow for a decent distance. There is also a lighthouse in the town, which GVI has permission to climb up, it has absolutely amazing views of the Sian Ka´an Biosphere. Should you have time, you also get to go to swim. I loved it as it was such a hot day.
Being a long weekend, Thursday is fun day instead of Friday which is awesome! This is the day when we all have fun dives and get to hunt lion fish, as well as having eggs for breakfast and meat for dinner (which is incredibly exciting when you can't have it on other days). The staff cook dinner, which means it'll be super tasty. In the evening there will be a party night, which always has a weird and wonderful theme. Tonight's is "big ears" which is why my hands are covered in sharpie while I write this as I attempt to be creative. Last but not least……HAPPY BIRTHDAY TO NAMATE!!!