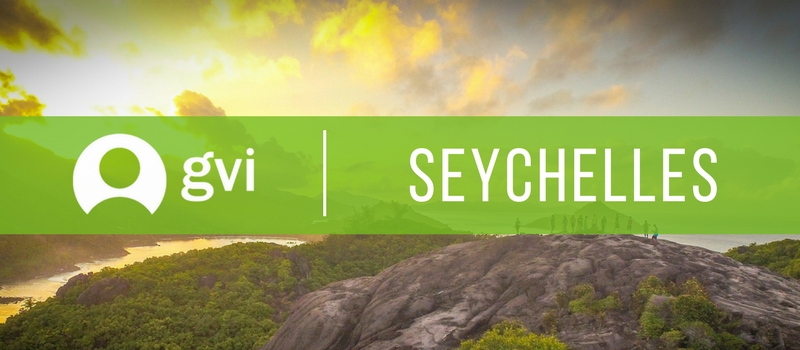 Our wet Wednesday began with a thrilling thunderstorm; a nature spectacle very early in the morning.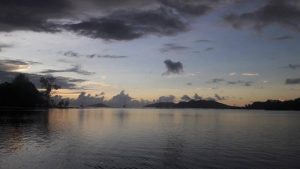 Everyone was woken up by the enormous amount of rain pattering loudly on the roof, providing the beat for an enthusiastic ensemble of luminous lightning and threatening thunder. At 4:30 am, when the alarm clocks rang officially for our shark survey starting at 5 am in the morning, the thunderstorm had calmed down, so we went out into the field with all our sharking equipment, as was planned. With head-torches providing us with light, we mastered our hike to the Turtle Pond in the dark, in spite of the slippery wetness and the great deal of equipment we had to carry.
The Turtle Pond is our well-tried location for our regularly carried out shark surveys on Curieuse. It is a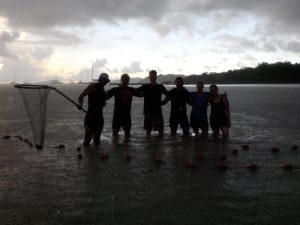 bay with the sea water floating into the mangrove forest. The mangroves provide shelter with their raised roots and therefore function as a nursery ground for juvenile lemon sharks. This is the population we aim to catch with the help of different types of fishing nets with the aim to investigating and tagging them to gain important research data of the shark population. Obviously, we release a caught shark again into the sea after we have taken all necessary data.
But our wet Wednesday was different; suddenly we were surprised, standing with our fishing nets in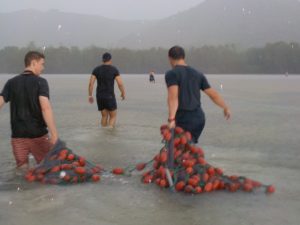 the waist-high sea, by a powerful rain. Immediately, the beautiful sky with the rising sun turned into a grey, foggy wall. The rain was so intense that we had difficulties to see each other and communicate among ourselves, what to do. Finally though the waving arms of our survey leader towards the entry of the Turtle Pond signalized us to head back. After we had gathered all the equipment and benefited from a long full pressure shower – normally, we can have this pleasure just on our weekend trips to another island, staying at a hotel –, we started our way back; literally not following a trail that usually consists of soil and stones – we had to walk in a stream instead! Summing up the shark survey in the morning, this day was definitely different; not just due to the fact that it has been the first time I felt cold in Seychelles, spending already my third month as a volunteer here…
Back at base then we had a warm tea or coffee and enjoyed breakfast. In the afternoon we dared to go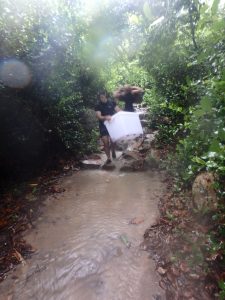 out to the muddy mangroves again for carrying out our mangrove study, not being intimidated by weather conditions in contrast to most of the tourists, we usually come across on our way; on this day we encountered just a very few who were brave enough to go the trail…
Although we were disappointed that day that we did not catch a shark and had to end the survey earlier, I decided to report on it nevertheless, because it shows well that not every survey can be successful and that these kinds of surveys as well stagnations in progress, that occur sometimes, are part of doing research and working outside in the nature. However, these challenges are what makes our work adventurous and we never lose our motivation and ambitions.
By the way: the next time we went out sharking was in the late evening and it was great – not just because we happily caught a shark again…