A most magnificent Matupa Adventure
By Big T (Tonia)
2 years ago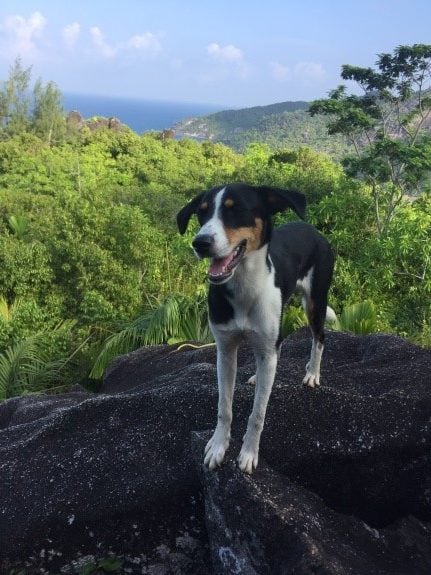 Living on a Base surrounded by jungle and mountains is not only very beautiful, it can also be quite adventurous – especially when you go out exploring the area. On the Weekend we did so and hiked up one of the mountains close to base. Matupa's peek rewards with a stunning view not only over our beloved Bay Ternay but also over most of the rest of Mahe.
As we walked towards the Beach to start our adventure we saw Pringels, our Base-dog, who joined us on our hike. On the north-west side of the Beach we first had to climb over a few granite rocks to enter the jungle and path to Mt. Matupa. The sides of the path are covered with exciting and exotic plants, cinnamon grows every other meter. We simply couldn't resist to get some of the leaves and take them back to Base to cook a nice tea after. However, where there is a lot of flora, fauna has to be close as well. Huge spiders blocking our way were not an uncommon problem. In order to continue on our path we had to overcome these obstacles in form of huge spider-nets and their poisonous owner inside (probably). Pringles didn't care too much about them and just walked through below; such a brave dog.
Because of the heat and humidity we were quite sweated through as we reached the last part of our hike about thirty minutes after. Sadly Pringels couldn't accomplish the last part because it was mainly climbing over granite rocks again. So he turned around and started his way back home, however he was a great companion while he lasted.
The last few meters already give an idea of the view we would be rewarded with at the top of Matupa's peak. And it sure was worth every step and every spider-net we crossed. Standing there is really an incredible feeling, looking over the island with a perspective most tourist will never have. We stood there for a few minutes, soaking everything in before we started our way back to base. Going down the mountain is a bit faster than going up because some parts you just have to slide down one of the granitic rocks instead of walking due to the slippery surface.
Back on base we enjoyed our lovely cup of cinnamon tea.